Australien 2009!
Thanks to you all Down Under for making our visit to a great adventure!
Thanks for letting us stay at your homes, food, drinks & really great company!!!
You are really GREAT!!! You are most welcome to Sweden!
We would love to do the same for you...
It was really great to see so many open and nice dogs!
Could have taken MANY of them with me home....
__________________
Here you can see Christinas photos from Australia!
__________________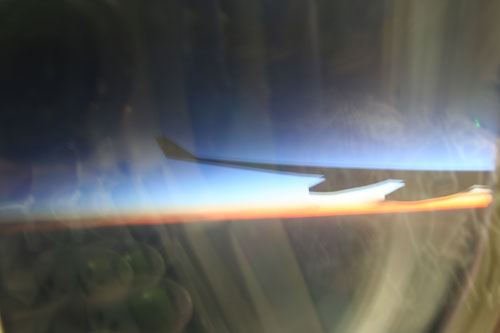 On the way Down Under! Sunrise over Australia from the flight :)
___________________
We landed in Sydney in the morning 4 November.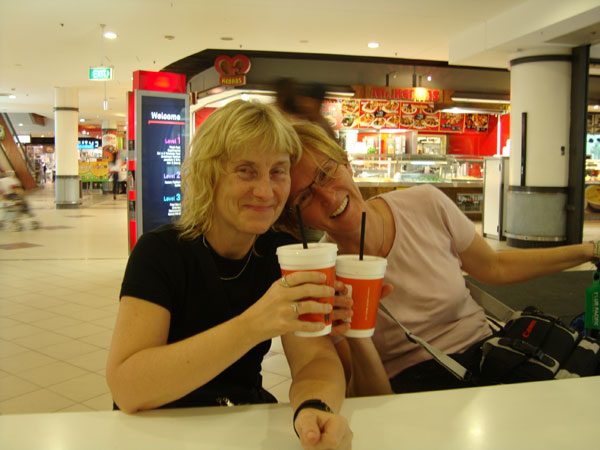 Foto: Anna

Foto: Stina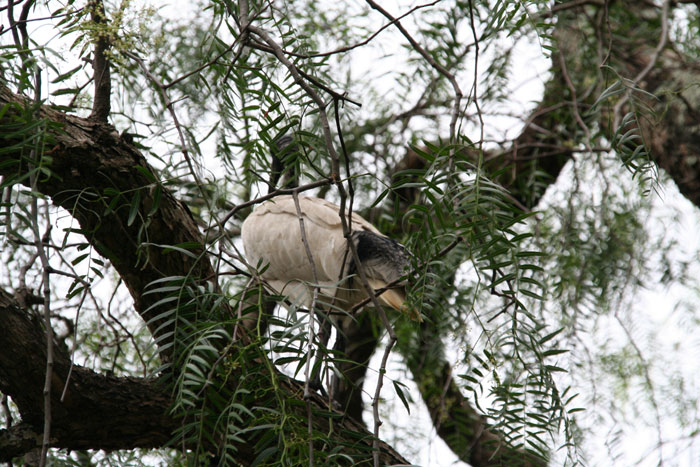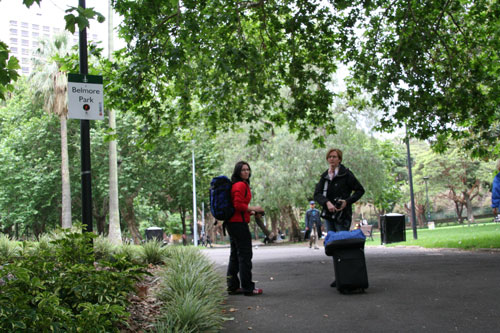 In Sydney 4 November, walking around waiting for the afternoon to come,
so we could get on the train to Pauline & Pete in Woodstock.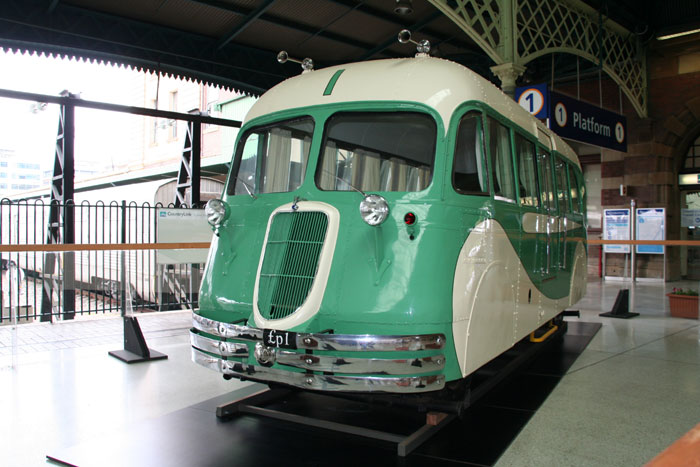 The first "train" going west from Sydney!
After a travel for a few hours with train & bus at last we met again! So good to see you folks again!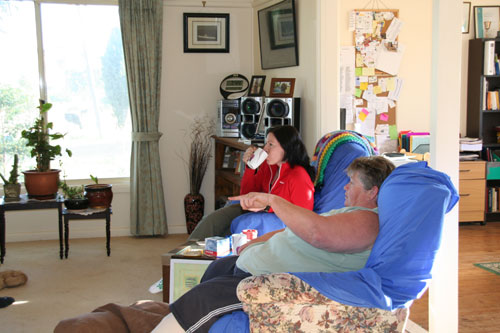 At Pauline's & Pete's in Woodstock, NSW.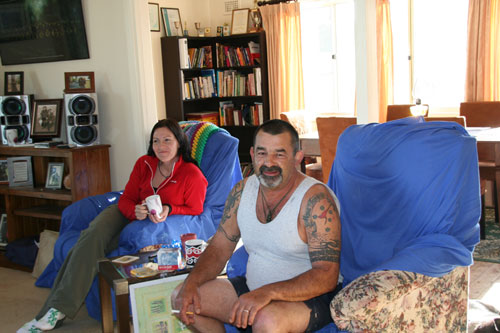 Sweet Pete!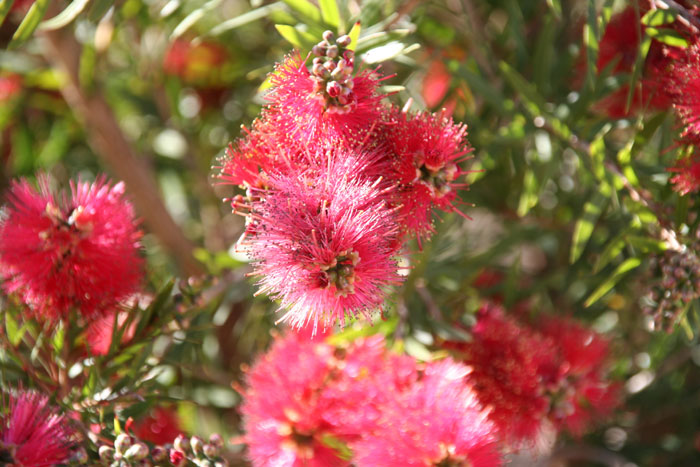 Beautiful flowers from the garden!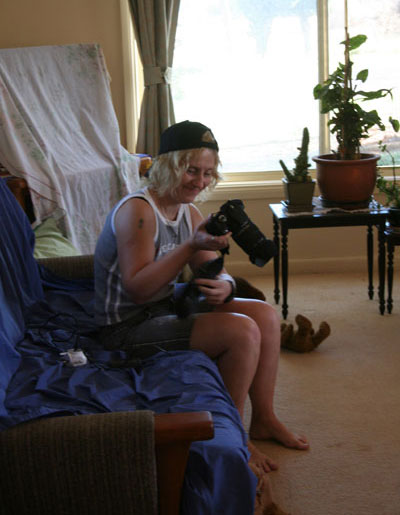 !!!!!!!!!! Foto: Stina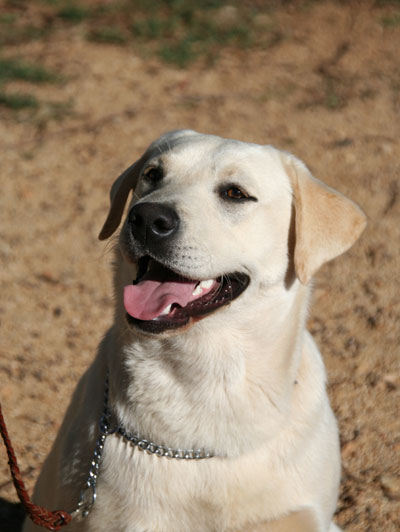 Pauline's & Pete's Lara.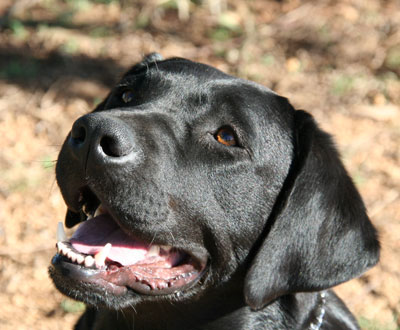 Tua.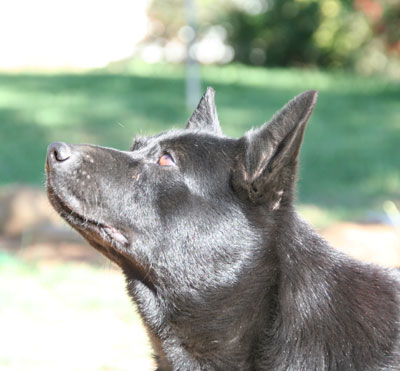 AUSTCH Mimbil Burnt Offerings, "Dixie".
_______________

November 5
The next day Pauline took us up to Dubbo, to Fiona & Brian, Eurowenban kennels. Far to drive, thanks Pauline!!!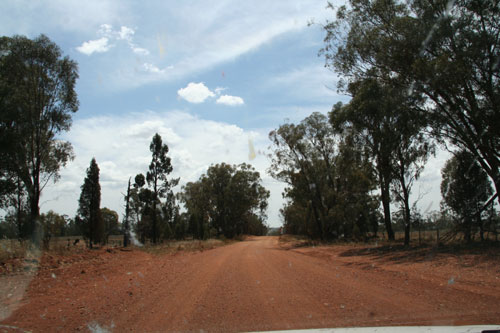 On the way to Fiona & Brian.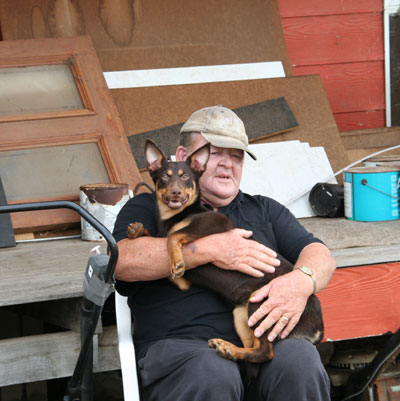 Brian.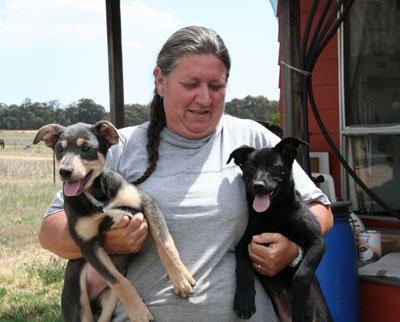 Fiona.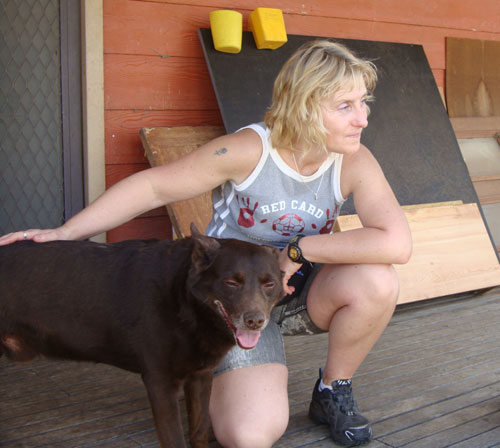 Nice 14 years old AUSTCH Eurowenban Full On Aces, "Ace". Ace is the father of Anna's Eurowenban Turbo.
Foto: Anna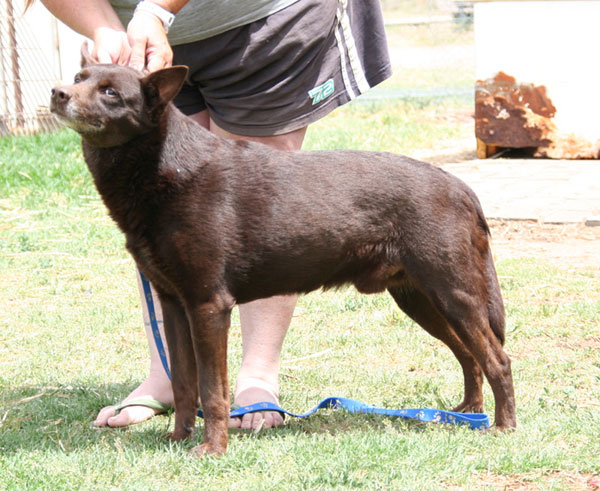 Ace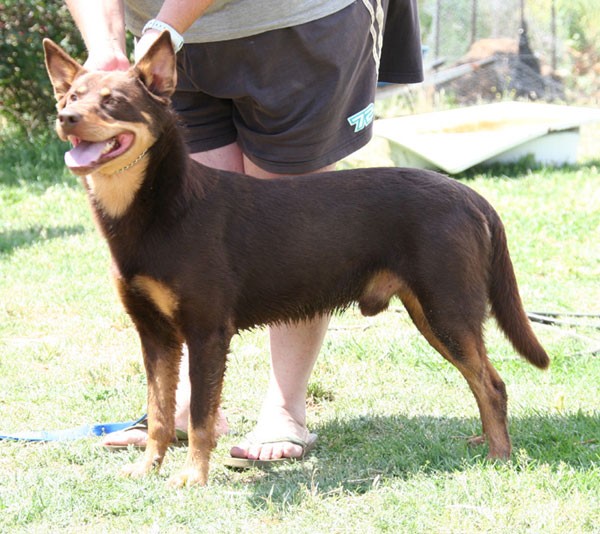 Eurowenban Blessed Be, "Ginger".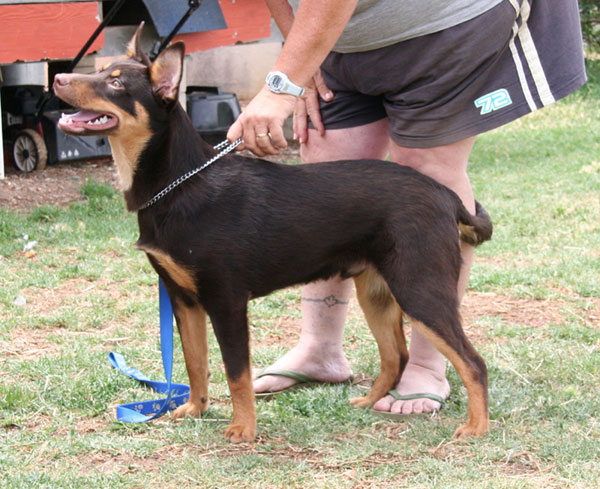 Eurowenban Hes A Trooper, "Trooper"

Really great to meet you and your nice dogs! Thanks for letting us visit you!
_____________________________

November 6
This day we went to Tegoura kennels with Pauline.
Truely nice to see you and your beautiful dogs again Dianne!! And really nice to meet Sharon also :)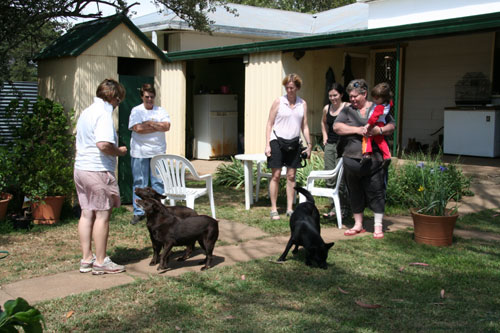 At Tegoura kennels.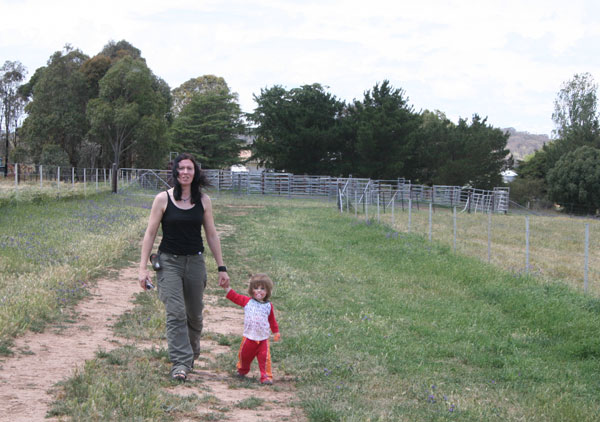 Anna & Sharon's cute little daugther :) Foto: Stina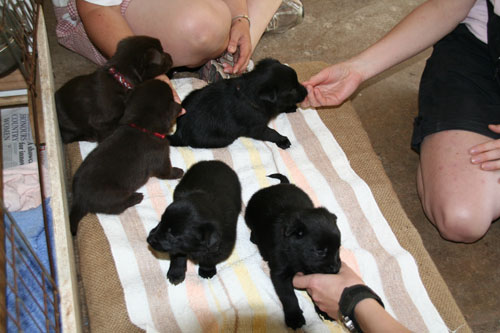 Tegoura puppies :)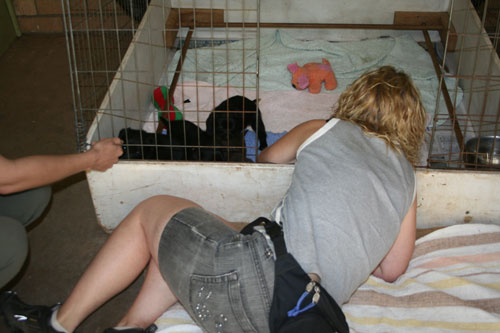 Puppies!!!!!!!!!!! Foto: Stina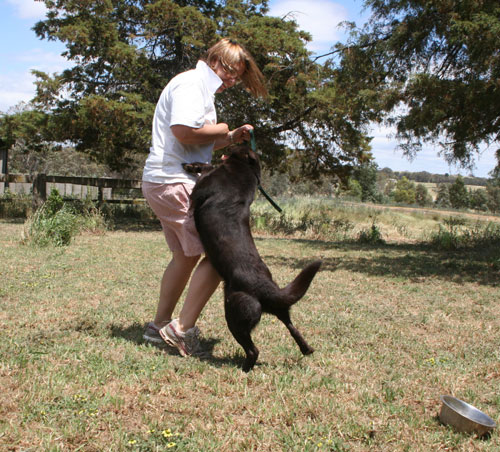 Sharon & ?? Foto: Stina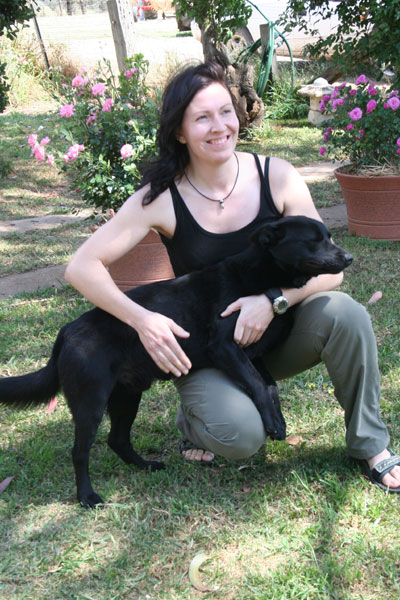 Anna & Tegoura Black Angus Foto: Stina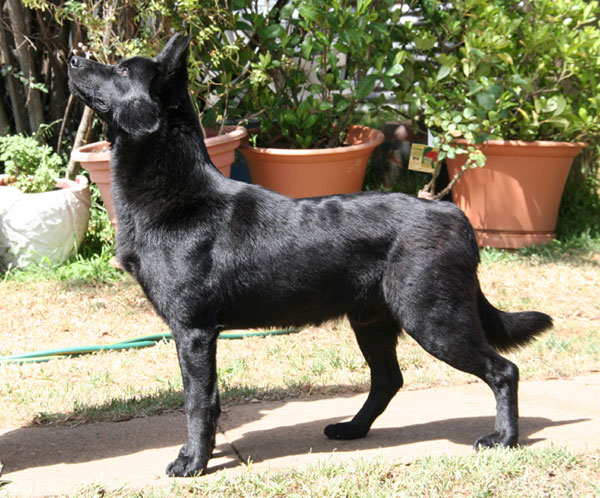 Tegoura Black Angus, "Angus"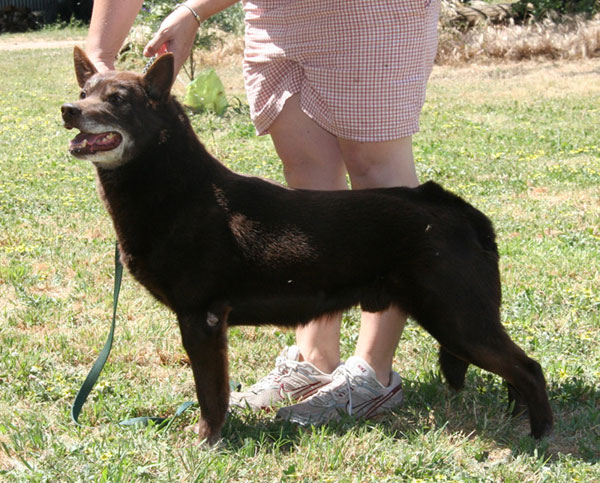 AUST GR CH KLA Rebels Beau

AUSTCH Tegoura I'm A Devil, "Bruce"

AUSTCH Tegoura Dance with Bears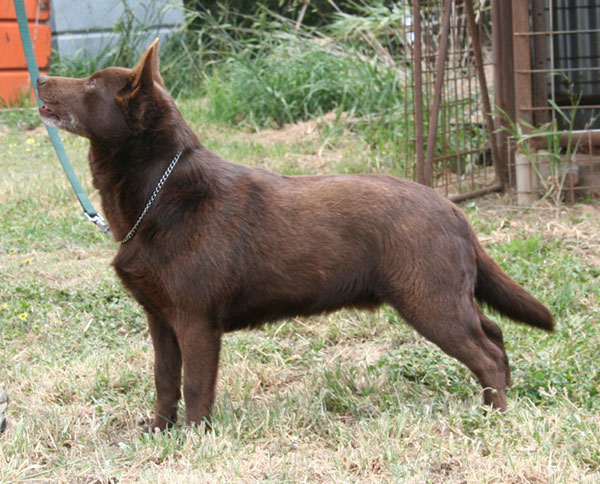 AUSTCH Mimbil Dark Reason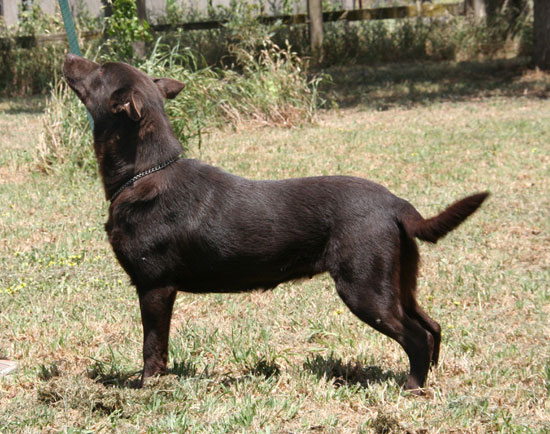 AUSTCH Tegoura the Chase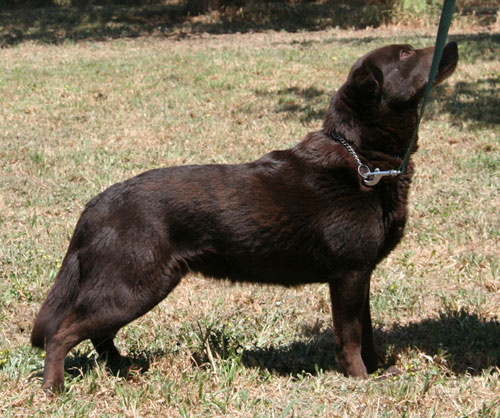 AUSTCH Tegoura Simply a Rebel

Tegoura Lachrea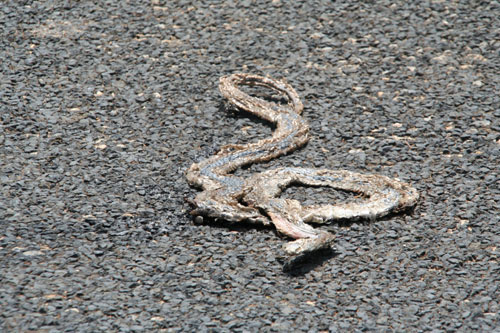 On the way to Tegoura...A flat Brown snake.... blää!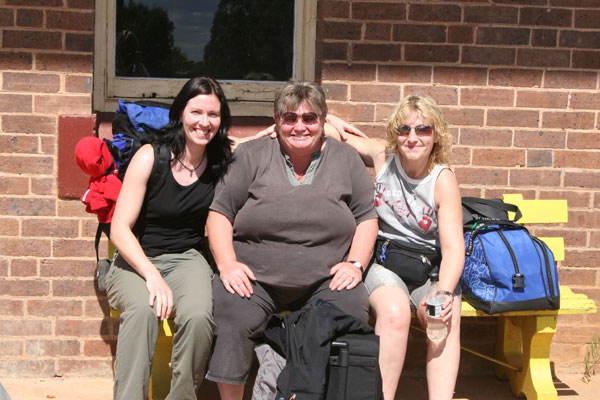 In the evening we went back to Sydney. Bye Pauline and thanks again!
________________

November 7
We got on a bus tour around the town and also to Bondai beach. Did some shopping at the Market place also.
Big cities are not my favourite places, so not so many pictures...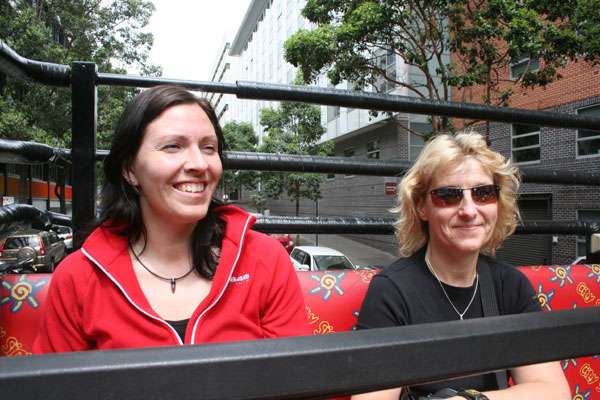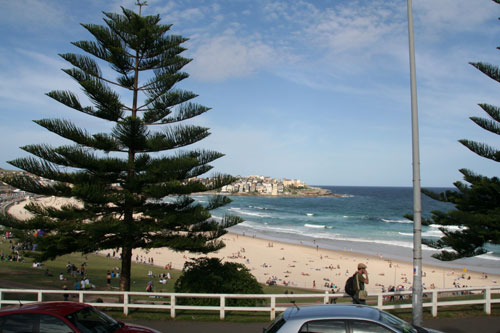 Sydney: Bondi beach.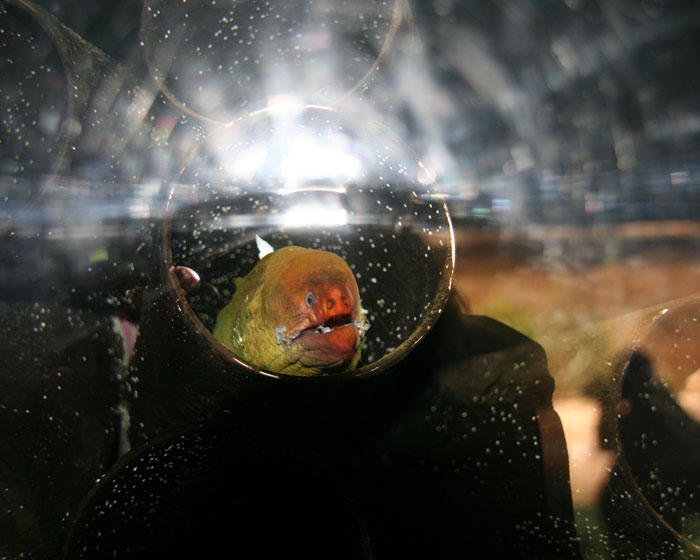 Mureena at Sydney Aquarium.
________________________

November 8

Landed in Yulara in the middle of the day. HOT!!!! We took a walk trough the desert to the shopping centre and back. Then some lazy time by the pool :)
One of the evenings we had a BBQ with kangaroo, crocodile, emu and lots of salads, fruits etc.. Mmmmmm!!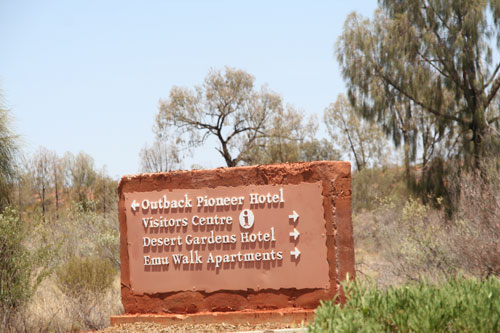 Out in the red centre - Yulara/Ayers Rock.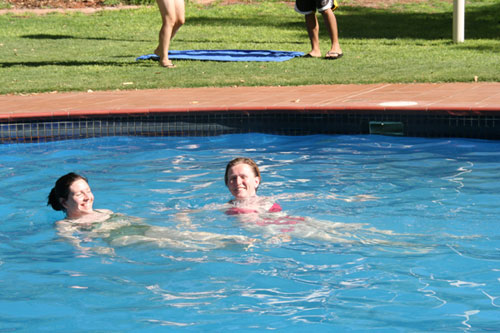 In the Outback Pioneer pool - Anna & Stina.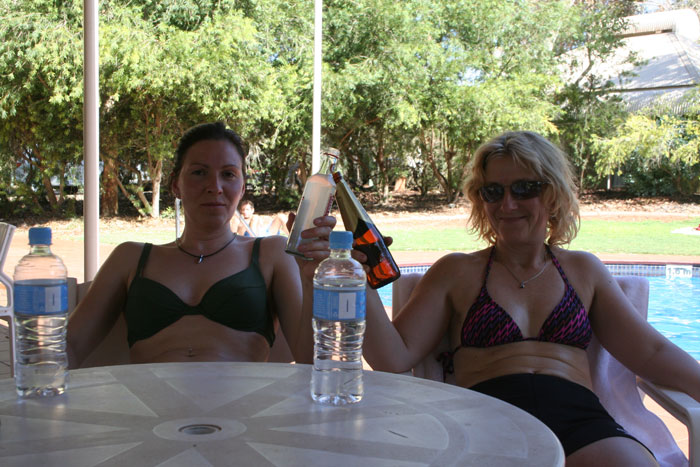 Mmmm!!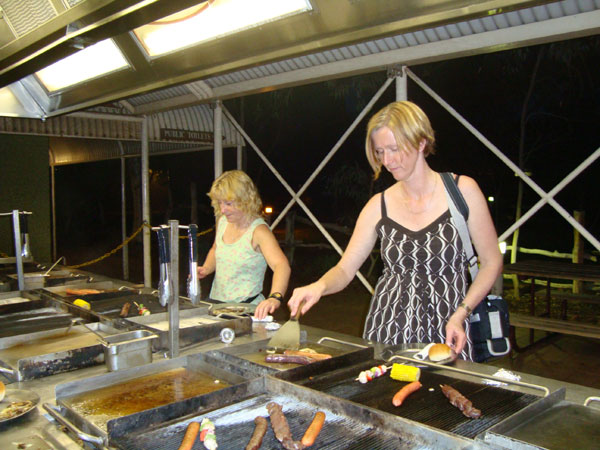 Aussie BBQ!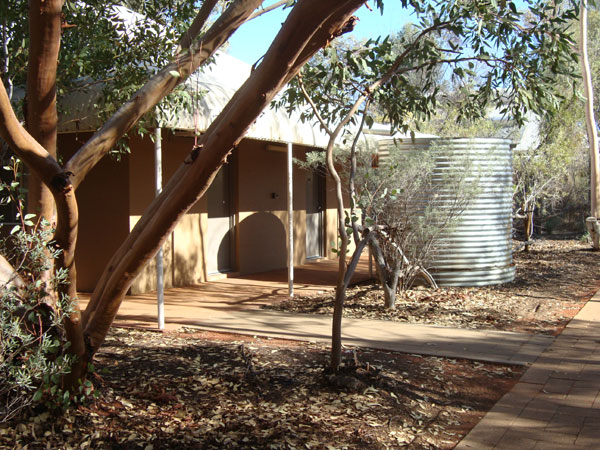 Our hotel. Foto: Anna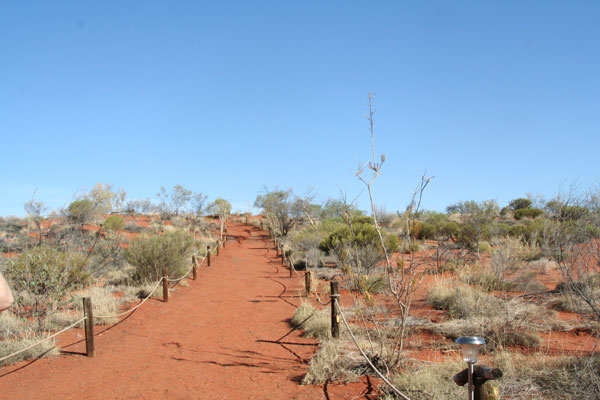 The way up to the lookout point.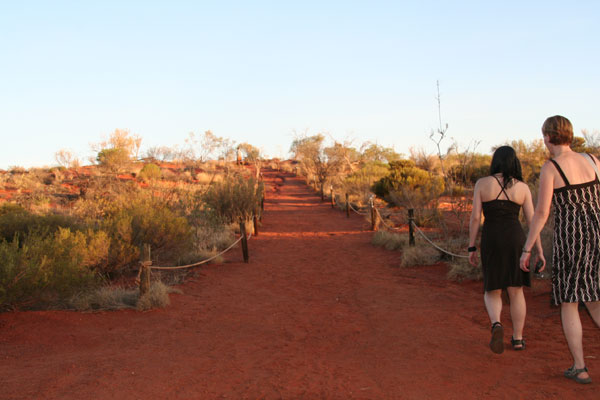 In the evening - same place, but another red tone.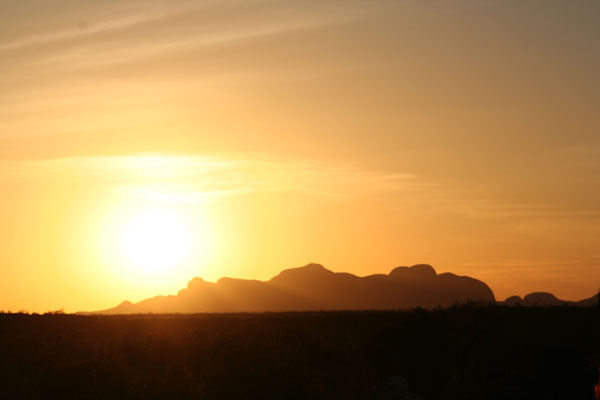 Sunset over Katatjuta.
____________________
November 9
Two tours this day! Uluru in the morning and Katatjuta in the afternoon. Great sceneries!!!
Between the two adventures we had some nice time by the pool :)
The walk in Walpa Gorge at Katatjuta was HOT!!! Around 38 degrees at the bus-parking. How hot was it in between the walls.....?!?!

Before walking in there, we stopped by a little WC. Almost burnt my bum off on the seat. Jises!! And the water-tap that said COLD... so burning hot water :0
Don't you Aussies know the difference between HOT or COLD ;-)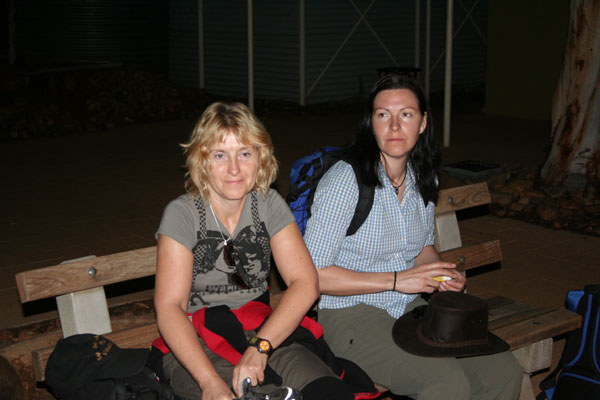 Waiting for the bus to Uluru. To early....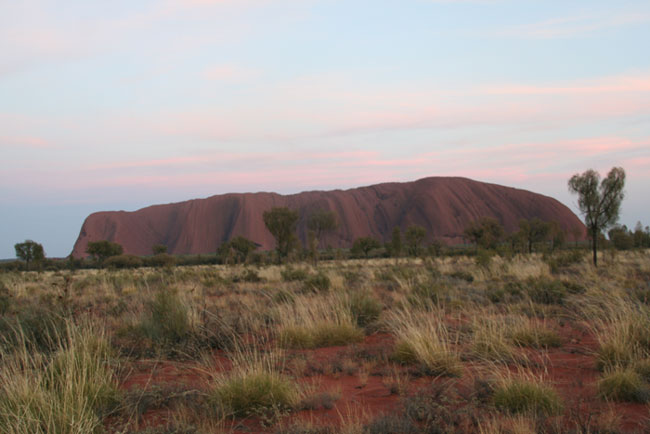 Uluru before sunrise.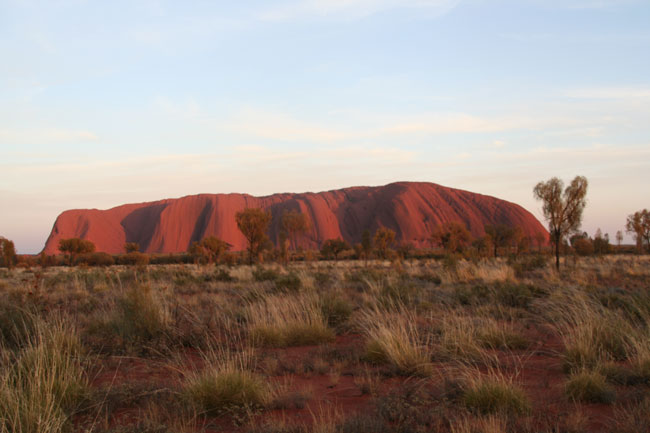 Uluru in sunrise.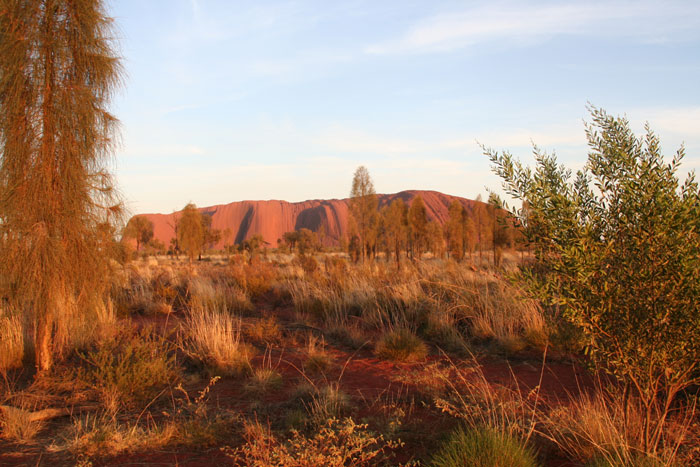 Beautiful!!!!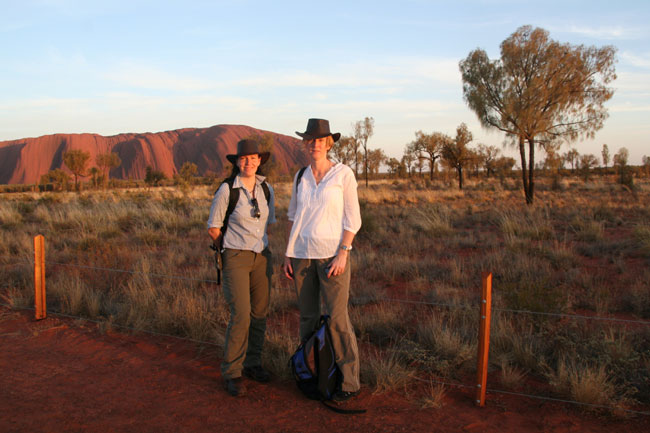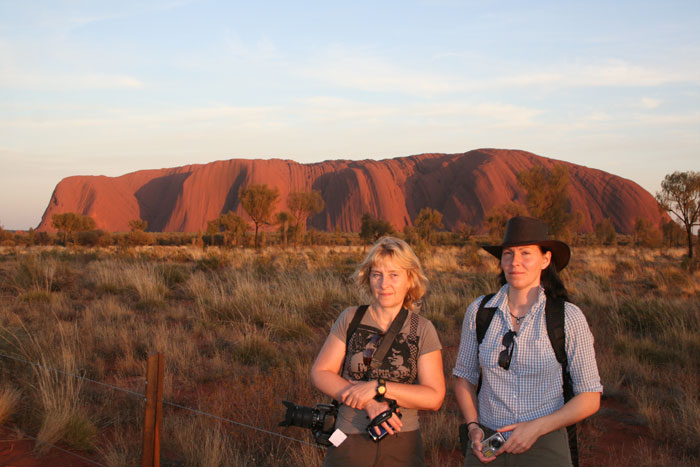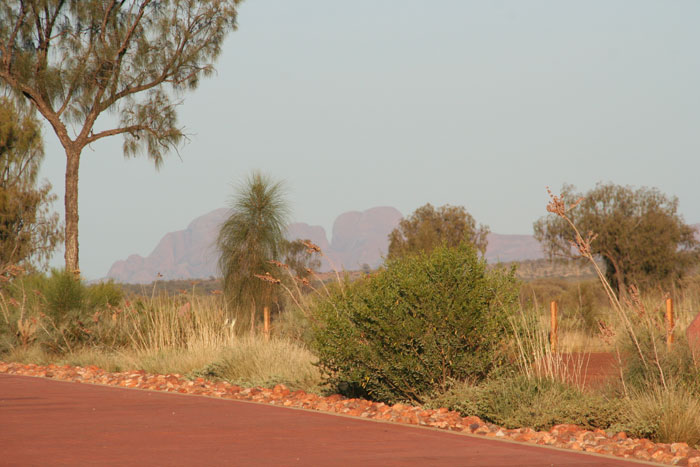 Katatjuta in the horizon.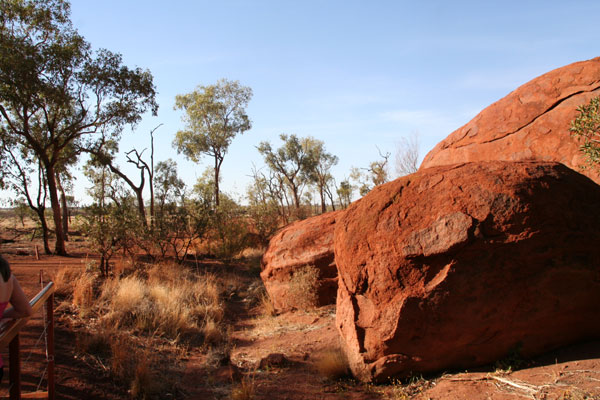 Uluru.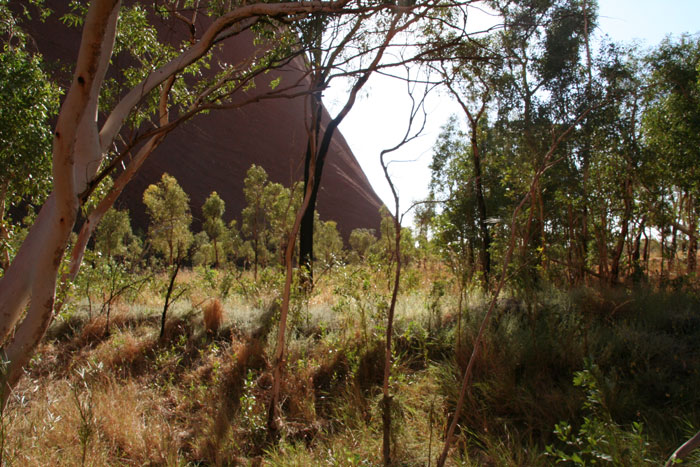 Uluru.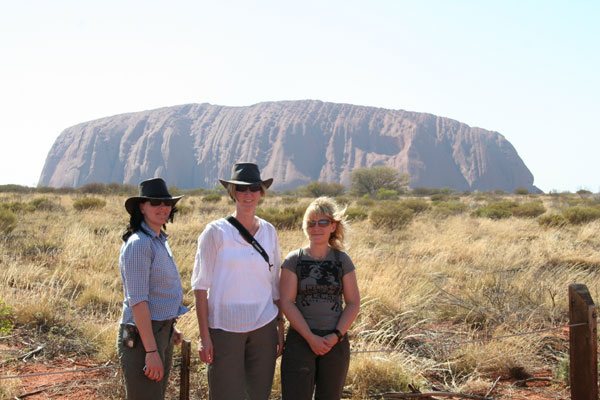 The three musketeers :)

Gunbarrell High Way...!

Katatjuta.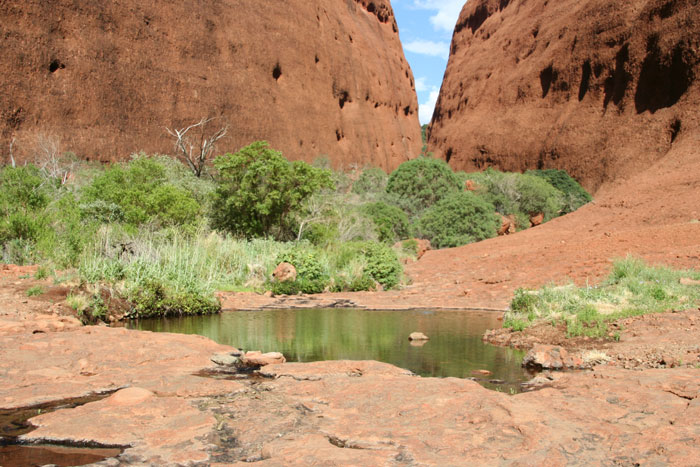 Katatjuta, Walpa Gorge. A HOT walk!!! Surely over 40 degrees.....
___________________________

November 10
Landed in Brisbane in the evening. Mandy picked us up at the airport and took us to Lisa's & Eric's. We met at last!

A very nice evening with Lisa, Eric, Mandy and Lee-Anne who also came over :) Really great to meet you again, Lee-Anne! Great to see Tacker also. A truely nice dog! And his friend Kelly, that Lisa & Eric saved from the pound. A cute girl.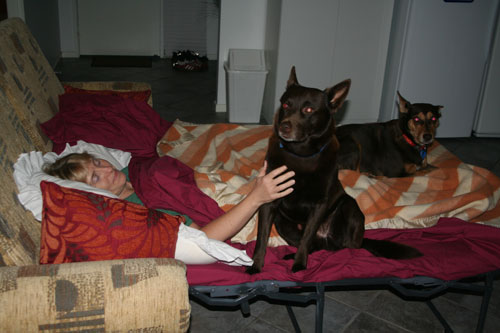 In bed with Tacker & Kelly :) Foto: Stina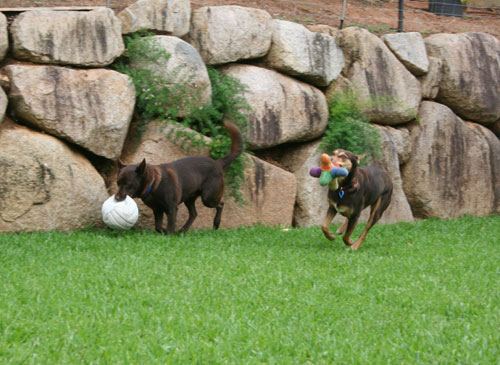 Tacker & Kelly. Foto: Stina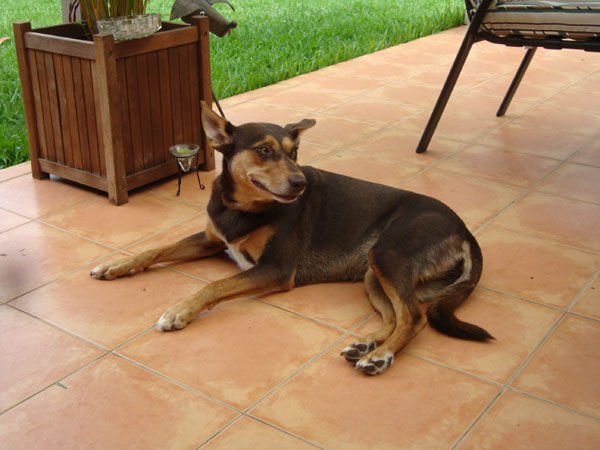 Kelly. Foto: Anna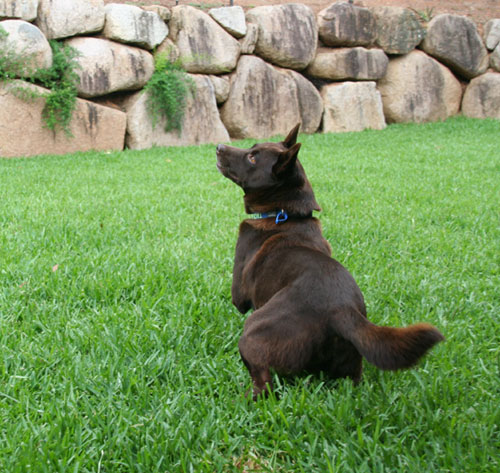 AUSTCH Callicoma Maher HIC, "Tacker". A REALLY NICE DOG!!! Glad that we have his semen here!
Here with his sight on the ball.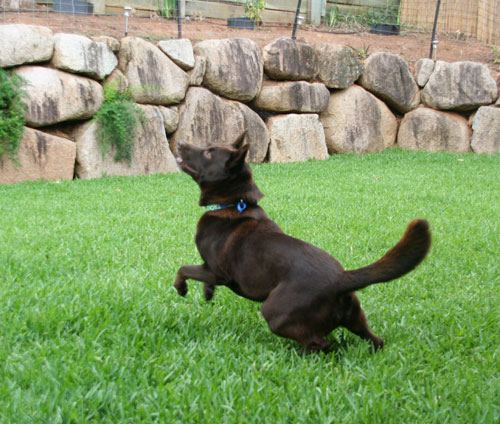 Tacker again.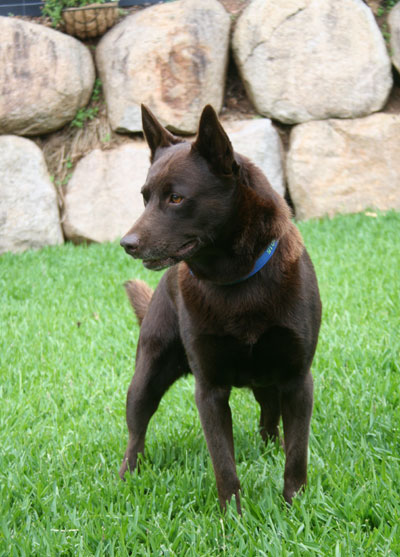 Tacker Foto: Stina
___________________

November 11

With Mandy & Lisa visiting Dianne, Oatland kennels. You have handsome and nice dogs, Dianne! Thanks for letting us visit you!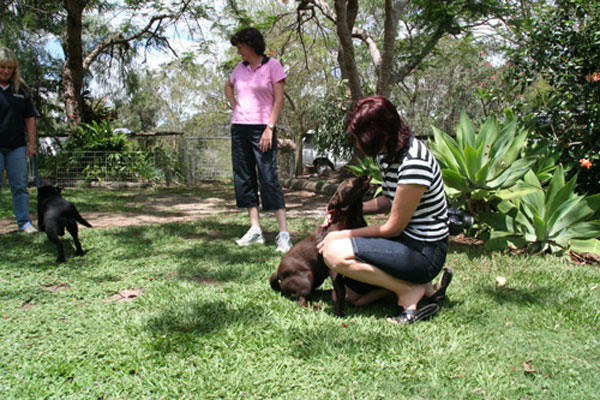 At Oatland kennels with Mandy & Lisa. The happy pups are Oatland Hoo Doo & Kit Kat.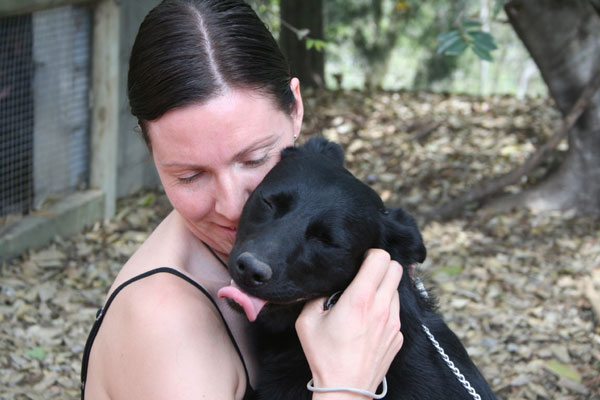 Anna & Oatland Priscilla? Foto: Stina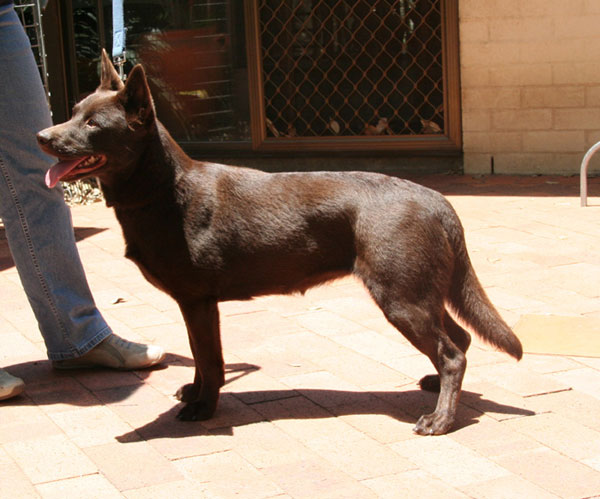 AUSTCH Oatland Woop Woop

AUSTCH Oatland Gunnadoo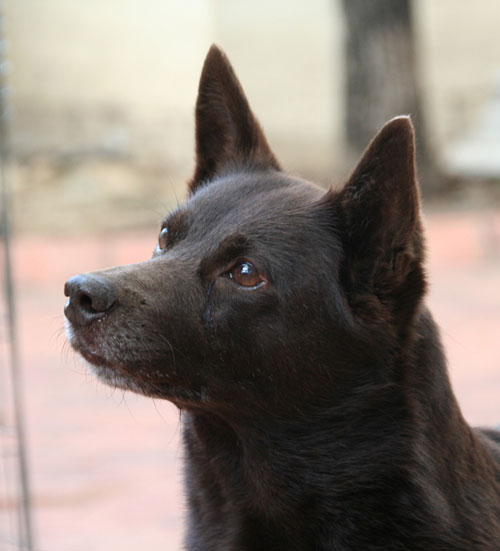 AUSTCH Oatland Piccaninny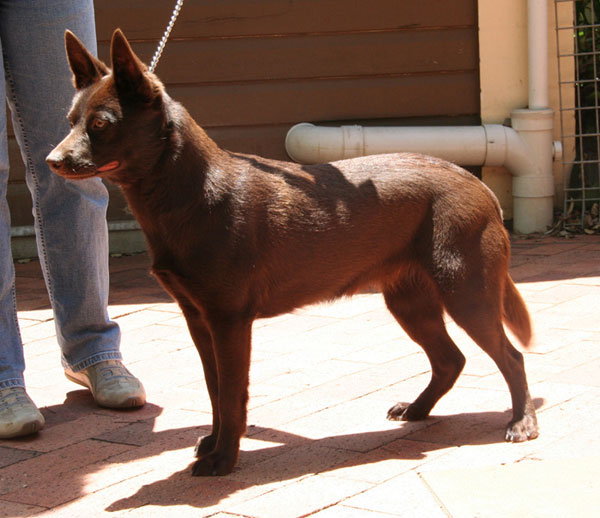 AUSTCH Oatland Tigerlilly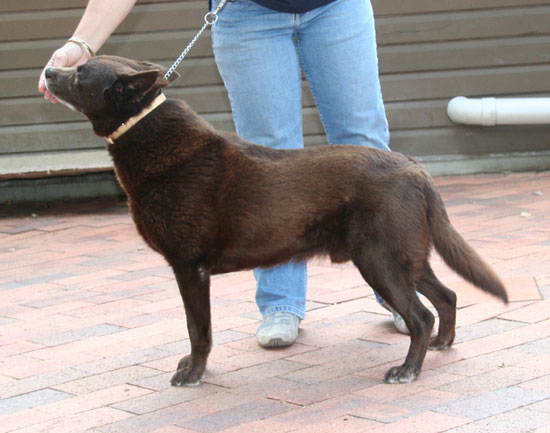 AUSTCH Oatland Warrior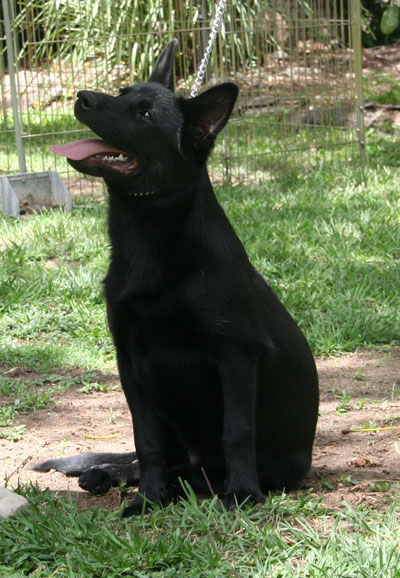 Oatland Hoo Doo - cute pup!
____
On the way to Grafton we stopped by and met "Jude".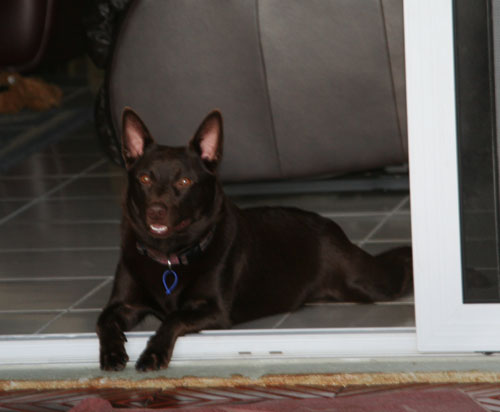 Callicoma The Joker, "Jude" ( Callicoma Maher/Callicoma Ruby Red )
A bit flossy pic', but he was into the camera all the time :) So, a quick pic' when he was calm ;-)
Nice boy!
We also stopped by another friend of Mandy's, ( name...) with 2 dogs, rescued from the pound. A big male, probably a pure-bred kelpie and a WK-girl. Very nice to meet you and the sweet dogs! Thanks for the coffee :)
Late in the evening we finally came to Mandy's and Bill's, Callicoma kennels.
________________________

November 12
At Callicoma.
You have a really beautiful home and lots of space for your dogs, really a great place! Thanks a lot for our stay!!!
We were really spolied!!! Hope to be able to come again and also do a little training. Hope that your back is better, Mandy!
Nice & open dogs, nice talking, photographing & relaxing this day. In the evening in the SPA with Stina :)
We also met Nicole & Merlot during the day, great to meet you at last :) Merlot is a really nice guy!
And in the evening we met 2 more Callicoma-kelpies, Dancer, "Starr" & Pinot Noir, "Paris" with their owner Elisabeth. Nice!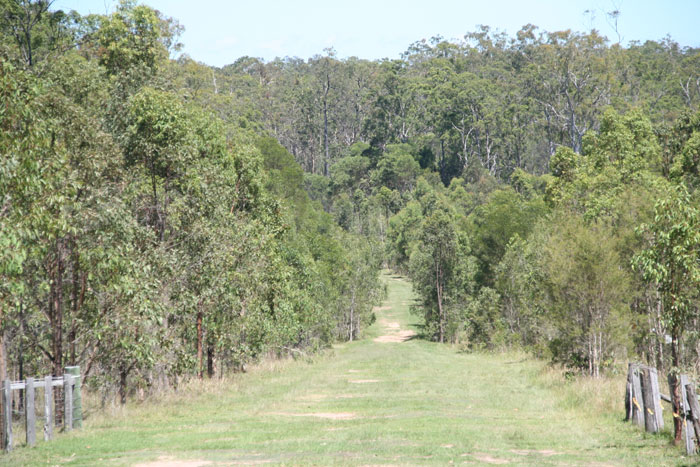 Callicoma kennels - the driveway, pic' taken from the gate.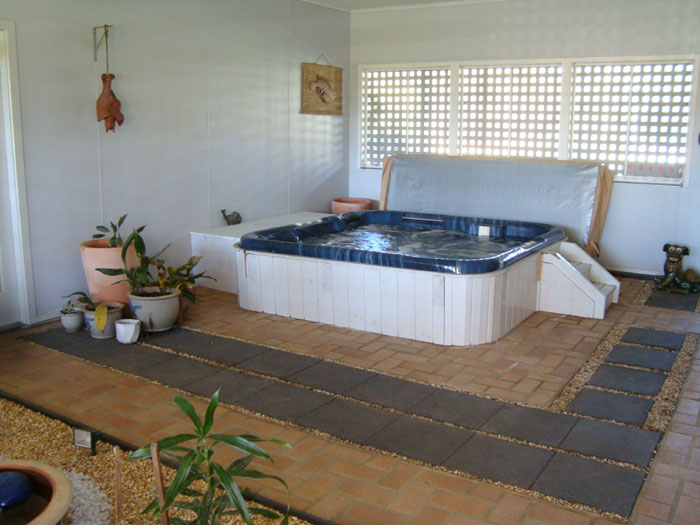 Mandy's & Bill's SPA!!! Foto: Anna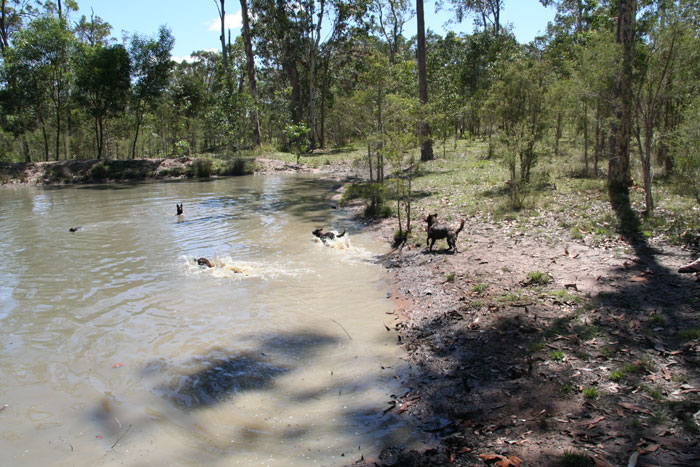 Callicoma-dogs swimmingpool :)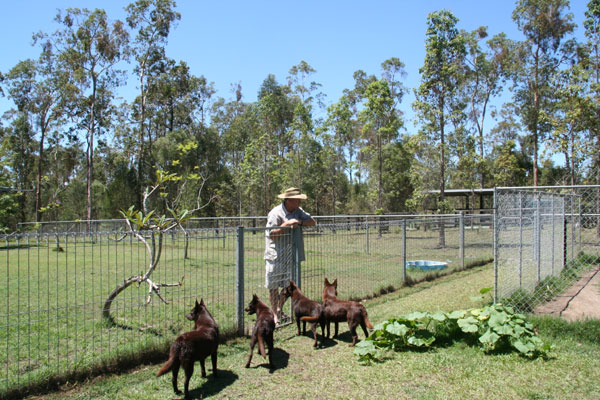 Bill & some of the dogs at beautiful Callicoma kennels.
A few of the dogs: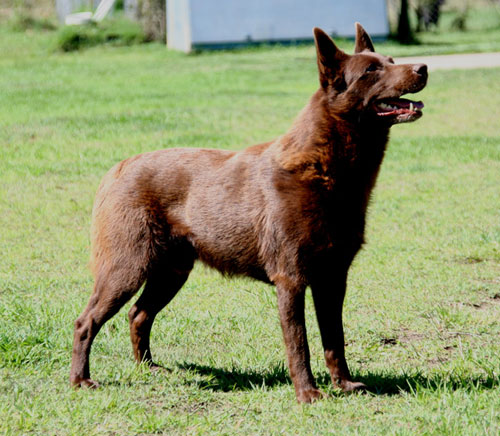 AUSTCH Callicoma Orion ET - "Bundy"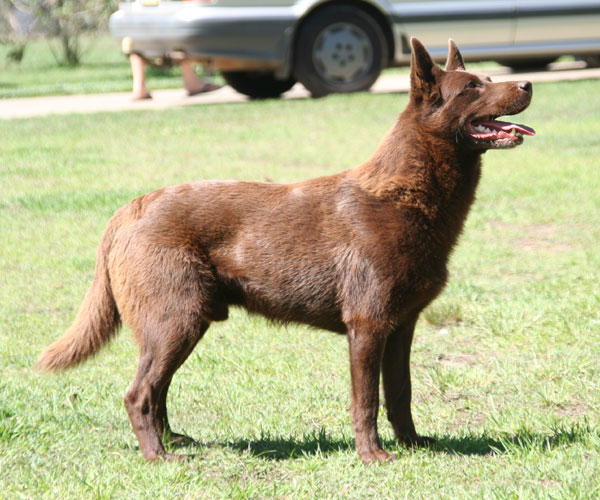 "Bundy" again.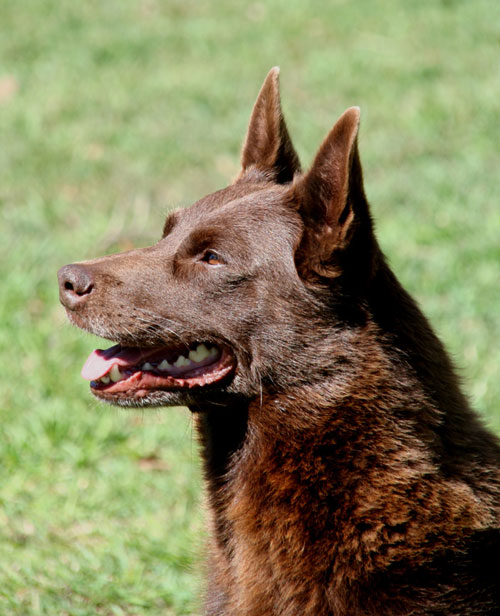 "Bundy"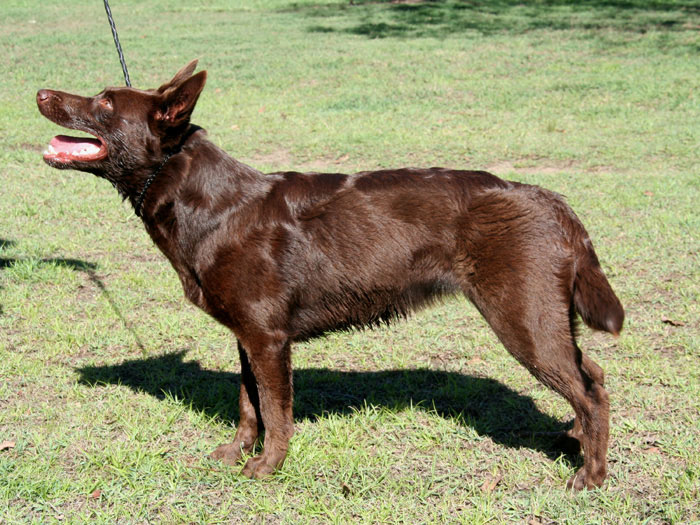 Ballare Katya - wet after a swim :)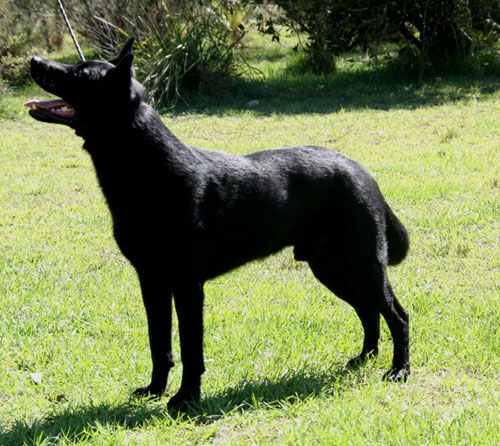 AUSTCH Callicoma Blacksmith ET HT - "Smithy"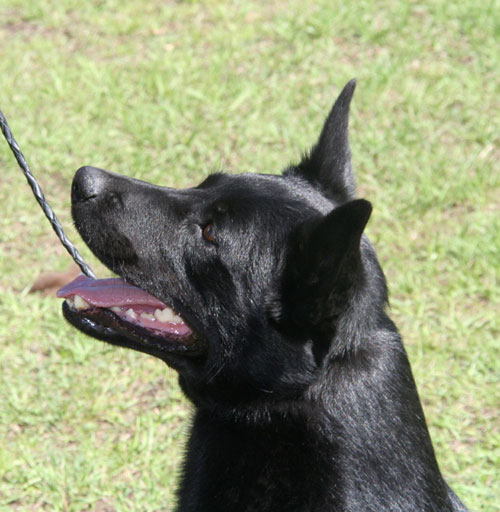 "Smithy"

Callicoma The Tempest ADM JDM ET PT JDO ADO GDX SPDX SD AAD - "Tempo"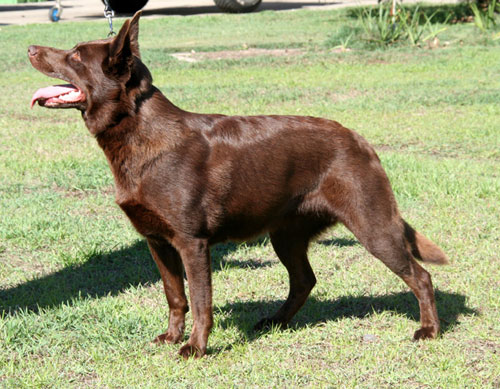 AUSTCH Callicoma Bronze Beauty - "Billee"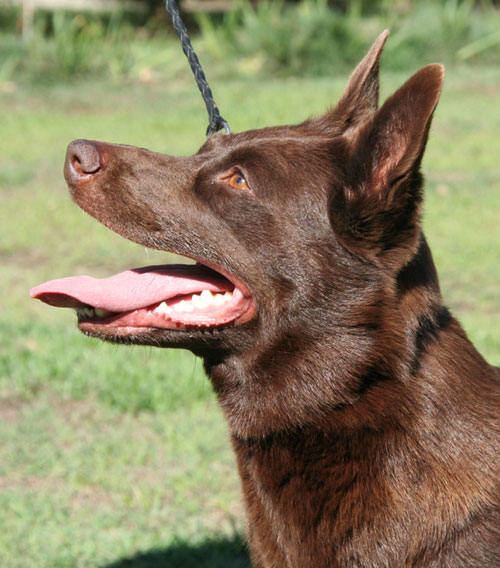 "Billee"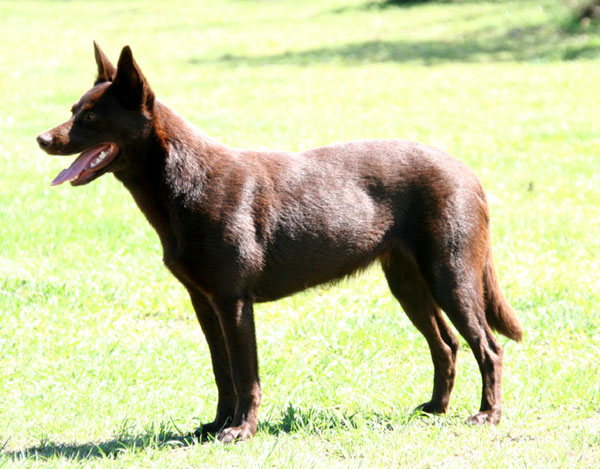 Ch. Callicoma Ruby Red CCD AD JDX GD SD SPD ET HT - "Ruby"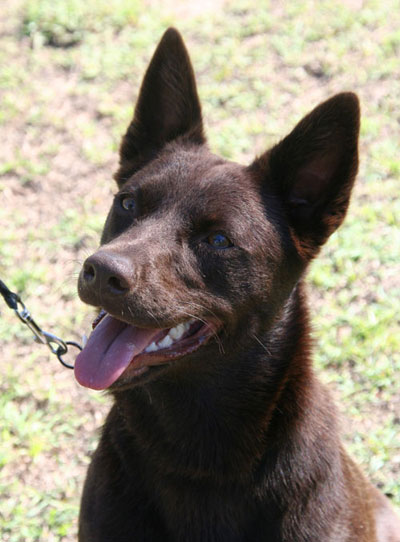 Callicoma Trump Card - "Trumps". Trumps is a young daugther of Tacker & Ruby.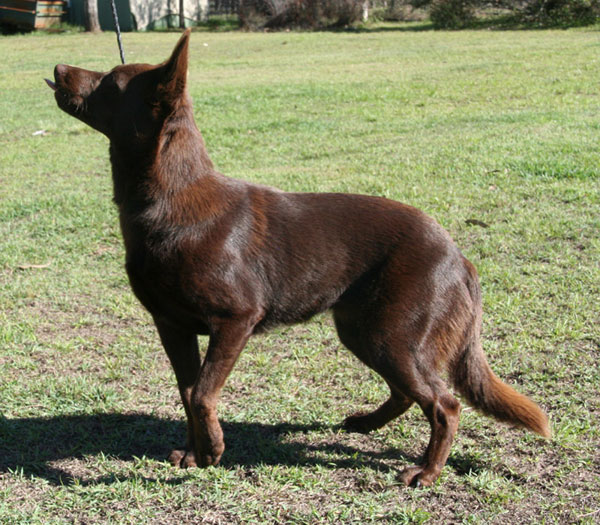 Trumps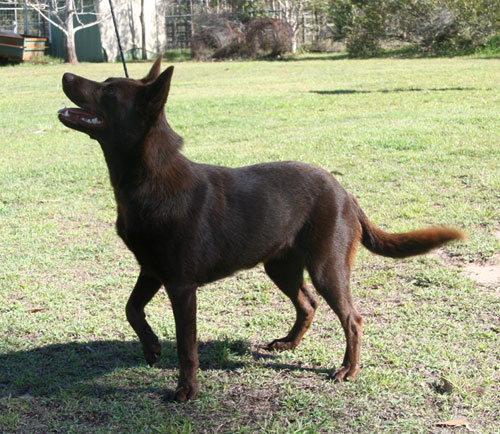 Trumps again.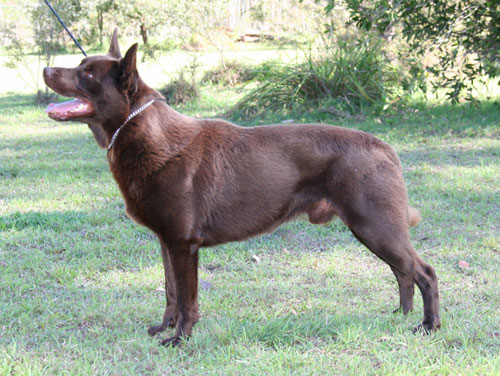 AUSTCH Tegoura King Othmountn ET - "Harry"



"Harry"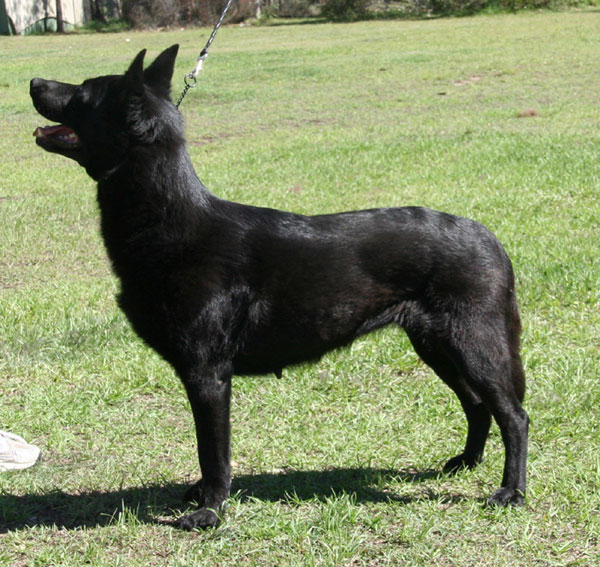 AUSTCH Spectre Blacklock - "Wattle", Tacker's mother.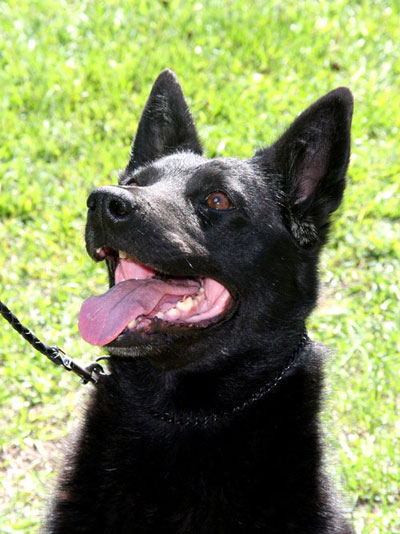 Wattle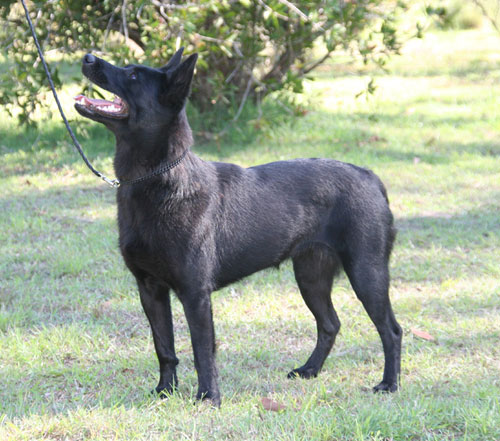 AUSTCH Callicoma Black Friday - "Friday".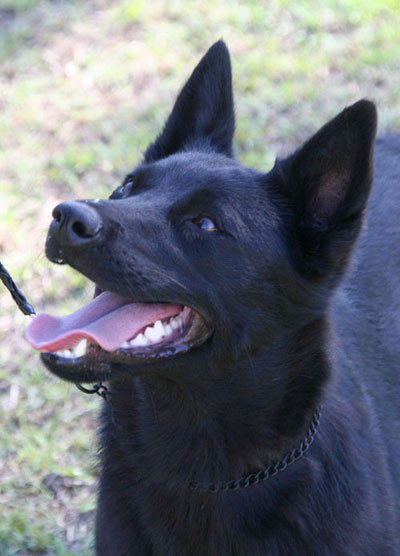 Friday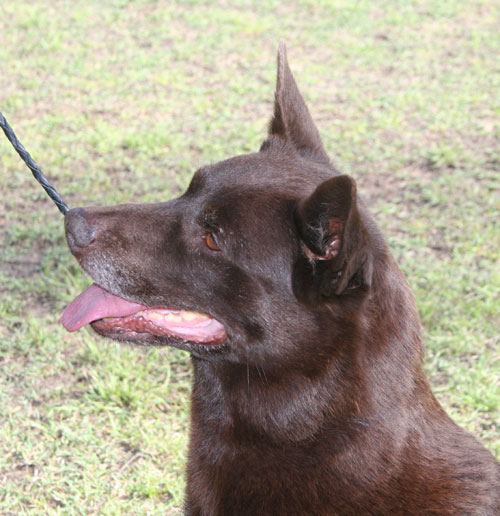 AUSTCH Oatland Chieftan ET, "Chief". Foto: Stina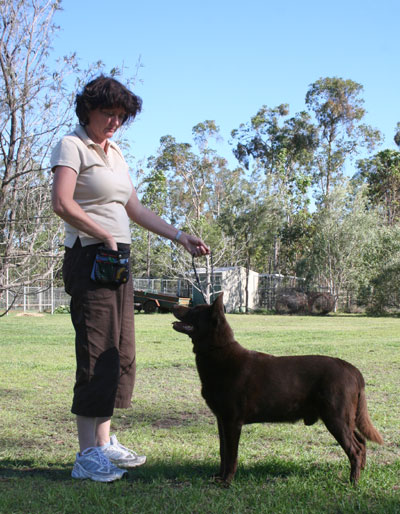 "Chief" Foto: Stina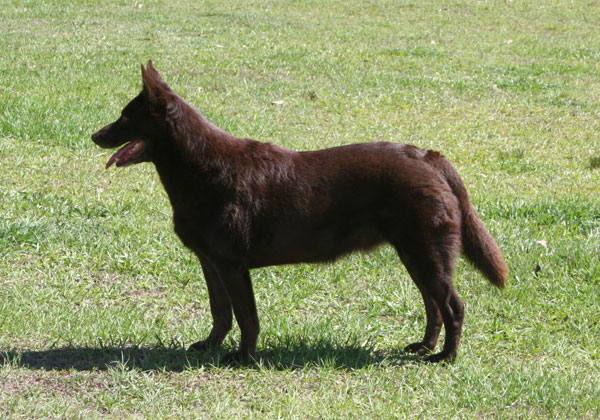 AUSTCH Callicoma Leica ET HT, "Leica" Foto: Stina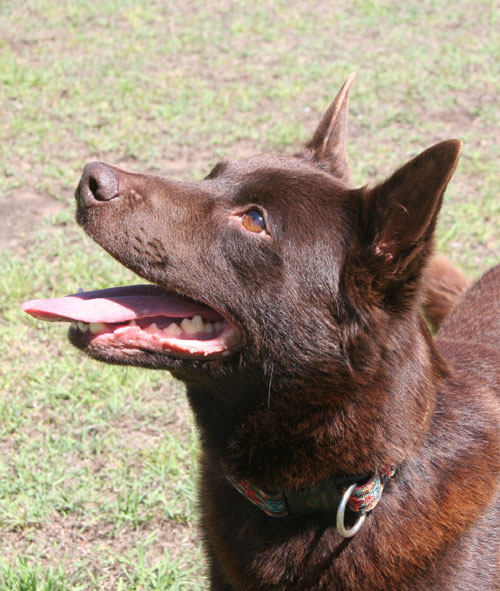 AUSTCH Callicoma Merlot ET PT, "Merlot" Foto: Stina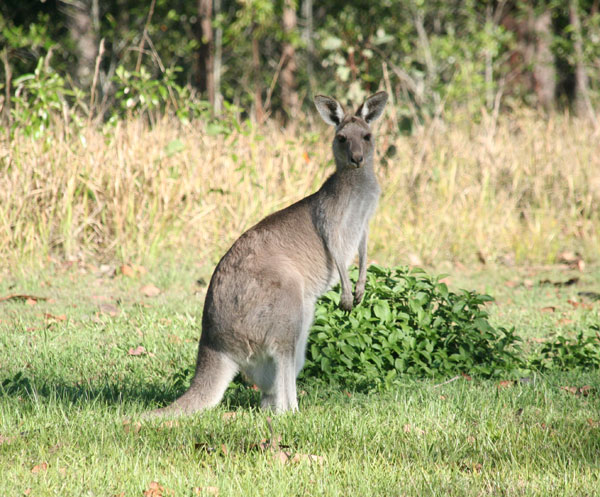 A neighbour, about 30 meters away :)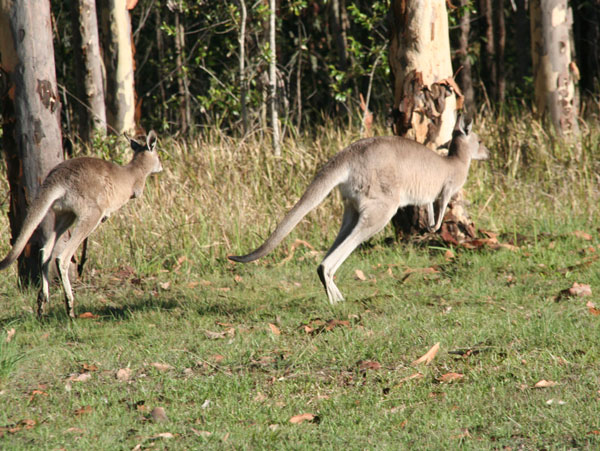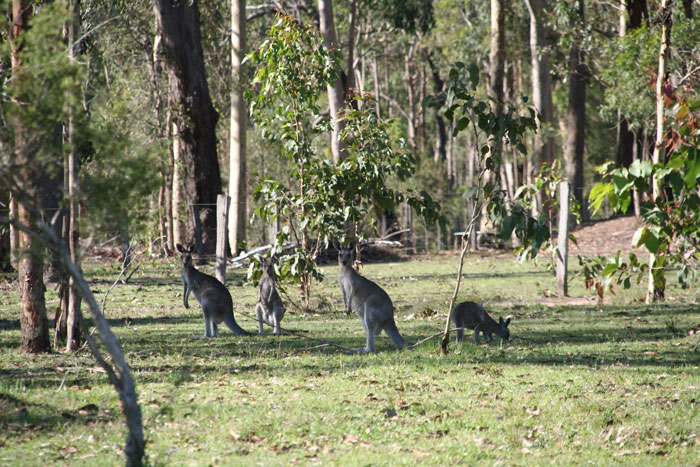 A whole gang!
Mandy also showed all her hips X-rays to us. Thanks for that!!! As you know, we are no scoring veterinarians, but we have all seen lots of pictures. Mandys dogs looked good :) You are doing a great job with scoring, Mandy!!
A strange thing - Callicoma Cosmic with 6:7 looked OK to us!!!!
Here she is - and depending on our curiosity kindly checked by one of the Swedish Kennelclubs scorers - with the diagnos: looks really good! Just what we thought ;-) Thank you SKK!!!



Important to see the pictures if we want to import, as a "high" scored dog can be OK!? There are differences down there, depending on who is scoring the dogs and also to how the vets. here score. As for an example a dog with the scores 1:1 and International grade A had those points for fossa ( på svenska pålagringar ) and if the hips are so good, there can not be any fossa! That dog was also checked in Sweden, and... NO fossa.
__________________
November 13

Mandy & Bill took us a bit on the way to Brisbane. Driving at the Gold Coast - beautiful! Some shopping during the way also, Billabong & Rip Curl. Went in to a pet shop to have a look and they had pups and kittens in cages - had to go out and cry a little.... AWFUL!!!

We took the train from there to Brisbane, Cabolture station, where Lee-Anne met us. Some talk and a couple of Mudshakes in the evening with Lee-Anne.
She has "Tammys" daugther AUST GR CH Suthenskys Satisfaction HT, "Phoenix". Really a lot as her mother :) Phoenix is in pups with Lee-Anne's AUSTCH Suthenskys Shamelesstar CD HIC, "Shamus". She also has two young boys, Myriahill Baringa, "Devin" & Suthenskys Single N Luvn It, "Jasper". Nice guys, very interesting for the future :)

Unfortunately no good photos of the boys, hope that Stina & Anna got some...
Well, here is "Phoenix" anyway :)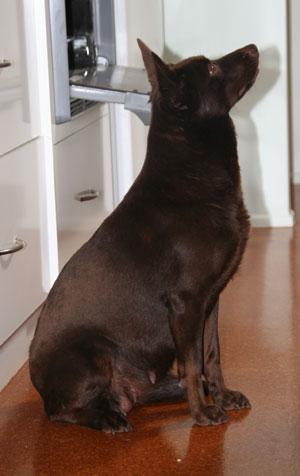 So much looking and acting as her mother - I called her Tammy a few times....
__________________
November 14

We were invited to Di at Oatland kennels again. She served us a great lunch. Thanks! We had a nice day with dog-talking.

In the evening Lee-Anne took us to an obedience-competition. Very interesting to see! Some exercises are similar to ours and some are different.
Lee-Anne was competing with "Shamus" and they got their pass, 2:nd place & the CD-title :) CONGRATULATIONS!
I was to nervous to look, only saw a little of their program... I'm getting more nervous to see someone I know competing than to compete my self..!
__________________
November 15
This day we had a clinic at Metropolitan Dog Obedience Club. We were talking about the ground before training - as environment-training, trust, cooperation, control, rewards in different ways, playing etc. etc. We were practicing playing and heeling-training and also showed some DVD's with training, competitions & mentaltests from Sweden. They were very satisfied with the day :)
In the evening we went out for dinner with Lee-Anne, Aldo ( the chairman of the club ) and his wife... ( me and names...) A real nice evening. Thank you!
__________________

November 16
We took the train to Brisbane with Lee-Anne and did some shopping. We also met Aldo's wife for lunch. Nice to meet again!
After that we went to South Bank for a swim in the pool :)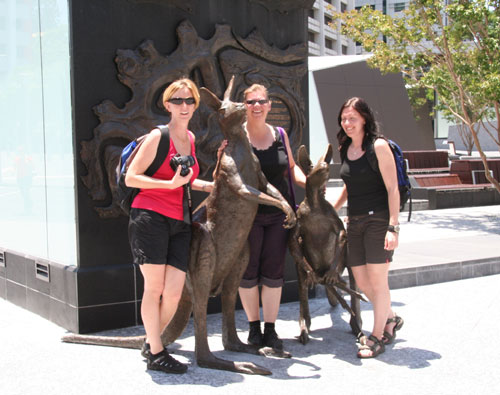 A day in Brisbane. Stina, Lee-Anne & Anna.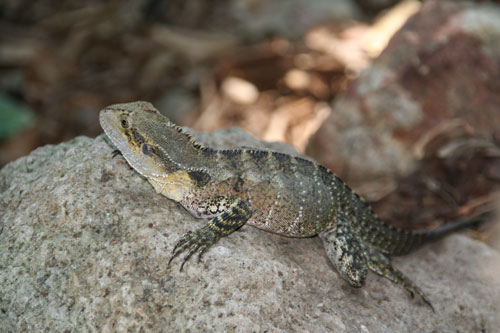 A creature living in Brisbane, Southbank :)
__________________

November 16

In the morning Lee-Anne took us to the airport, for our flight to Cairns.
Thank you Lee-Anne, for nice days!!! It was a real pleasure!!!!!
In Cairns we rested by the pool and later on took a walk down town.
__________________
November 17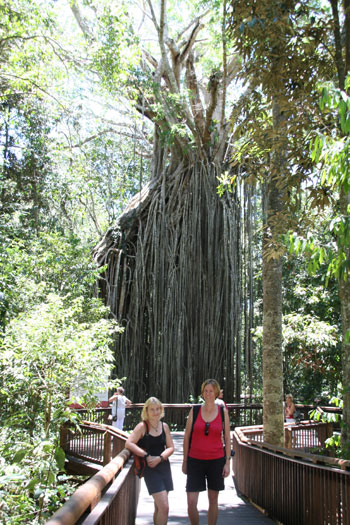 Stina & I were picked up in Kuranda by Jan Bradley. Jan is a friend of Mountainmist-Jan.
Really nice to meet you! We had a nice drive with lots of good talking! Thank you!

Jan has 2 cattle dogs. Here's the 11 years old guy "Barron"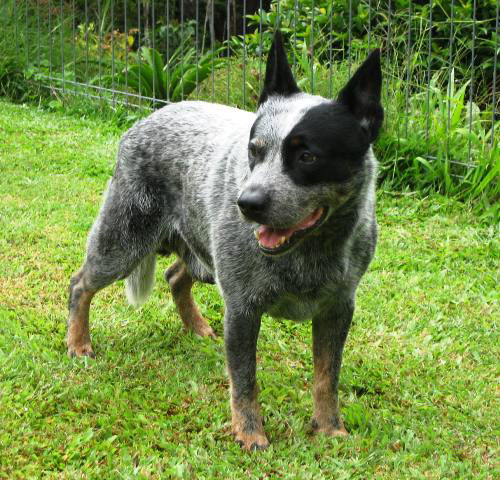 Foto: Jan Bradley
He won Best in Show recently - not looking like 11, eh?!
Out in Atherton Tablelands on the way to Mountainmist kennels. We stopped by a famous big Curtain Fig Tree, and YES!!
It was BIG! See above!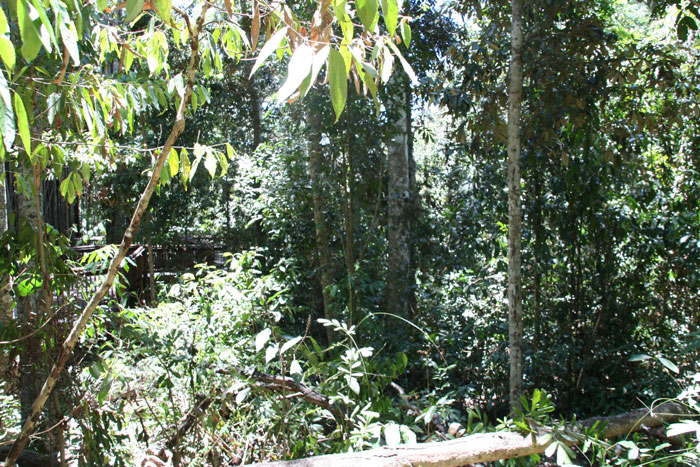 Jungle...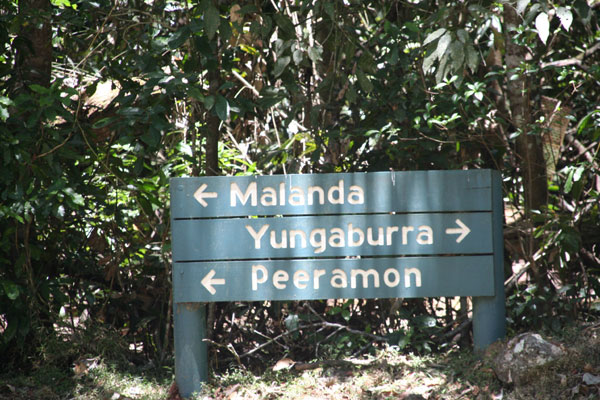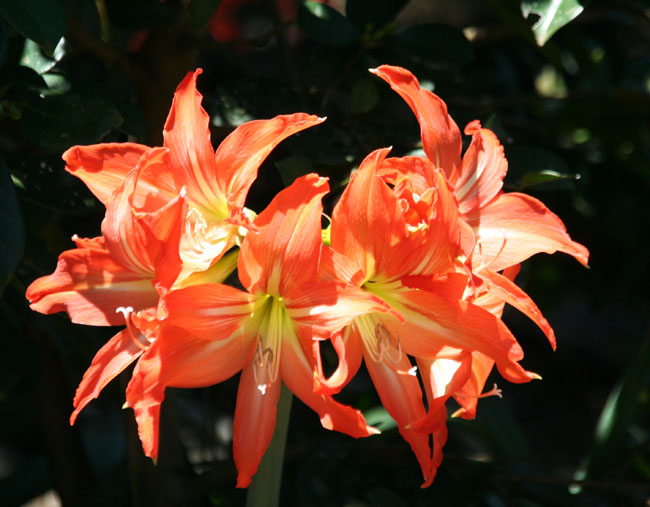 A flower from Jan's ( Mountainmist ) beautiful garden! Klevia - I have 2 of these in pots in my windows - but much smaller!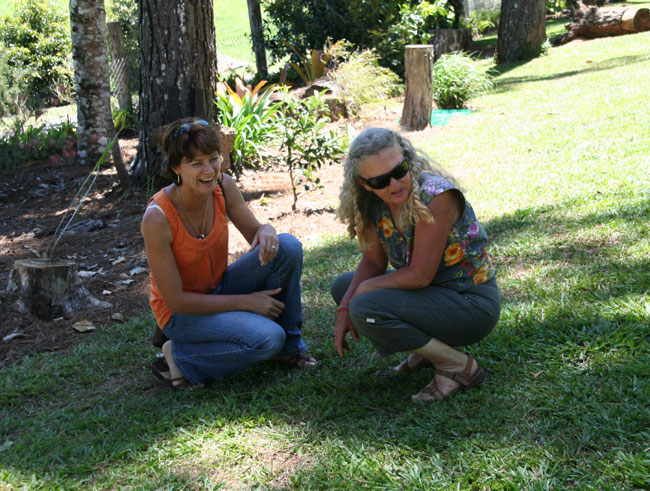 Jan Bradley & Jan Shaw.
We had a very nice day with a great fruit-lunch and dogtalking. Jan is very open about her dogs.
And so have the other breeders that we met also been. If we asked something we got honest answers. GREAT!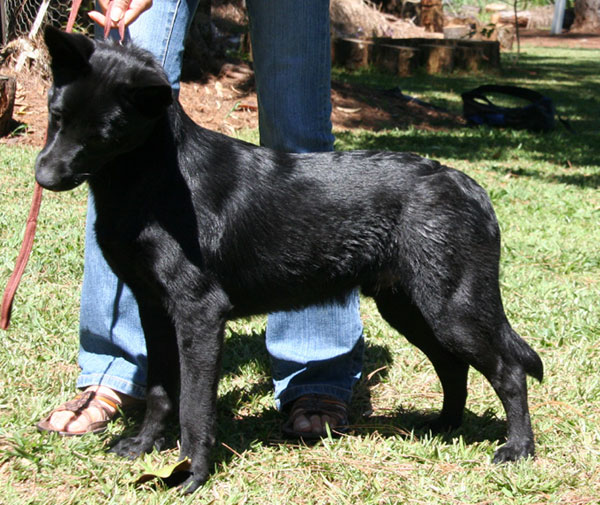 Lorroy On The Run, "Nitro", 7 months. ( AUST GR CH Mountainmist Mandingo / AUST CH Lorroy Silly Mid On )
I fell in love with this young boy. ( And with more dogs down there also... ) I wish I could buy him... and a few others :)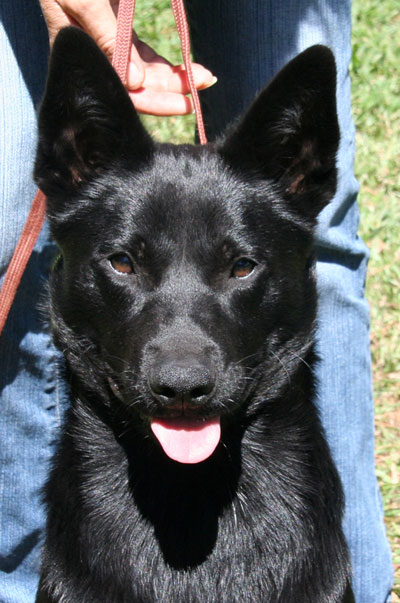 "Nitro"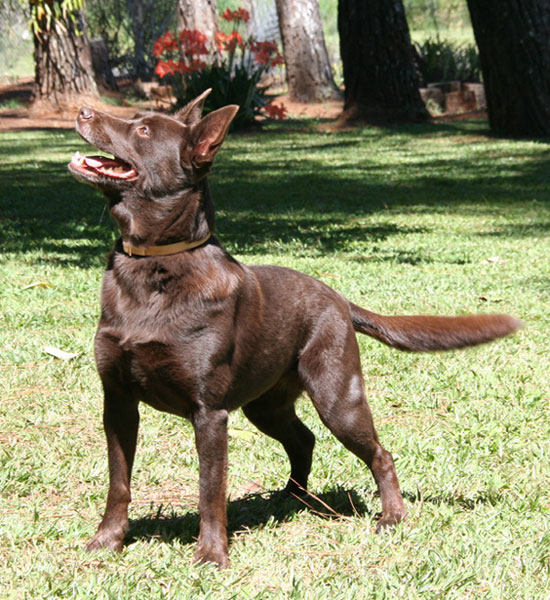 A girl with attitude :) AUSTCH Mountainmist Sheza Rebel, "Rosie".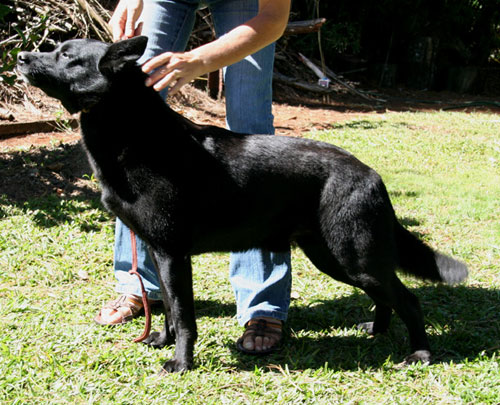 AUSTCH Mountainmist Didjeridu,"Boy".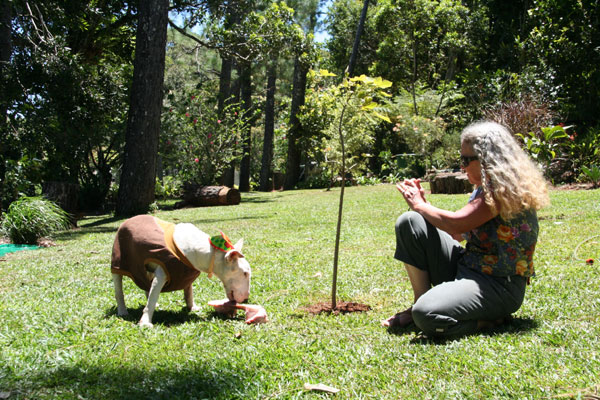 Jan & the old guy, celebrating his 14 birthday!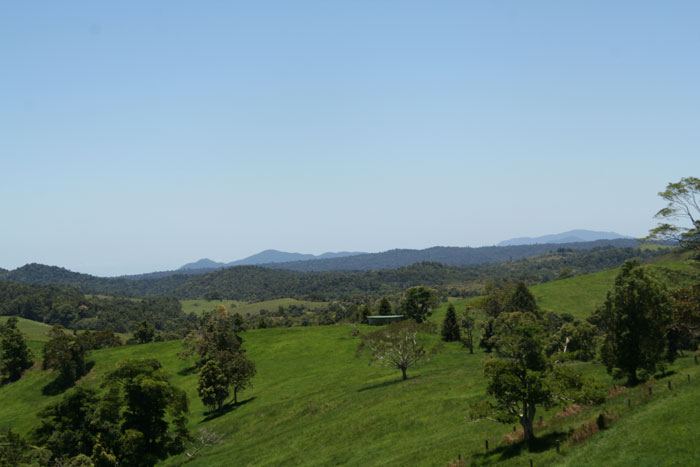 Misty mountains in the back
Jan Bradley had to leave in the afternoon. Mountainmist-Jan took us back to Cairns and on the way for a tour to some waterfalls, including the famous Millaa Millaa :)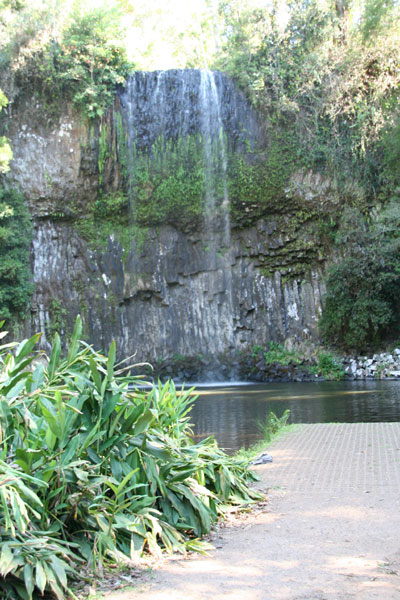 Milla Milla falls, unfortunately in the dry season.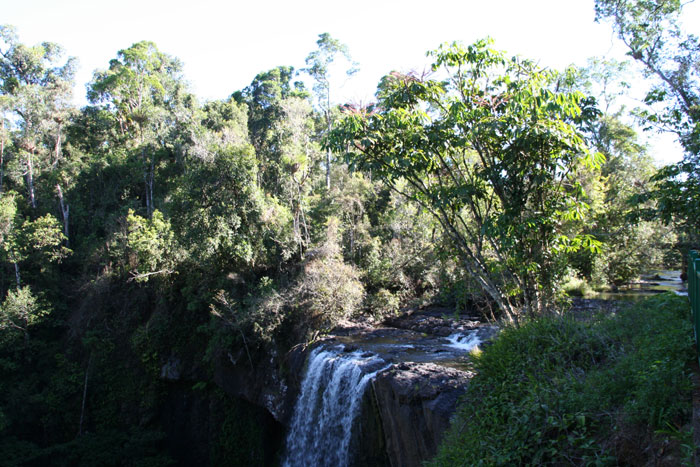 Zillie falls.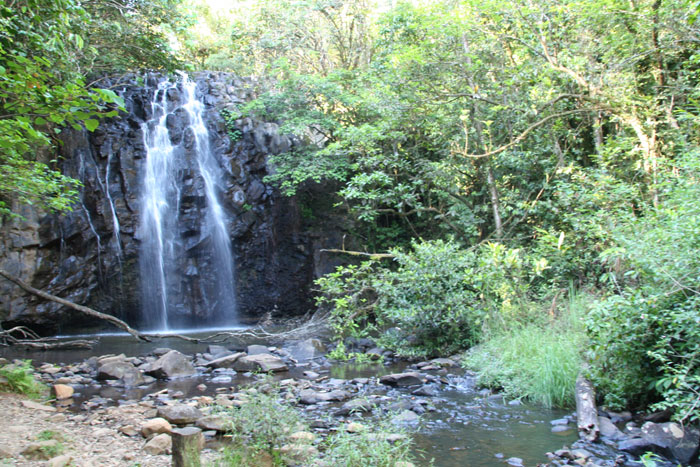 Another fall - the name will come...
In the evening we went out with Jan for dinner at an Asian restaurant. Mmm!
Thank you for a really plesant day, Jan!
___________________
November 18
We were picked up at the hotel for transport to Kuranda Skyrail. The skyrail is 7 km's and has 2 stops on the way up to Kuranda. Well, we saw mostly rainforest on the way, green, green & green :)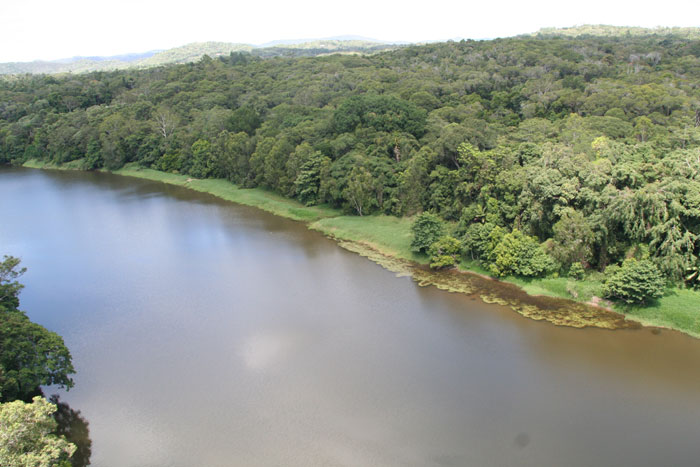 Barron river - pic' taken from Kuranda Skyrail.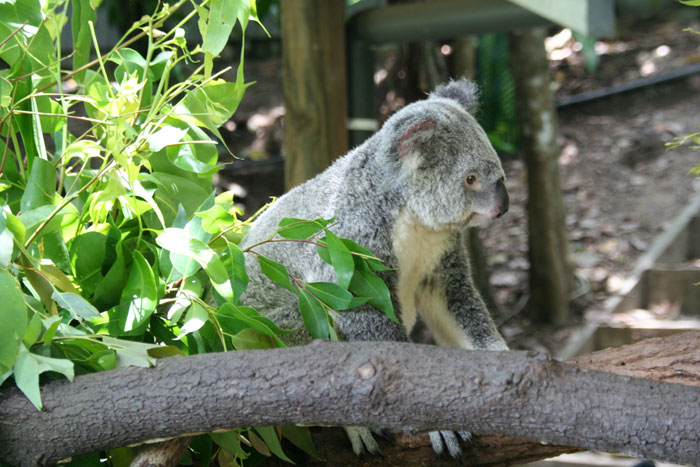 A koala in Kuranda.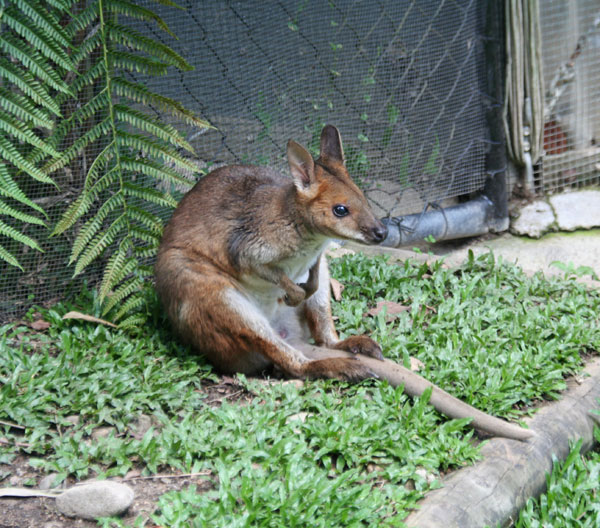 A wallaby in Kuranda.
We strolled around Kuranda Markets, did some shopping, as Mango-wine and a real tropical dress :) Purple with pink flowers on it! Yepp, to use in the tropics :)) Maybe not at home...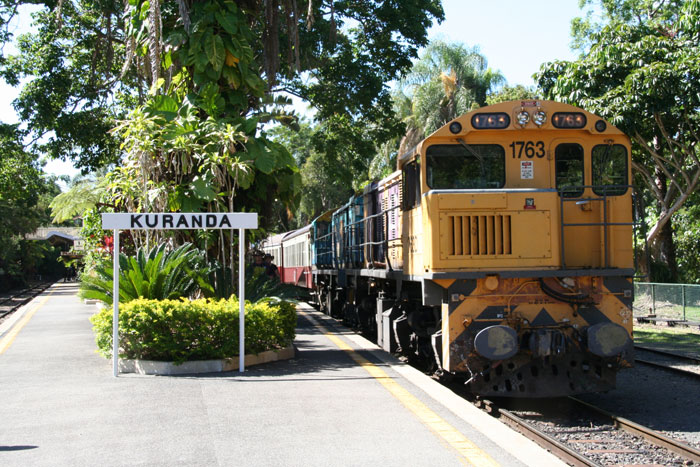 Kuranda Scenic Railway station.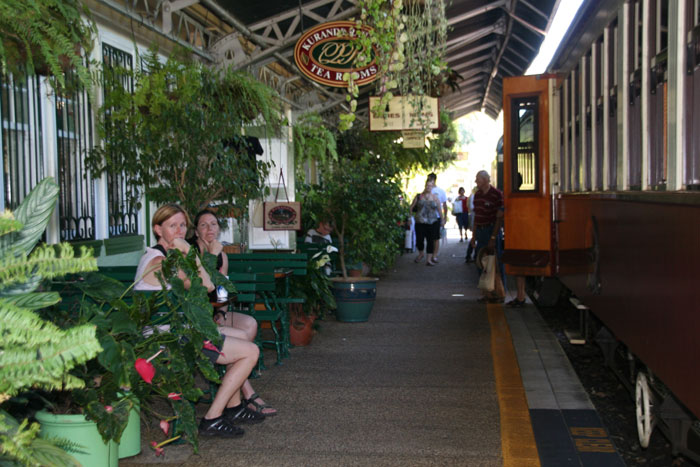 Waiting for the train to leave.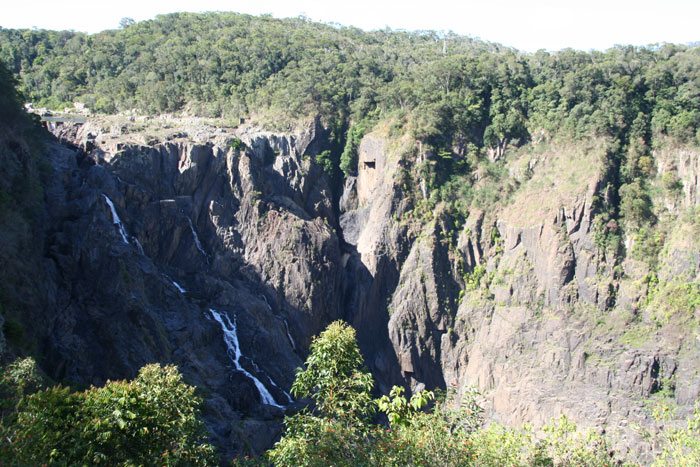 Barron Falls - unfortunately in the dry season....
Back in Cairns in late afternoon - don't remember exactly what we did - probably had a walk down town, some food & beer...
The Kuranda tour was nice, but not worth the price... Well, now it is done!
________________________
November 19
We went to a 4-wheeldrive tour up to Cape Tribulation, Daintree National Park and Mossman Gorge. Passed trough Port Douglas also. In Port' they have no junk-food and "tourist-things".

Cape Tribulation-beach was BEAUTIFUL! A big strange to see the nice blue sea and not be able to swim... because of the "salties"! Well, it was very clear water and no croc's around, so we could put a finger into the water - just in the waterline, in the open area, FAR from the mangrove-area that was in the end of the beach - warm & salt water! Maybe a bit stupid, but we are still alive ;-) But I would NOT do that in the dark Daintree River that we were on tour on later that day - NO WAY!!!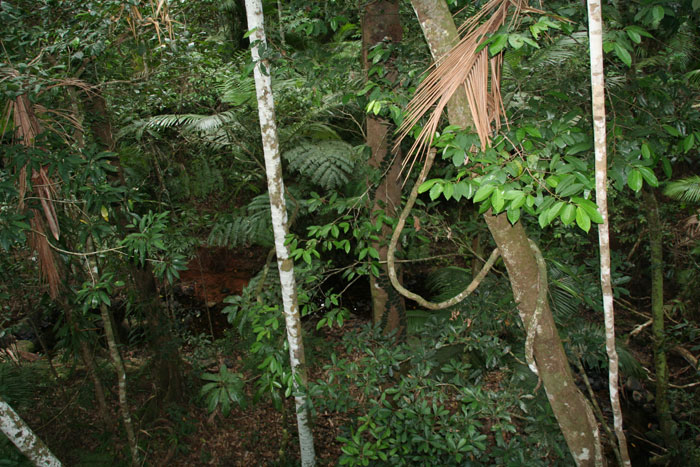 Rainforest in Daintree National Park - the oldest living and growing rainforest on earth.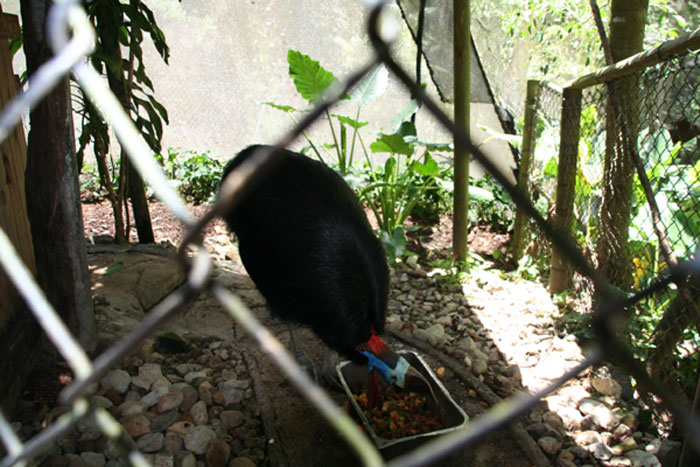 A cassiowary in Kuranda. A bird that is very much cared for.
They are very important to the rainforest and it is a treathened species. Lives in Nothern Queensland.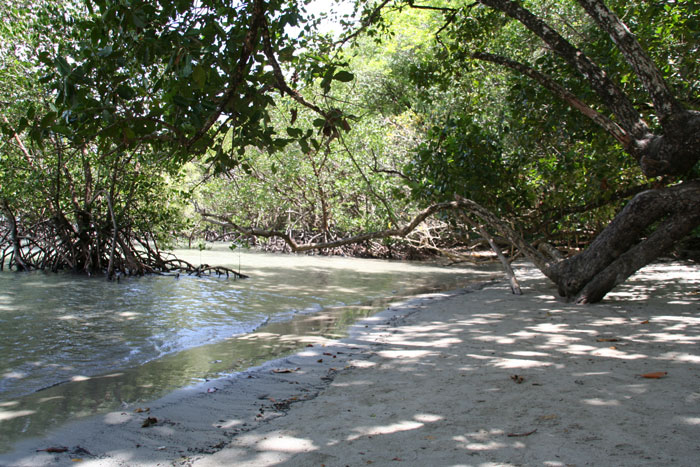 Looking in one direction: Cape Tribulation mangrove swamps...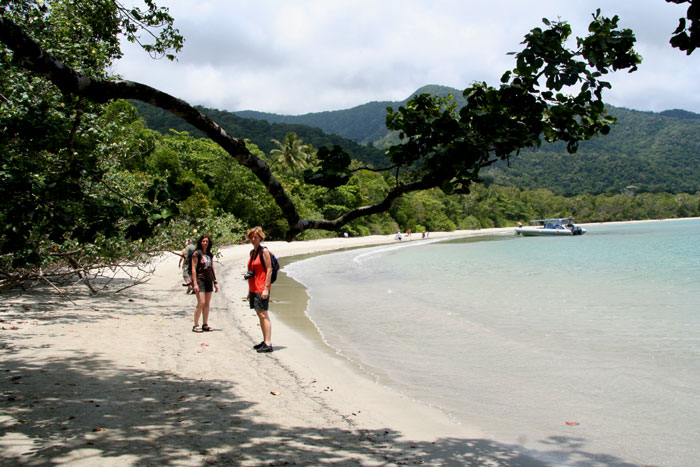 ....and in the other direction - a beautiful beach! With handsome ladies :)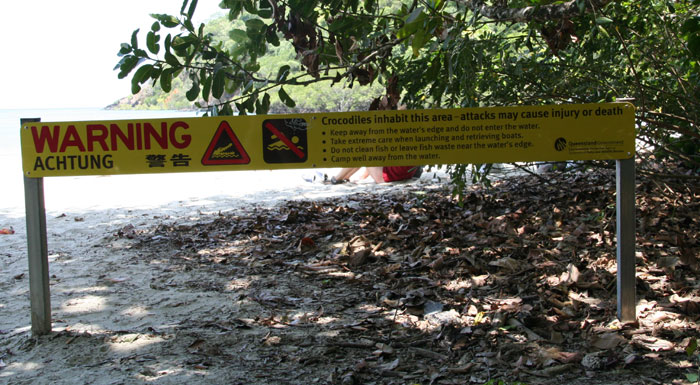 Unfortunately no swimming.....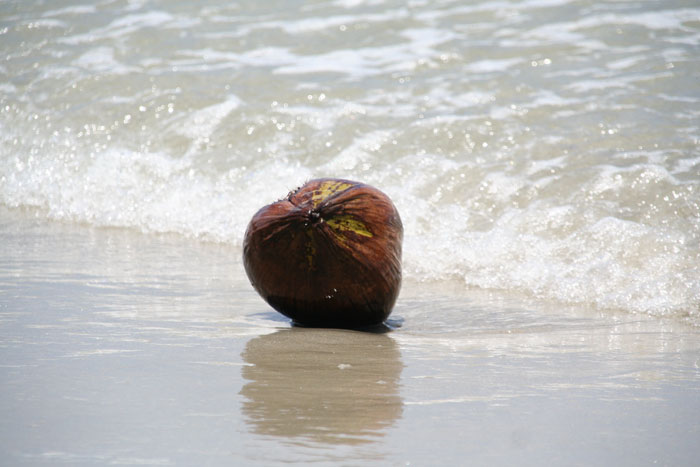 A coconut :)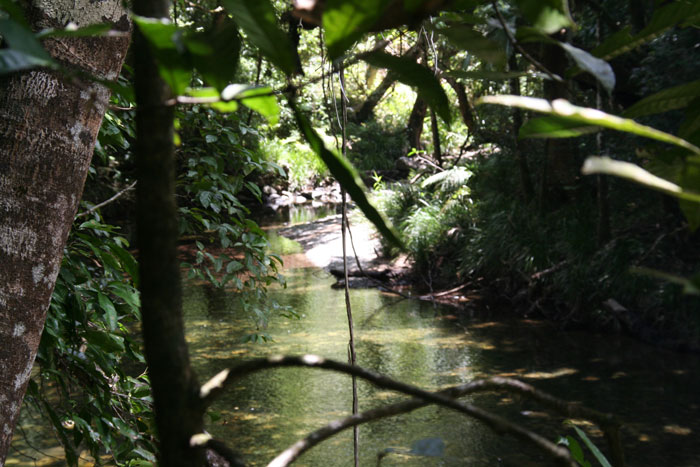 In Daintree rainforest - a beautiful creek!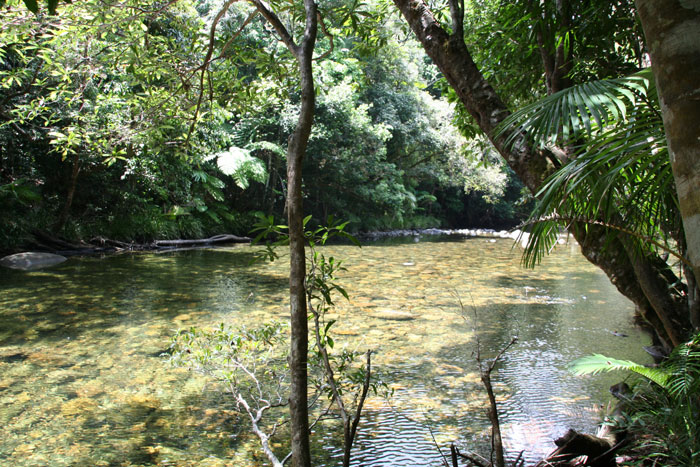 This view is from our lunch-place this day :) We got a very tasty lunch, wine, fruit & coffee here!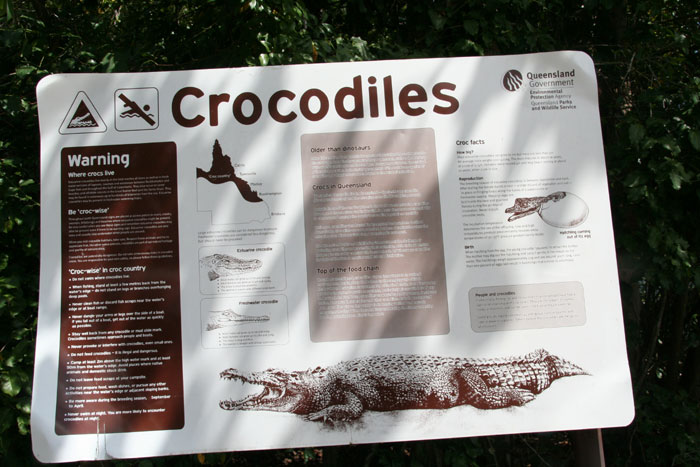 A sign by Daintree River.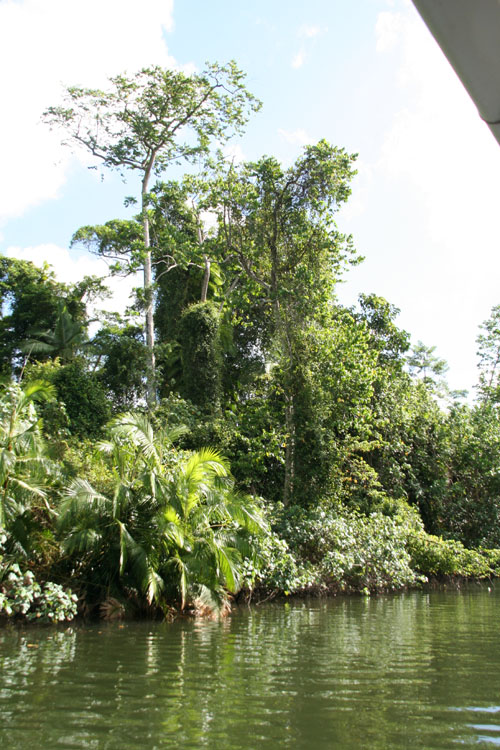 No croc's in sight this day :(

No heads, arms or legs outside this boat!!!!!!!!!!!!!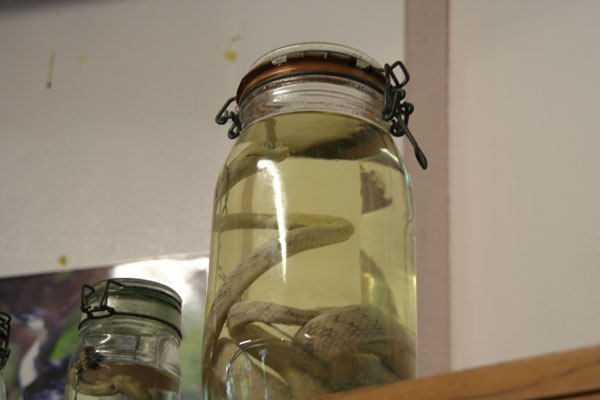 Bläää!!! But dead and captured ;-) :))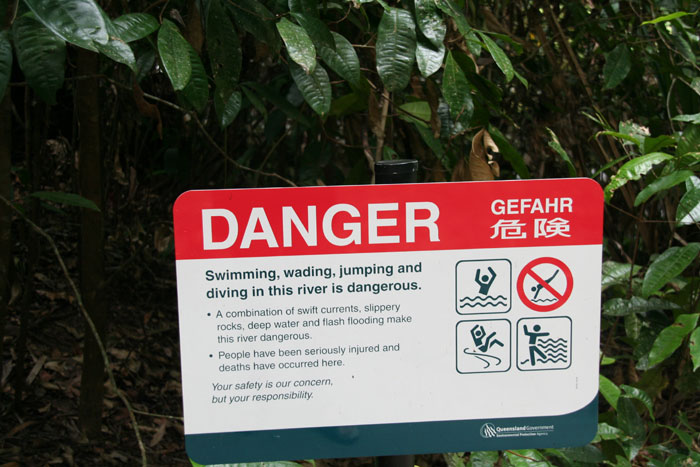 A sign by Mossman Gorge.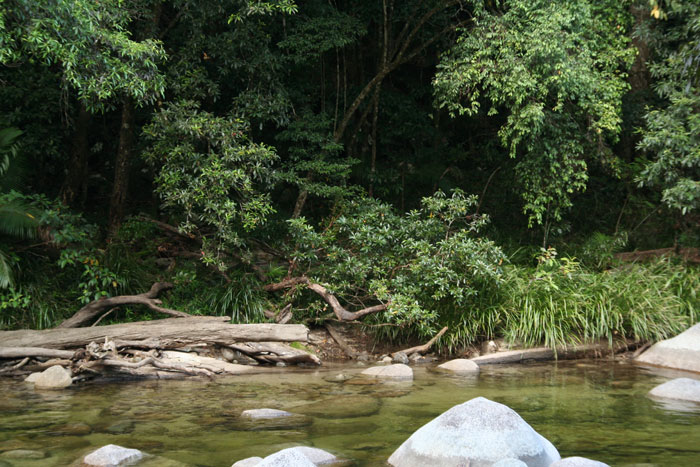 Beautiful, but not so big differences to our creeks here at home - except for the rainforest of course ;-)
A fantastic tour with a very good guide -talking all the time :) Could do it again!
____________________
November 20
A day resting for Stina & me. Anna went to Tully River for rafting - extreme rafting. You are crazy, Anna ;-)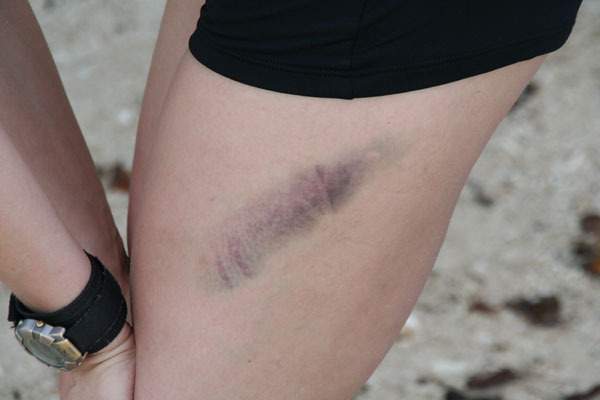 On of the prices for rafting :))

A bit rainy in the morning this day, so hot and humid later on.
We went to the fruitmarket and bougth lots of fruits for next days lunch at Fitzroy Island. And for this day also. The mango was brilliant!!!!!!!! Mmmmm! We tasted some wine at the market, so we were a little drunk when we left the market.... :))
Back at the hotel we had an hour in the sun and a swim in the pool.
___________________
November 21
Fitzroy Island! Only 14 people on the catamaran out to the island :) Beautiful Island - no comments needed!

We were told to use stingersuits for our security - and we did. Pictures to come :)) There is one in Stinas gallery :)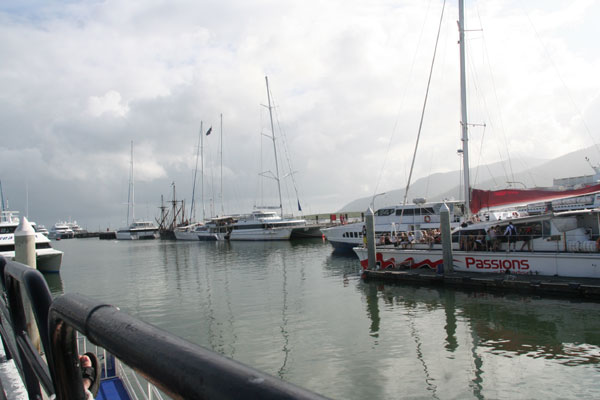 In Cairns, quite "bad" weather in the harbour, but....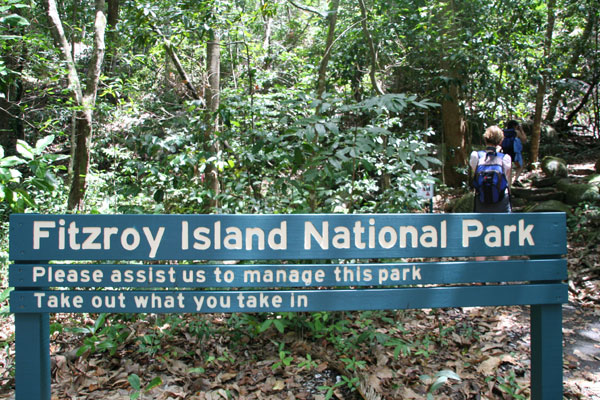 ...out here - nice and sunny!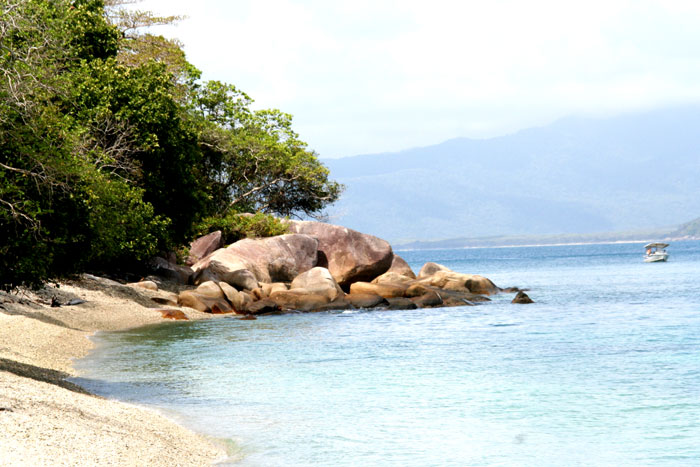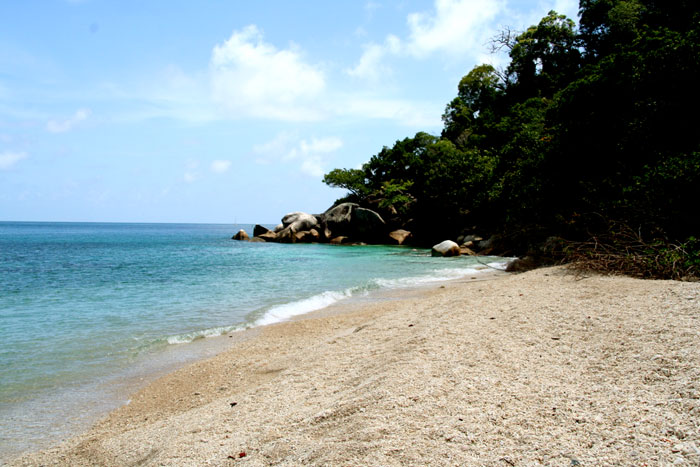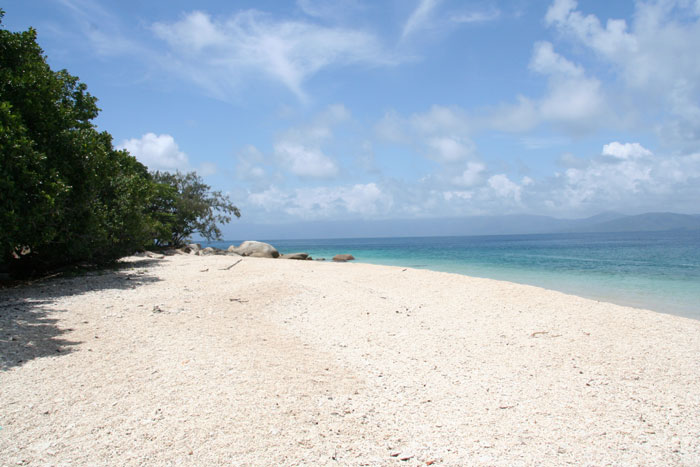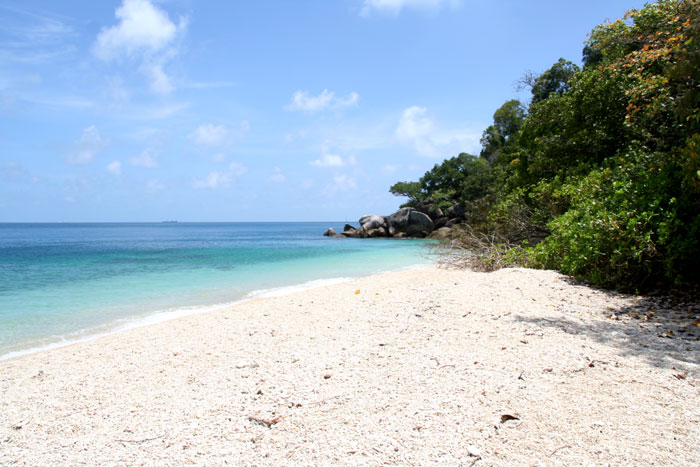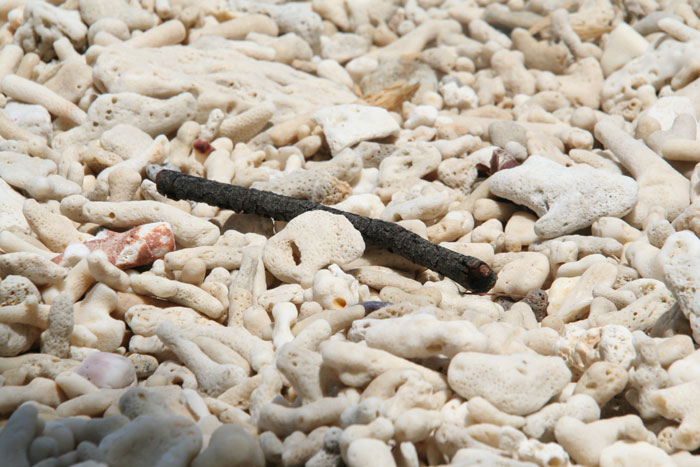 Mostly coralls - just a litte sand here and there on the beach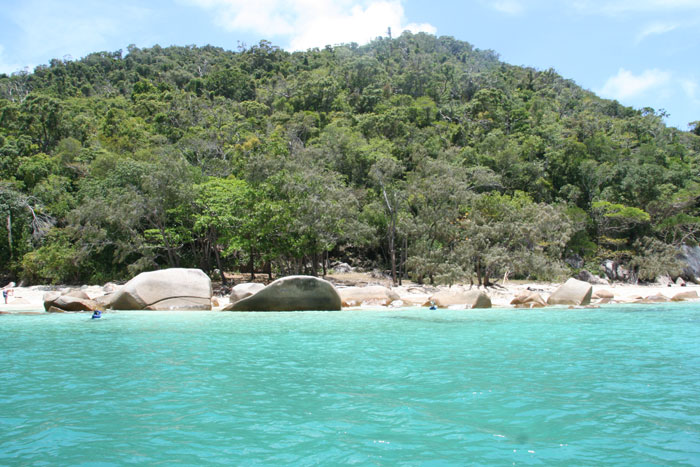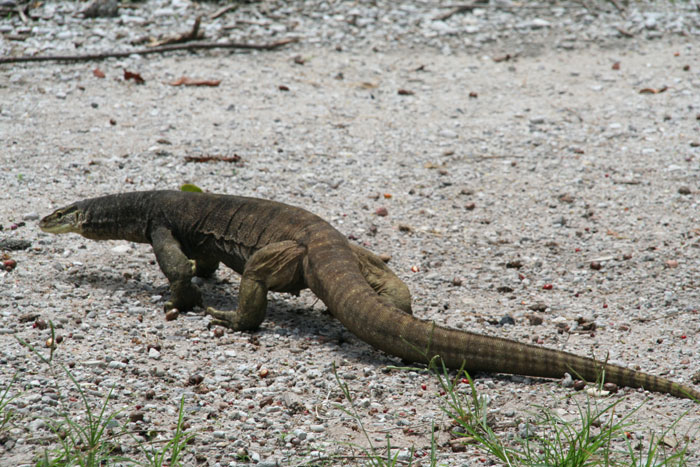 A big lizzard - just walking by!!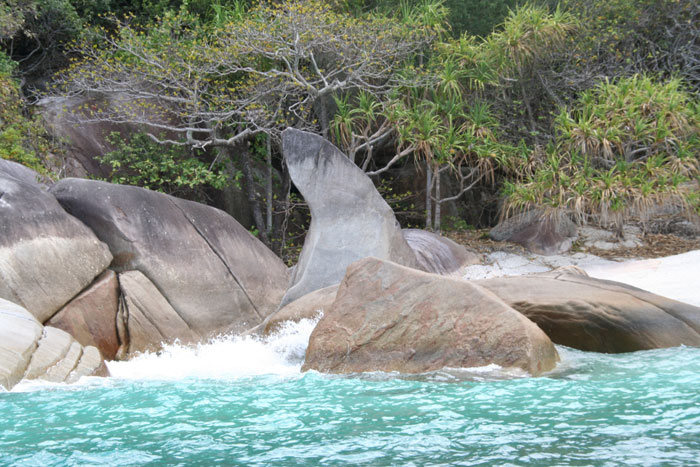 Shark Fen Bay :)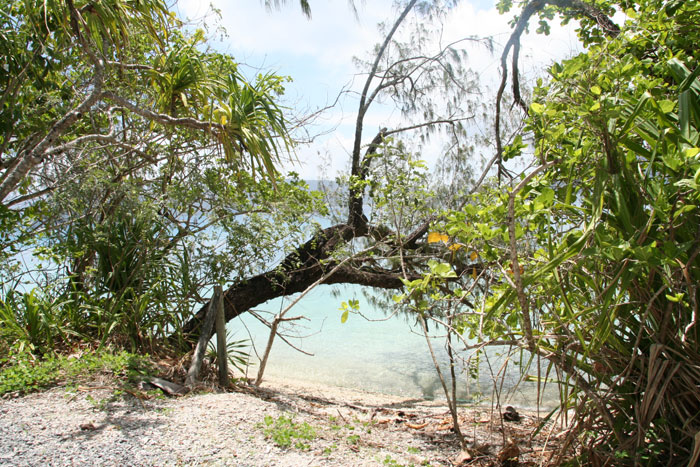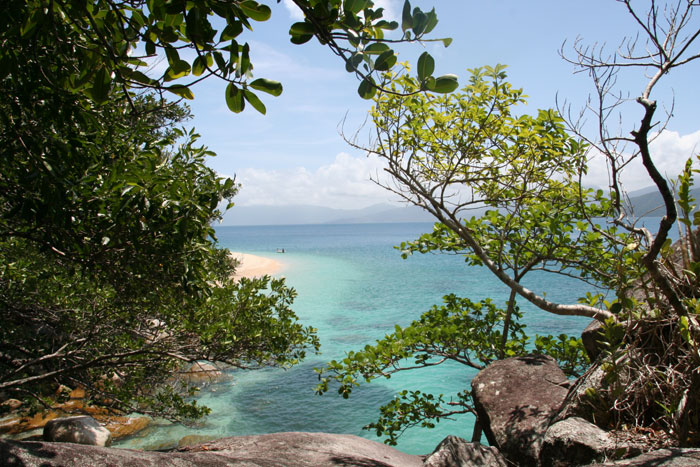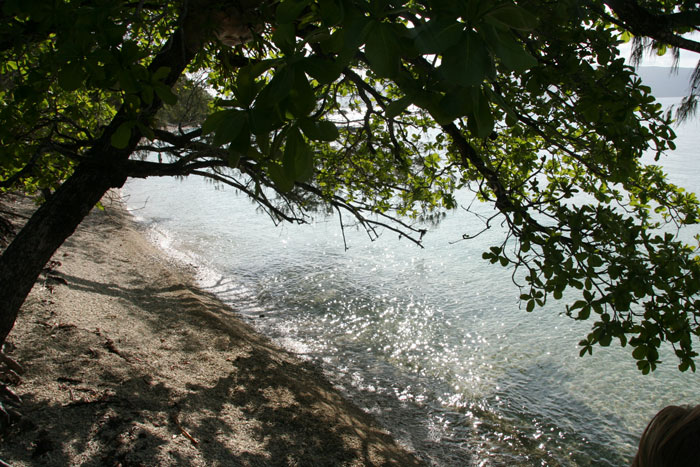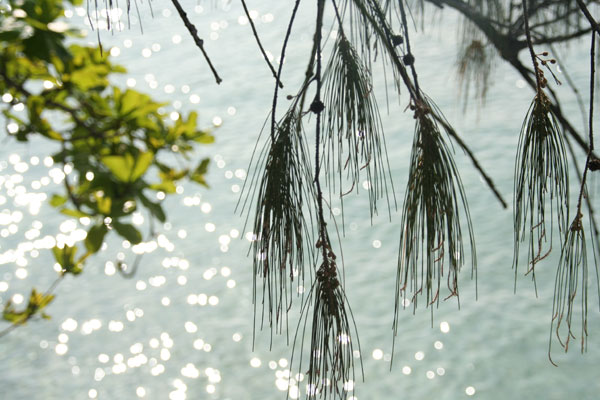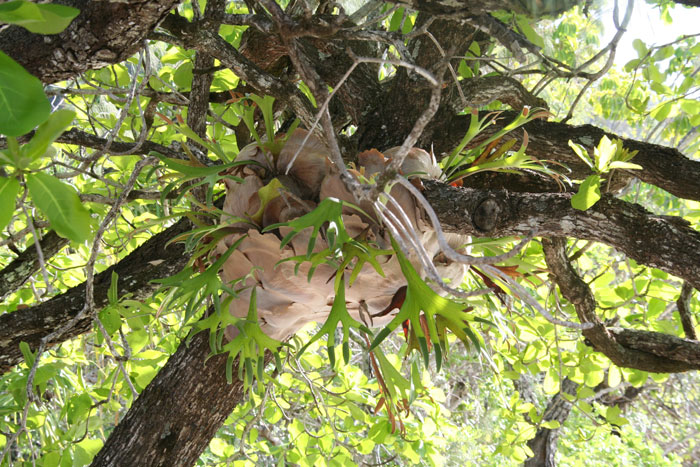 An epifyt.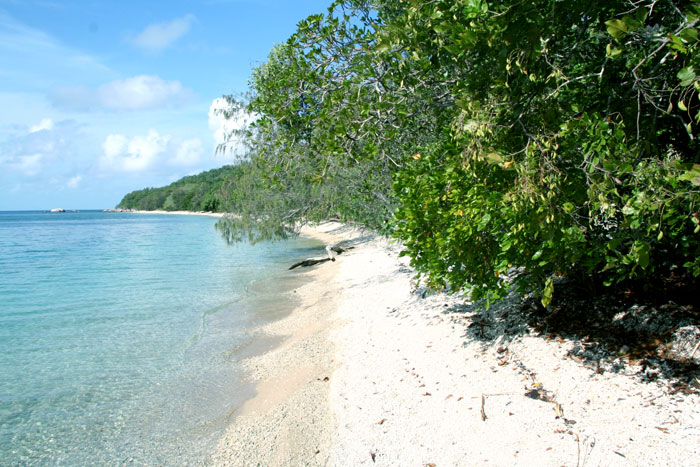 Thanks again to you all for your great hospitality & nice company Down Under!
And to Stina & Anna - we had a great time!!!!!!! When shall we do it again.........