I-kullen
I-kullen skulle ha varit "Ina" & Dollars kull...
Tyvärr dog lilla Ina 1/4 2004 efter vad man trodde var en förgiftning.
Vi saknar dej gumman !!!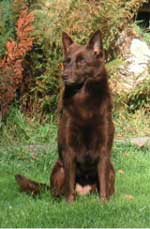 I-litter should have been Cina's & Dollars litter...
Unfortunately Ina died, the vets. thought she was poisoned in some way.
Rest in peace, little girl! We miss you...