Tammy's dagbok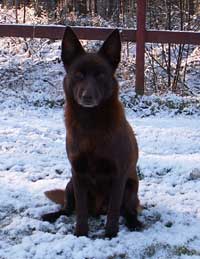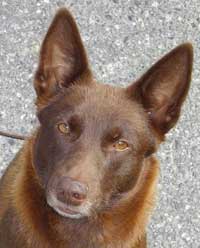 2014
Facebook take a lot of updates....
Tammy has passed away :( She got a stretch in the right hinterleg early 2013. It healed by time, but sometimes she was a bit lame if she was to active. Still walking for an hour per day without problems. In early summer 2014 she started to limp on the left hinterleg. It did not get better. She could not go for walks at all and was lame after only running to the gate to greet friends coming. So June 27:th she was put to sleep.
R.I.P. sweet girl! See ya....

2012
Oh, long time since I wrote here!!!
Tammy is fine. She likes the daily walks and also get some training now and then.
A couple of weeks ago she did some agility and really enjoyed it :)
2011
Wow - long time since I wrote her..... Tammy is doing fine, still healthy and happy :) Went to the vet. for vaccination a few days ago and everything is fine with her.
Today her daugther Busligans Coominya did the show part for KORAD and she is approved and KORAD :)

2010
25/11
Tammy is a grandmother again! Lillipilli got a litter with 8 pups at 22 November! Tammy has now 48 grandkids in Sweden.
She also has grandkids in Australia, but I don't know how many they are.
8/8
To less writing here..... Will update also a bit with her kids results. Anyway, Tammy gets her daily walks with the other girls and a little activation as searching for food in the garden, searching for things - that we stop and do during our walks, a track now and then etc.
Well, TODAY is Tammys 10 years birthday!
HAPPY BIRTHDAY TAMMY!!!!!!
2009

6/12
Tammys daugther Nytta is up for level 2 tracking. Think that I have forgot to write that Nöjje is up for level 2 searching. Sorry...
26/10
Tammy is approved for tracking wounded wild animals, as mooses and deers. We did the tracking-test today and she did very well.
11/10
Today also Nytta got the title KORAD :) Now Tammy has 7 kids with the title KORAD and 8 kids with approved big mentaltest. Coominya only has the showpart left to do for the title.
10/10
Tammys kids Vickulas Lillipilli, Vickulas Nöjje & Busligans Sheila are approved at the big mentaltest & showpart. Got the title KORAD :)
Tammy will now get a diploma for 5 progeny with the title KORAD :)
14/9
Lattjo & Gerti are the winners in an agility-cup in Austria.
Think that I forgot to write that Nytta has her MH done very well.
13/9
Busligans Coominya is approved at big mentaltest, only the showpart left to do for KORAD.
27/7
Tammy's son Busligans Wakool is a Swedish showchampion. His sister Coominya is up for level 3 in searching and also got a 1:st price in obedienceclass 1.
2008
31/12
Good end :) The last one of Tammys pups are scored. Nytta has HD grade B, ED & knees 0-0.
Now all of Tammys pups are scored. All exept one with HD grade A & B, ED 0-0 and knees OK for the ones that have been checked. Busligans Boomer has HD B-C, but the C-side is close to a B.
THANKS Lee-Anne, for a wonderful girl! And thanks Tammy, for nice and healthy pups!

11/12
Vickulas Nöjje has HD grade B, ED 0-0 & knees 0-0.
On Saturday 8/11 Tammy's daughter "Phoenix", AUSTCH Suthenskys Satisfaction HT won her final points to become a Grand Champion! She also won Best in Show that day !!! That was Lee-Anne's & Phoenix's first ever Best in Show, so was very exciting to win it the day she became a Grand Champion !!
5/10
Tammys son Vickulas Nöjje has his MH--test done very well. Nytta will wait a little doing it, as she has not had her first season yet.
4/10
Today 2 of Tammys kids were approved at big mentaltest + "good enough looking" = KORAD. Vickulas Likör & Busligans Wakool!
28/9
Congratulations to Tammys son Busligans Wakool - got his first showcertificate today & BOS.
14/9
Tammy is tested at herding instinct test in Sweden and also her daughter Busligans Coominya. Both approved.

17/8
Tammys son Wakool is up for level 3 in tracking and Likör is approved as a military-dog ( TJH ).
8/8
CONGRATULATIONS to Tammy, 8 years today!!!
13/7
Tammy is now a Swedish Showchampion!
I discovered ( or actually was told... ) late last evening that she only needed ONE certificate for the title as she already is an AustCH.
12/7
Tammy has being shown - got her 1:st certificate & BOB today and a lot of good words about her :)
Her son Busligans Boomer got certificate, CACIB & BOB in Finland today!

1/6
Tammys daugther Busligans Coominya has passed her Militarydog-certificate = TJH.
Last weekend she did the big mentaltest - failed with a few points, but she was high in season and probably needs to mature a little more. Will be tested again next spring. A nice little girl!
18/5
Tammy is approved in level 2 tracking/obedience AND also up for level 3!! That means that we can go for the showcertificates AND the showchampiontitle :) We hope for that! She also got a new title: SHPI.
4/5
To far to updates....
Tammy is doing well. We are training tracking & obedience and also herding yesterday. She did really great in all excercices! Laying down in group with gunshots she has also done good.
We did a competition 1 week ago, but had some problems on the track. Well, we will try again, she can do it!!

20/3
Tammys 3 L-barn är röntgade och klara! Likör & Lillipilli grad A & AD 0-0. Lattjo inofficiellt troligen B, för sned plåt.

Now all 3 of Tammys kids with Vickulas Joo-då are scored. Lillipilli has HD grade A & ED 0-0, such as Likör.
Lattjo has inofficially probably grade B. He was not laying straight enough and also SKK does not put it on the dogdata if the dog lives out of Sweden.
20/2
I dag har Tammy fått spåra på ett spår av lägreklass-stuk, som Mona gick åt henne. Det gick jättebra - bra tempo och alla pinnar med "i mål" :) Snusdosa med gotta i under 4:de pinnen och frukosten i slutet ihop med pinnen. På eftermiddagen blev det skotträning på Säbylundsgärdena med den lilla pistolen, Amanda sköt när Tammy letade gotter. Gick fint det också.
Today Tammy has been tracking on a level 2 track: Mona walked 1000 meters & put 8 sticks on the track, with the breakfast in a box under the last stick and also a small box with cheese under no: 4. Tammy did a very good job :)
In the afternoon we trained shots out at the Säbylund fields. Amanda fired the shots when Tammy was searching for candies. No problems.
17/2
Jag har börjat att träna lite mera med Tammy, för att starta lägre spår med målet godkänd först i april. Vi måste träna in plats med skott för att kunna klara uppflyttning, eftersom lydnaden inte är så superbra och jag tänker INTE slita ihjäl mej på den :) Vi får se hur allt utvecklas. I dag har vi tränat lite diverse, som har gått bra, bl.a. skott och plats.

I have started to train Tammy more than for "activities" again. I plan to compete with her in level 2 tracking/obedience in April, for an approved result. To get up to level 3 we need to train the laying down in group with gunshots more. She is OK with shots and also laying down, but I think that it is important to do it slow and well because it is worth many points, so when that is done we might compete again and try to go ahead for level 3.
We have been tracking a bit longer tracks now and Tammy is working very well :) We have also started to train the new thing she shall do in level 2, as crawling and she thinks it's fun.
Today we have trained laying down & gunshots, and some other things. And of course, the daily walk.
2007
25/10
Likör har HD grad A, AD 0-0 & patellor 0-0. Härligt!
Likör has HD grade A, ED 0-0 & knees 0-0. Great!

19/10
Tammys son Likör har gjort ett fint MH. Han är också röntgad och det såg bra ut. Bara att vänta på resultatet...
Tammys son Likör has the MH done with a good result. He is also X-rayed, looked good, and we now wait for the scoringresult...

6/10
Tammys dotter Lillipilli har gjort MH. Det gick bra.

Tammys daugther Vickulas Lillipilli has done MH-test. It went well and she is steady for gunshots.

4/9
Nytta & Nöjje är födda den 17/8 hos Tony & Anna-Lena. Dom kommer hem i helgen vecka 38.

Nytta & Nöjje were born 17 August at Tony & Anna-Lena's. They will come home in the weekend week 38.
11/7
Tammy är parad den 16/6 med KORAD Glimmergruvans Öjje.

Nu är även Warroo röntgad: HD grad B & AD ua.
Samtliga är MH-testade med "gk" skott.
Tammy is mated 16/6 to KORAD Glimmergruvans Öjje.

Now Warroo also is scored. HD grade B & ED 0-0.
All in the litter are MH-tested with approved guntest.
19/3
6 av 7 i Tammys första kull är röntgade, alla med AD ua, 5 med HD A eller B och en med B-C.
Han kommer dock att röntgas om, då C-sidan var lite slapp. Det sista killen, Warroo, kommer också att röntgas snart.
6 out of 7 kids in Tammys litter at Busligans kennels are done for hips & elbows.
All with ED 0-0, 5 with hips OK ( A or B ) and 1 with B-C. However, the C-side was a little loose, so he will be re-done.
The last boy, Warroo, will also be done soon.
____________________________
2006
10/12
Tammy blev 1:a i championklass & 3:a bästa tik på "Stora Stockholm".
Tammy got best championbitch & 3:rd in best bitchclass at "Big Stockholm".

1/12
Tammys son Busligans Cobber har HD grad A, AD & patellor 0-0.

Tammys son Busligans Cobber has HD grade A, ED & knees 0-0.
1/10
Tammy är uppflyttad till lägre klass spår!

Tammy is up for level 2 in tracking/obedience!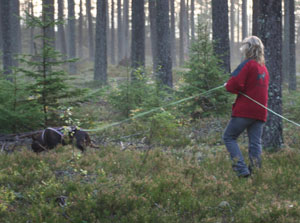 21/9
Tammy är fortfarande hos mej och kommer att bli kvar här. Hon trivs bra med Birka & Ettra och dom med henne. Jag tycker också att hon fungerar bra i träningen med mej, även om linförighet/fritt följ fortfarande sej trist ut :)
Spåret tycker hon är väldigt kul.

Tammy will be staying here. She is very comfortable with Birka & Ettra and they like her too. She is also working good with me. She really likes to track :)
1/8
Tammy och valparna har kommit hem. Resan från Munkfors gick bra. De sov alla 17 milen :)
Tammy & the pups are home. The trip from Munkfors got very well. They slept all the 170 km :)
24/6
Valparna är födda! 2 hanar och 1 tik. Det var också en död fawn-färgad tik.
The pups are born! 2 males & 1 female. There were also a fawn-coloured dead female.
25/4
Tammy är parad 21-24/4 med Vickulas Joo-Då, "Jello", så nu hoppas vi på valpar runt midsommar :)
Tammy is mated 21-24/4 to Vickulas Joo-Då, so now I hope for pups this summer.
6/4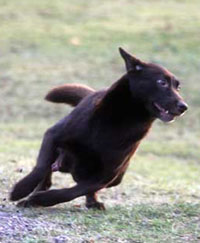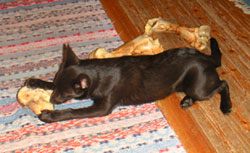 En härlig bild på Tammy :) och en bild från dagens besök av Coominya.
A pic' of Tammy racing :) and Coominya on a visit here.
2/2
Nu bor Tammy hos Tony & Anna-Lena igen, efter Busligan-kullen med KORAD Nemårs Gonzo. Dom säjer att hon har "tänt till" och gärna vill leka och kampa. Hon är mera "på". Ja, hon har väl acklimatiserat sej:)
Tammy is back at Tony's & Anna-Lena's. She has "turned on" more and wants to play and have more tug-war :) Well, she is aclimatised now, I guess!

2005

28/11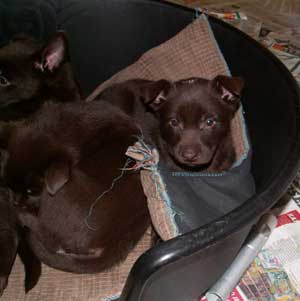 I dag hälsade jag och Helen på Tammy & barn hos Christina. Jättegoa förstås!!

Today I and Helen were visiting Tammy & her pups at Christina's. How cute!!
30/11
Vi ber att få gratulera Tammys dotter AustCH Suthenskys Satisfaction HT, "Phoenix", som har fått 8 valpar, 3 pojkar & 5 flickor!
GRATULATIONS to Tammys daughter "Phoenix", who has got 8 puppies, 3 boys & 5 girls!
20/11


Tammy & barnen
Tammys valpar är födda! 5 hanar & 2 tikar. Stora.. 400-480 gram, pigga & friska. Det var tvunget att bli ett snitt, eftersom Tammy var så stor. Livmodern orkar inte jobba på ordentligt när den är så utspänd.
GRATTIS TAMMY & GONZO and Christina !!

Tammys pups are born! 5 males & 2 females. Big...400-480 grams and healthy. They had to do a sectio, as she was so big, the hyster did not have power enought for the delivery. But all of them are fine! GRATULATIONS Tammy, Gonzo and Christina !!
8/11


Tammy är nu hos Christina inför sin valpning. Stor är hon! Lycka till Tammy!
Tammy is now at Christinas to have her pups. She is big! Good luck Tammy!
20/9
Nu är Tammy parad med KORAD Nemårs Gonzo. Hoppas att allt går bra och att det blir ett litet gäng :)
Tammy is mated to KORAD Nemårs Gonzo. Hopeing that it will go well and that it will be a "little gang" :)
21/8
Oj, vad länge sedan jag skrev... Tammy har varit hos Tony och tanken var att han skulle gå MH:t med henne. Dock så kunde han inte denna dag, så det gjorde jag i går. Hon har varit här i en dryg vecka, så vi har kunnat umgås igen inför MH:t. Det gick rätt bra, resultat finns på TAMMYS SIDA
Nå, hos Tony har hon spårat och tränat lydnad. 700 meter spår har hon gått utan problem och lydnaden går också så sakteliga framåt. I dag ska hon tillbaka till Tony för att bli bofast där nu.
Oh, a long time since I wrote... But Tammy has been at Tonys, training tracking & obedience. It has been proceding fine, she is tracking about 700 meters without any problems.
She has been here for about a week before the mentaltest ( MH ) that we did yesterday. It went fine!!
Today Tammy will move to Tony permanently. Well, she will come and visit of course, some days ( weeks.. ) now and then.. :)
31/7
Tammy har det trivsamt hos Tony. Och arbetssamt kanske :) Hon får träna något varje dag + lång promenad eller cykling förstås. Jag saknar henne...
Vi håller på och jagar MH till henne, eftersom vi tror att hon kommer att löpa snart. Vi har även sökt dispens för att göra det efter parning, om så skulle behövas.
Tammy is having a good time at Tony´s :) Training everyday + long walks or biking. I miss her...
We are looking for a mentaltest for her, as she probably will be in season soon. We have also asked for a dispense to do the test after mating, if so.
23/7
Tammy har varit hos Tony ett par veckor och kom hem i onsdags. Vi har bara promenerat, cyklat och kopplat av. I dag var vi dock på utställning: Västerås INT. Tammy fick CK, blev 2:a bästa tik och R-CACIB. Såg uttråkad ut i ringen i dag och var väldigt nyfiken på alla kissfläckar. Löp snart ?
I morgon ska hon åka till Tony igen. Vi tror att det blir bäst så, eftersom vi väntar valpar här och hon stortrivdes hos Tony. Sov i sängen bl.a. Nå, det blir bra för henne men trist för mej...

Tammy has been at Tony´s for a couple of weeks and came back here last Wednesday. We have just relaxed, walked and biked a bit. Well, today we went to a show and Tammy was best championbitch, 2:nd best bitchclass and got a Reserve-CACIB. She thought that showing was quite boring today..and wanted to snoose everywhere ( not in the ring )... Maybe she will get in her period soon ?
Tomorrow she will move to Tony´s. We think this will be the best, as we are waiting for pups here and the time will not be quite enough. She really liked it there, slept in the bed and so. Good for her, but sad for me...
8/7
I går, i dag och i morgon har jag hand om spår och lydnad på Mezzrow´s ( dobermann ) kennel-läger. I går var flickorna med och det blev inte mycket för dom. Vi gick en promenad och de fick bada på kvällen. Tammy simmade riktigt fint nu :) I dag har Tammy och Ettra varit hemma och Birka fick följa med. Ewa-Lena var snäll och rastade Ettra och Tammy. Tack!
Tammy flyttar till Tony för några veckor nu.. Tomt... Nå, vi ska på semester och sedan ska Ettras valpar komma om ca: 3 veckor och sedan kommer Tammy tillbaka. Hon får nog jobb hos Tony :)
Yesterday. today and tomorrow I am working as a teacher in obedience & tracking at Mezzrow´s ( dobermann ) kennel-camp. Yesterday the girls didn´t do much, but they had a walk and they were swimming. Tammy is swimming quite good now :) Today Ettra and Tammy have been at home and Birka was with me showing a bit of obedience and trackwork. Ettra and Tammy had a better time resting at home. Ewa-Lena was here and let them out. Thanks!
Tomorrow Tammy will be moving to Tony for a few weeks... Hmm.. We are going on a holiday-trip and in about 3 weeks Ettra will have her litter. Tammy will be coming back after that. Tony will start her training during the time. And she will be working a lot. I think she will like it :)
6/7
I dag har jag bokat en massa saker i Australien !! :) så vi har tagit det ganska lugnt i dag. Birka tränade sök i morse och Tammy fick ett spår i kväll och det gick skitbra !!! Ettra har slappat i trädgården i dag.
I have been booking a lot of things in Australia today !! :) so we have been taking it quite easy. Birka has been training search and Tammy got a track this evening and she made it REALLY good!! Ettra is in pups, so she got a rest in the garden today.
2/7
Tyvärr så blir det bara promenader och bad i helgen, eftersom jag dömer sök och spår på klubben.

Unfortunately not much will be done this weekend, as I am judgeing work: searching, tracking & obedience both today and tomorrow. Just walks and a bath today.
30/6
I går blev det bad och kontrollgående av ett elitspår och en promenad. I dag har Tammy lyckats ta sej in i hönsgården och äta en del möglig hundmat. Jag köpte en säck i förrgår som var grön och den fick hönsen ta del av, dom tål det. Så nu blir det svält till i morgon kväll och inget vatten.
Yesterday we took a walk and also walked around an elitetrack to check it. They also got a bath in Tisaren.
Today it has been a sleepingday. Tammy has been in the hensgarden and took some old dogsfood that I gave them... I must fix the fence now...
28/6
I dag fick Tammy ett spår med en 90-vinkel, bra jobb, sedan pinne+filmrullehylsa med korv, stannade och markerade fint och i slutet frukosten i burk + pinne. Hon tappade lite efter en stigpassage, hade lite bråttom :) och snodde runt lite innan hon fick tag i det igen. Sedan spårade hon kalasbra! Det var ca: 150 meter och 1 1/2 timme gammalt.
Ettra har också fått spåra, så nu får Tammy & hon vara hemma när vi åker upp och kollar ett par elitspår till helgens tävling. Birka ska få ett spår där.
Tammy has been tracking about 150 meters with an 90-angulation, a stick + a very little box with candy in ( one of those you buy film for cameras in ) to stop for and a bigger box with the breakfast + a stick in the end. The track was about 1 1/2 hours old.
Ettra got a track too, so she and Tammy will be left at home for some hours now. We are going up to the woods for checking a couple of elite-tracks for the weekend-competition.
Birka will get an elite-track there.
25/6
Cykling på morgonen med Tammy, Gary & Birka, ca: 3 km bara. En lekstund med mej blev det också. Gary & Tammy har varit tillsammans ute på baksidan under dagen och busat en hel del. Ettra, Birka & Cula har kamperat på framsidan. I morgon blir det sovdag, eftersom jag jobbar i helgen.
Biking in the morning with Tammy, Gary & Birka, just about 3 km only. Gary & Tammy has been in the back of the garden whole day and they really like each other. They have played a lot. Ettra, Birka & Cula have been in the front of the garden. Tomorrow it will be a sleepingday, as I will be working this weekend.
24/6
Det blev spår för Tammy på förmiddagen. Helen gick det åt henne. Det var ca: 100 meter med frukosten i en bytta + pinne som slut. Ingen synretning och i två terrängtyper: blåbärsris till börja med, en stigpassage och sedan torr barrmatta på slutet. Hon anpassar tempo och höjd på näsan efter underlag. Snyggt jobbat, mycket motiverad och noggrann :) Ettras spår gick också bra. En lek & kampstund har vi också haft.
Nästa gång så ska jag gå lite längre och lägga en pinne + filmrullehylsa med gotta på vägen och en vinkel + slut.

Jag har Gary och "Cula" här, så jag får ta två promenader i kväll. "Cula" är ju 14 1/2 år, så hon vill inte gå så långt, så hon och den lilla ( förhoppningsvis ) blivande mamman Ettra får ta en kortare sväng, så får Tammy, Birka & Gary gå ihop eller cykla. Sen blir det lite lugnt midsommarfirande på egen hand. Amanda är på kryssning till Finland med sin pappa Leif ( Garys husse ) & Kenth är i Fagersta och tävlar. Jag ska jobba i morgon, så jag beslutade mej för att stanna hemma och vara hundvakt istället.
Tammy & Gary gillar varann :)

Tammy tracked this morning. Helen walked it for her. About 100 meters, she didn´t look when Helen went it out ( sometimes I let her see a few meters ), different woods, as blueberryrice and dry earth. She had her breakfast in a box at the end + a "trackingstick". Very motivated and did a real good job :) Ettra was also doing very well. A play & tugwarmoment we had also.
Next time I will make a longer track with a stick on the way and one angulation + box & stick in the end.

I have "Cula" & Gary here over the weekend, so I will go for two walks this evening. "Cula" is 14 1/2 years old and doesn´t want to walk to long. I will take her and the ( hopefully ) becoming mother Ettra at the same walk and Birka, Tammy & Gary at another or biking.
Tammy & Gary like each other :)
23/6
I dag har Birka tränat sök igen. Alla fick bada och simma i en sjö uppe vid sökrutan. Mycket uppskattat :) Tammy simmade ut och hämtade in en pinne i dag. Vi har promenerat med Amanda, ridandes på Star också. Lite skott från skjutbanan fick vi. Vi hade en "lek & kampstund på kvällen också. Ska försöka att göra det varje dag.
I morgon kommer Helen & Hamilton och då ska vi spåra med honom, Tammy & Ettra. Birka får vila i morgon. Ja, en cykeltur eller promenad på kvällen ska det ju bli förstås.

Bathing & swimming today for the dogs. They really love it :)
A walk in the evening together with Amanda, riding her pony Star. Some gunshots from the shootingarea on the way. We had a "play & tugwarmoment" in the evening also. I will try to do that every day.
Tomorrow Helen & Hamilton will come. We are going to track with Tammy, Ettra & "Milton". Birka shall rest, as she was trained in searching both today and yesterday. Well, a walk or biking in the evening it will be of course.
22/6
I dag har Tammy & Ettra spårat och Birka har tränat sök. Tammy spårade jättefint och redde snabbt ut 2 "mjuka" vinklar.
Jag har cyklat med Tammy & Birka på kvällen, ca: 5 km bara, men nog i värmen. Birka behöver det eftersom hon inte springer så mycket längre när vi är ute och går. Den konditionen från långa snabba promenader räcker till spårtävlande, men inte sök.
Today Tammy & Ettra has been tracking and Birka has been training search. Tammy tracked real good and I had done 2 angulations on the track.
I have been biking with Tammy & Birka this evening, just about 5 kilometers, but enough when it is warm.
Birka needs that because she doesn´t run that much during our walks these days. The condition from long & fast walks is enough for tracking, but not for search-jobs.
19/6
I dag har jag snitslat ett elitspår med Ettra & Birka. Lade ett slut bestående av stor pinne + Friskiespåse under. Tammy och jag gick det sedan. Tammy var lös och spårade bitvis, kanske 2/3 av spåret. Hon kollade också var Ettra & Birka hade varit och vindade sen in spåret igen och fortsatte en bit. Man kan ju fundera på till vilken nytta, men det blir terräng & längdträning. Att vinda bitvis är väl inte så bra, men hon är nyfiken på var vi har varit och jobbar sej tillbaka till spåret. Det blir ju en övning i att ringa och hitta tillbaka om man "tappar" också. När vi spårar "på riktigt" är hon ganska noga. Hon hittade sitt slut och blev mycket glad :)
Dom fick bada i Tisaren också, mycket uppskattat :)
Today I marked ( with paperbands ) an elitetrack with Ettra & Birka with me. It´s about 1500 meters. I put a stick + a box with candy in the end. I took Tammy off lead and walked it again. She tracked, checked where Birka & Ettra had walked ( they don´t go in my footsteps :) and back on the track. She was very happy when she found the stick and the candybox. Good girl :)
They have also been bathing in a lake called Tisaren. They love it :)
18/6
I dag har jag sovit igen och lackat lite på bilen, så vi har gått en långpromenad bara och hundarna har varit i trädgården hela dagen, under Amandas tillsyn. Den glupska damen hittades av Kenth på vardagsrumsbordet i kväll, i full gång med att äta diverse nötter och annat smågodis... Så jag ringde Strömsholm angående pecan-nötskal som hon kanske hade fått i sej ett och annat... Nå, hon hade nog sållat rätt bra. Dom trodde i alla fall att det inte var någon fara för tarmvred och allergier kommer ju fort. Puh !!! Jäkla hund att stjäla ! Nu MÅSTE jag tänka på att rensa undan..
I morgon ska vi upp till skogen och snitsla elitspår, så då ska det väl bli nåt´.
Today I have been sleeping for a while and the dogs have been in the garden all day with Amanda. We have been for a long walk also. Tammy has been steeling some candy from the table this evening. Must remember to put it away...
Tomorrow we will go and mark out the elite-tracks for our comptition in July, so then we will do something.
17/6
"Bara" en långpromenad i går. Jag slipade, blästrade, spacklade och grundmålade lite smårost på bilen och då blir jag så ivrig att få klart, speciellt med tanke på att det regnar stup i kvarten, så jag hölls med det halva dagen. Det tar ju lite tid för mej, jag är ju ingen karl.. :)
I dag har det varit sovdag, jag ska jobba i natt igen, så vi ska strax ta en promenad bara i regnet..
"Only" a long walk yesterday. I was fixing some "small things" at my car, so that took half the day.
Today has been a sleeping-day, as I will work tonight also. We will soon go for a short walk, in the rain..
15/6
I dag har vi varit vid Örebro BK och tränat sök med Birka, spår med Ettra och ett par hitta-övningar med Tammy. En promenad blev det på kvällen också.
( Birka har inte gått sök på ca: 2 år, men jisses så duktig hon var ! Jättetänd ut och bra skall :)
Today we have been i Orebro and trained search with Birka, tracking with Ettra and a bit of search with Tammy. A walk in the evening also.
14/6
I dag har vi varit vid klubben och tränat budföring, lite lek och kamp med Lena och en hitta-övning. Leken "urartade" eftersom jag hade tagit med 2 busar ut på planen och Tammy valde den vi inte kastade med och for runt med. Det blev mera kasta & gripa än kamp i dag. Det passade damen bättre... Kul hade hon i alla fall :)
Skott på ca: 60 meters håll under glass-ätning :) Ettra & Birka fick träna lite lydnad.
På kvällen blev det en cykeltur för Tammy & Birka. Ettra får ta det lite lugnt med det, eftersom hon förhoppningsvis är dräktig.
Today we have been to the club and trained a couple of short "messagedog-runs", playing and tug-war with Lena and a little search. Lena fired 5 gunshots for us from about 60 meters, when Tammy & I shared an icecream :) Ettra & Birka did some obedience.
In the evening I took Tammy & Birka for about 4 km cycling. Ettra is hopefully in pups, so she was at home.
13/6
I dag var jag lite piggare så alla tjejerna fick spår och promenad. Tammy spårade dryga 100 meter med liten pinne & Friskiespåse under som slut. Ingen synretning, ca: 1 1/2 timme gammalt. Riktigt drag i dag ! Blev lite undrande när jag hade passerat en stig där vi brukar gå och hade släpat fötterna, skulle undersökas noga innan hon jobbade vidare :)
Det blev kamplek i trädgården och hon var attans snabb att starta i dag också och drog riktigt ordentligt. Fick tokspel och sprang och kastade och fångade handsken själv också. Det var festligt att se, fick mej ett gott skratt :)))
Apportering och lite kontaktövningar blev det också inne i vardagsrummet, så nu är hon trött och nöjd.
Today we have been walking and tracking. 100 meters +, 1 1/2 hours old track with a stick & candy in a box at the end. Good work. Also a bit playing & tug-war, which she is hot on now. She run around, trough it and catched it :)))
Contact-training & retrieving also. Now she is tired and satisfied.
11/6
Sovdag i dag eftersom jag jobbade i natt som var. Förkylning på gång också, ångande varm och slö, så i natt blir jag hemma. Så vi har bara gått en liten rastrunda i kväll + kampat med en handske. J-lar vad hon gick i i dag, på direkt, drar och morrar som attan, får vinna och far runt vilt morrande och ruskar. Sånt´gillar jag... :)
I have got a bit of a cold so we have only been for a short walk + playing tug-war. She is really "hot´n on" it now. I like that... :)
10/6
Vila för Tammy i dag. Hon stal foder ur en säck som skulle hällas upp i tunna, i ett obevakat ögonblick, i går kväll. Inga mängder, men nog för att bli rund om magen och törstig. Nå, vattnet åkte undan till i dag...
Smörgåstårta stal hon från köksbänken också för ett tag sedan. Man får passa damen..
Tammy has been resting today. Stole some dry-food last evening... Not so much, but enough to be a bit "fat", so no water until today.
9/6
Lite glest i dagboken nu... Nå, vi har inte gjort nåt´speciellt. Vi har promenerat, sprungit i dag ( första gången på länge som jag har sprungit, går hellre fort och långt, så i morgon har man väl ont i röven och benen... ), tränat lite kontaktövningar vid sidan, kamp & kastlekar, apportering och spårat i kväll: 100 meter med pinne + gotta i form av "Friskiesklet" i påse, ingen synretning. Gick kalasbra, hon ringade fint vid ett släpp. Efter slutet så tänkte hon frispåra vidare, fick en riktig fart :)
We have been walking, running, training contact by side, retrieving, tugwar & tracking the last days. Tracking today about 100 meters with a stick and candy in a box at the end. She wanted to track more after the end :)
5/6
Tammy har varit hos Christina i helgen och varit med på träningsläger. Hon har gjort hittaövningar, kampat, lekt, spårat, gått budföring och skött sej bra och charmat alla :)
Tammy has been with Christina this weekend and been at a trainingcamp. She has been testing search, she has been tracking, playing tug-war and everybody liked her :)
2/6
I dag har vi spårat. Lotta lade ett spår med lite synretning och frukostbytta + pinne som slut, ca: 100 meter. På halva sträckan en pinne + filmrullehylsa med korv i. Hon bara slog till vid 1:a pinnen, så jag hejdade henne och visade vad hon slarvat med :)
Vi körde också kast & kamplek med en handske och det passade damen att kampa lite med Lotta :)
Promenad har vi också gått med Lotta & Härja, Birka & Ettra.
Måndag, tisdag & onsdag har det bara blivit promenader, eftersom jag har jobbat och sovit.
I helgen ska Tammy vara med Christina, eftersom jag ska till Karlstad och ha en spårkurs.
Today Tammy has been tracking. Good work. The breakfast in a box at the end + a stick to play with.
She has also been playing a little tugwar with Lotta.
We also went for a walk with Lotta & Härja, Birka & Ettra.
Monday, Tuesday & Wednesday we have only been for walks, as I have been working and sleeping.
This weekend Tammy will be with Christina, as I am going to Karlstad to give an education in tracking there.
29/5
I dag har vi gått promenad med Ettra & Birka. Tammy hade tokspel och sprang som en idiot på gärdet i 5-10 minuter. Tyckte väl att det var för stillsamt i Stockholm :)
Sen lekte vi och kampade med en handske. Hon startade snabbt i dag och kampade rejält och morrade. Tidigare har hon inte velat dra så mycket när det är ett litet föremål och i och med det nära min hand. Det var "high-life" i dag :)
Today Tammy has been racing as a crazy at the walk. Maybe it was to calm in Stockholm :)
We also played tug-war with a glove and she was very speeded and had "high-life" :)
28/5
I fredags morse åkte vi till Stockholm för att para Ettra. Vi har haft fått bo över natten hos Veronique och Godis. Tammy tyckte mycket om Godis och även lille Sebastian, Veroniques son på 1 år och några månader. Han lät konstigt och förde oväsen, men det var OK. Han hade också kex och annat gott i händerna, så han blev förföljd och pussad på :)
Vi har också varit i hamnen och en sväng på Södertälje BK. Tror ni inte att vi fick skott idag också :)
We have been to Stockholm for the mating of Ettra. We have been living at Veronique´s ower the night. Tammy liked Vickulas Godis and also Veroniques son Sebastian, about 1 year old. He made a lot of noises, but that was OK. He also had candies in his hands, so she followed him and kissed him :)
We have also been in the harbour and at the workingdogsclub in Södertälje. Don´t you think they were shooting :)
25/5
I dag har vi sovit och gått promenad med skott. Som vanligt skjuter dom hej vilt på skjutbanan :)
I går blev det inte mycket gjort. Jag hade ont i ett öga, fick en granruska i det i måndags på spårkursen. Det är bättre i dag. Det blir Chloromycetin-salva några dar´.

Today we have slept, as I have been working a night and will do so tonight also. We have been for a walk and they shot as usual :)
Yesterday we didn´t do much, as I hearted my eye at the trackinglesson last Monday. It´s better today.
23/5
I dag blev det spår efter Ewa-Lena med frukosten + pinne i slutet. Lite synretning & ca: 100 meter. Bara 15 minuter gammalt, men hon är spårnoga :) Hon stannar och tittar på mej om hon tappar lite, men det är bara att vänta några sekunder så går hon vidare. Tror väl att jag ska hjälpa henne, men NEEJ, jag kan inte spåra :)
Långpromenad har det också blivit, men inget spår på kvällen.
Today Tammy has been tracking Ewa-Lena, about 100 meters with the breakfast in a box at the end + a stick. She is good in the track, but she is funny :) If she has a bit of a lost she is looking at me, thinking that I will help her. But NOO, I can not track :) If I just wait a few seconds she is finding it again and going on :)
We have also been for a long walk.
22/5
I dag har jag städat, rensat rabatter !! :) klippt gräs och haft spårkurs, så det blev "bara" en redig promenad i dag. Apportering har vi tränat lite också. I morgon förmiddag ska Tammy få ett spår igen och även på kvällen. Hon ska få visa en 1:a övning i spår, men lite längre än 50 meter.

Today I have been cleaning the house, done some gardening !! :) cut the grass and had a trackinglesson, so we have "only" been for a long walk and training some retrieving. Tomorrow morning Tammy will get a track and also in the evening at the trackingclass I have.

21/5
Nu har jag jobbat ett par nätter och sovit en hel del på dagarna, så det har bara blivit kvällspromenader.
Vi ska gå en snart också. I morgon tänkte jag lägga spår åt alla tre flickorna. Kenth ska åka och tävla, men jag följer inte med eftersom både Birka och Ettra löper. Hade varit kul, för flera klubbkamrater är med och så Tony & Gnistra.
I have been working a couple of nights and slept during the days, so there has only been walks in the evening. Soon we will go for a walk.
Tomorrow I thought that I shall be tracking with all 3 girls. Kenth & Zack are going to a competiotion but I will be at home, as both Birka and Ettra are in their periods. I will have to wait for the results. A couple of my clubmates are competing and also Tony & Gnistra.

18/5
I dag har vi varit i Örebro och kört sök med Ettra, upplet med Birka & ett spår och ett par hitta-övningar med Tammy. Skott fick vi precis när vi klev ur bilen, perfekt :)
Ny ska vi gå en promenad.
Tillbaka. Visst fick vi skott i dag också och vinden låg på så det small som f-n :)
Vi har lekt med en "buse" i snöre och kampat med också.
Today we have been in Örebro and trained search with Ettra, serch for things with Birka and a track with Tammy. She also run out to Helen, just a finding-training. Gunshot also today, perfect :)
Now we will go for a walk.
Back. Shots today also :)
17/5
I dag blev det promenad med skott från skjutbanan. Dom skjuter som tokar, lika skjutgalna som jag..! Som på beställning :)
I morgon ska vi in till Örebro BK och köra lite hitta-övningar med både Ettra & Tammy. Söket är kul :) Ett spår med synretning på någon annan än mej ska det bli också. Birka får väl ett uppletande.
I går sov vi...
Today we have been for a walk with gunshots from the shootingarea, as usual.
Tomorrow we will go to the workingdogclub in Örebro and do some search- & tracking-training.
Yesterday we slept...
15/5
I dag har vi gått långpromenad. Vi gick förbi skjutbanan förstås, eftersom dom sköt som galna :)
I morgon blir det till att sova eftersom jag ska jobba i natt och i morgon natt.

Today we have been for a long walk. We passed the shootingarea and got a lot of shots :)
Tomorrow we will sleep a lot, as I shall be working tonight and tomorrow night.
14/5
I går spårade vi på Ewa-Lenas spår ( kort, 80 meter ) och det gick bra bara hon kom igång. Drev av lite i vind först och såg lite frågande ut. Markerade apport + slut. Bredvid dessa finns filmrullehylsa med gotta och så "ormen" ihop med slutet förstås :) Sedan gick hon ett appell-liknande spår på gärde efter mej, men det var lite av och på. Tror inte att hon riktigt förstod vad hon gjorde.. Markerade i alla fall apport + slut och "lekapporterade sedan pinnarna i utbyte mot "gotta" :)
Vi ska ta och "ladda på" med lite synretning och "hemligheter" nästa gång :)
I dag har jag dömt på Dobermann-RM och hundarna har varit den största delen i bilen :(
Skott har vi fått i alla fall och en kortare promenad.
Yesterday Tammy tracked 2 short tracks. 1 after Ewa-Lena, 80 meters & 1 on a field, about 200 meters after me. She stopped by the "sticks" and also "play-retrieved" them in exchange for candy :)
Today I have been judgeing Masterships in work for Dobermann, so the girls have been in the car a lot :( We got some shots and also a short walk anyway.
12/5
I dag har vi varit vid klubben och kört platsliggning, budföring & skotträning. Har gått bra. Tammy fick också leka och kampa med Paula.
Today we have been to the club and trained a little. Shots and lay down in group. Some playing and tugwar with Paula.
11/5
Nu har det varit lugnt några dar´eftersom jag har jobbat och sovit. Mest promenader, lite skott från skjutbanan och lek med diverse saker. Nya favoriten är den stora mjuka pipbollen med handtag som jag vann på tipspromenaden i Skillingaryd :) Den ruskar hon runt med så att jag blir fundersam på när hon ska slå handtaget i huvet´..
Mostly walks the last days. I have been working and sleeping. Also some shots from the shootingarea during the walks and some playing with the new favoritetoy. It´s a big soft ball with a sound in it that she runs around with, "killing" it :)
8/5
Tammy fick ett spår med synretning och vinkel i dag. Bra jobb!
Och promenad förstås.
Tammy got a track with an angle today. Good work !
And a walk of course.
7/5
Tammy blev bästa championtik & 2:a i Bästa tik-klass på rasspecialen i Skillingaryd!
Tammy won championclass & was 2:nd best bitch at Kelpie & Cattledog specialshow !!!
3/5
På förmiddagen blev det en promenad med Birka, Ettra, Dyrka & Jenny.
Sen har vi spårat och det gick bra. Hon är motiverad och noga :)
Vi gick en promenad också mot skjutbanan eftersom de hade börjat skjuta. Då slutade det... men det kom igång när vi var i höjd med banan så det small utav bara f-n. Jag blev faktiskt lite orolig men det var bara att vara kall och gå på. Tammy stannade till och tittade på det första och sen på mej, tror jag, sedan gick hon vidare som om hon var döv. På hemvägen under fortsatt skottlossning blev det lek och kamp. Det blev väl sammantaget ca: 20 skott under hela kvällen
Birka och Ettra fick nöja sej med promenad på förmiddagen och uppletande på kvällen.
Today we have been for a walk with Birka, Ettra, Dyrka & Jenny. We have also been tracking. Good work :)
We also took a walk towards the shootingarea, as they started to shoot. We were rather close to it, but Tammy was cool and didn´t care at all.
Birka & Ettra have been searching for things.
2/5
"Bara" en promenad i dag.
"Only" a walk today.
1/5
I dag hade vi besök av Christina & Janne. Vi gick en promenad med hundarna och det blev lite kort tagna på Tammy, bla. under lek. Tammy fick göra ett par hittaövningar som gick fint. Hon visade också ett visst intresse för att påbörja att förfölja rådjur. Tidigare har hon bara tittat, så det får vi se till att sätta P för, så det inte utvecklas.
Today Christina & Janne were here. We took a walk with all dogs and played & trained a bit with Tammy. Some new pictures also.
30/4
I dag har vi sovit, jag har jobbat. Fåren ska klippas på eftermiddagen, så vi får se om vi hinner nån´ promenad i kväll innan nattens arbete.
Today we have been sleeping, I have been working night. In the afternoon the sheeps will get their hair cut, so we will see if we can have a walk before I go to work again.
29/4
I dag blev det 5 skott på ganska nära håll under en rastning vid klubben. Hon bryr sej inte ett dugg. Peppar, peppar :) En liten promenad med Tazz och en liten budföring blev det också. F.ö. lugnt.
Visst ja, vi var inne på Kenths jobb igår. Industrilokal med traverser som skramlar och en kille som svetsade. Svetsen tittade hon lite på först, men struntade snart i den.
5 gunshots at the club today from about 75 meters. She does not care about it. So far so good :) A short walk in the company of Tazz too. A rather calm day.
Yesterday we were also at Kenths job for a look.
28/4
I dag har vi varit i skogen. Tammy fick 2 korta, ca: 100 m spår med buse + godispåse som slut. Det låg en och annan Frolic i spåren också. Båda gick bra, men det andra gick vägvinnande :) Kampade som sjutton i slutet.
Sen har vi varit på klubben och fått lite skott och Per tränade lite agility med Tammy. Hon var trött efter en heldag i skogen så det blev bara några hopp. I morgon får det räcka med en promenad och en fika på klubben. Lena ska bjuda på "elit-tårta" :) Sen ska vi nog ta det lite lugnt några dar´.
Today Tammy has been tracking on 2 short tracks, about 100 meters each with a tug + candy in a box as end/reward. She really did it fine :)
We have also been to the workingdogclub for guntraining and Per trained some agility with her. Tammy was tired after a whole day in the woods, so they only did a few jumps. Tomorrow it will be enough with a walk and coffe and cake at the club. Lena will serve elite-cake :) Then we will take it a bit easy for a few days.
27/4
I dag har det blivit promenad med Ettra & Birka. På kvällen sköt dom på skjutbanan och vinden låg på, så det hördes ganska bra :)Tammy låg ute på altanen och vilade och tuggade ben.
Sedan var vi till bonden och köpte häst- & hönsfoder, så Tammy fick gå med in i ladan med bås med ungtjurar. Det är trångt i ingången så Tammy sa "Usch va´läbbigt!" och hävde sej bakåt ur halsbandet. Nå, det var bara att sätta på det igen och tala om att nu går vi, så då gick vi.
Väl inne så var det OK. Dessutom fick hon smaka NÖTFOR och det är gott :)) Vi körde vår lilla "Är du med-lek" där inne och visst var hon med. Sedan var det inga problem att gå ut & in mera i den ladan.
A walk with Ettra & Birka today.
Gunshots from the shootingarea in the neighbourhood. Tammy was in the garden resting and cheewing on a bone.
We bought horsefood from a man who has young bulls i big boxes i a barn. We went into the barn and that was creepy at first, but then OK. She also got some cows-food and that was tasty :) We played our game "Are you on" and yes, she was :)
25-26/4
Bara promenader och lite lek & kamp dessa två dagar. Jag har jobbat, sovit och haft annat att göra.
Just some walks & playing theese two days. I have been working, sleeping and have had other things to do.
24/4
Hemmadag för Tammy, då Ettra och jag har varit och tävlat. Är nog bra för henne att bara få vara i lugn och ro också.
Vi tog i alla fall en promenad på kvällen, bara hon och jag. Tog med "ormen", en treflätad, mjuk kampbuse. Blå, vit & gul, mycket stilig :) Det tyckte Tammy också, för hon jagade, grep och dödade den och kampade också med mej.
Tammy has been at home today relaxing. Ettra & I have competed.
In the evening a walk just me and Tammy. We were playing tugwar and catch it. She really liked it. She liked that tug, a soft blue, white & yellow thing called "the snake" :)
23/4
I dag har Tammy varit hos Birgitta, Per & Fajta. Per har tränat lite agility med henne. Jag har varit och tävlat.
Tammy has been with Birgitta, Per & Fajta. Per has been doing some agility with her. I have been at a trackingcompetition.
22/4
I dag har vi "bara" promenerat. Tammy springer som en tok och antastar Ettra & Birka med ganska burdusa lekinviter. Birka säjer dock nej. Ettra och Tammy kör sina race. Badar i dikena gör de alla, så de är riktigt snygga.. Tammy kör upp och ner i dessa diken :)
Today we have "only" walked. Ettra & Tammy are racing. They take baths in the big waterspots everywhere :)
21/4
I dag blev det sovardag och klubben på kvällen. Tammy fick ett tiotal skott eftersom de tränade både plats och budföring i kväll. Några på ca: 200 meter, några på 100 och några i bilen med stängd lucka och CD med Gyllene Tider, då jag sköt. Hon sköter sej, verkar nollställd inför skott. Per tränade lite agility med henne. Kampade lite också hemma i köket på kvällen :)
Today we have been sleeping during the day and in the evening we were to the workingdogclub. Some shots today also, went fine. Per was doing a little agility with Tammy.
20/4
Sova, sova, sova... Det har snöat så Tammy har varit i snön på morgonen!
På kvällen har vi gått en promenad med Ettra & Birka. Tammy har sprungit som en tok och tycker inte att det är ett dugg konstigt att springa i skogen :)

Today and tomorrow we will sleep. I have been working tonight and will do again. It has been snowing tonight so Tammy has been in the snow this morning! Tonight we have been for a walk in the woods. Tammy run like a crazy :)

19/4
Vi har varit i Ängelsberg hos Åsa och hälsat på och tittat på valparna efter "Myran" ( Vickulas Exa ) & Dollar. Jättesöta förstås! Vi gick en kort promenad och fick ett par skott när hundarna var i bilen ( som jag faktiskt inte hade beställt ). Det var nån´ form av ärtbössa någon lekte med :) Inga reaktioner verkade det som, jag sprang ju inte fram och tittade men det var helt lugnt en minut senare.
We have been to Åsa & "Myran" and said hello to her pups.
18/4
Vi har varit vid Örebro BK och promenerat 150 meter bort under tiden som 4 skott sköts. Gick bra, svansen upp och inga reaktioner i dag heller. Tammy fick sedan ligga plats ett par minuter med Milton och en boxertik. Lugn och fin, vet vad som ska göras. Sedan var vi och inhandlade mat, ett halsband och koppel till Tammy + en svindyr utställningskedja... Nu ska hon få vila resten av dagen och jag ska ta en prommis med Birka & Ettra.

Det blev lite lek på senkvällen i alla fall... Jag busade upp henne och hon fick tokspel med mina gamla fleecetofflor. Mördade dom och for runt i köket. Parkerade dom i korgen och hämtade självmant apportbocken som låg i ett hörn :)
Today we have been at Örebro workingdogclub and took a walk during some shoting. Went well today also. About 150 meters away from the shots. She also layed down in group with Milton and a boxer-girl. Very calm and good! We have also bought a new necklace & lead for Tammy + a very expencive.... necklace/"chain" for shows :)
17/4
I dag blev det skogen igen. Spår för Birka & Ettra och en kortare promenad för Tammy. Sedan sköt Per 2 skott åt mej när Tammy och jag skojtränade lite 3-400 meter bort. Hon registrerade första skottet och fortsatte med det vi höll på med. Nästa skott verkade hon inte "höra". Sedan blev det 8 skott på klubben. Det skulle tränas plats med skott, så Birgitta tog Tammy ett par hundra meter bort och körde samma procedur som i skogen. Inga problem.
Per fick prova att köra lite agility med Tammy och han blev imponerad, mest av tempot i slalomen. Erbjöd sej att tävla henne :) Dagen avslutades med en promenad med Helen, Milton & Ettra. Birka fick vila, har skadat en tass och haltar lite :( Troligtvis en stukning.
Tack Per & Birgitta ( med Fajta ) för hjälpen i dag!
Today we have been in the wood. A short walk for Tammy and tracking for Birka & Ettra. Guntraining for Tammy 3-400 meters away, 2 shots during clickertraining. No problem. More shots at the workingdogclub in the afternoon 200 meters away, also good. Per tested a little agility with Tammy and he was impressed, especially of the weavepool-tempo. He offered me to compete with her :)
We also went for a walk with Helen, Milton & Ettra. Birka has heart a foot a little and is resting :(
16/4
I dag har vi varit i skogen. Ettra och Birka följde med och snitslade ett lägrespår. Sedan tog jag Tammy med för att gå runt och kolla att klädnyporna syntes bra. Kopplade loss henne på vägen och gick in i skogen. Tammy tyckte tydligen att det inte gick att gå i skogen när där inte var någon stig, så hon sprang fram och tillbaka på vägen när jag ropade på henne.. Jag kopplade henne och då gick det bra. Hon upptäckte snabbt spåret och blev intresserad. Jag kastade korvbitar över huvudet på henne när hon var i spåret. Det fanns ju inga belöningar utlagda... Kopplade loss sedan och hon spårade, kollade var Birka & Ettra hade varit och spårade igen. En och annan korvbit ramlade ner framför henne nu också. Hon var riktigt rolig att se. Drev av i vind ibland men jobbade tillbaka till kärnan, lugnt och fint. Bra va´, Tony :) På slutet stannade vi och åt korv.
Hon fick titta på när Ettra & Birka kampade och lekte utanför bilen och sedan var det hennes tur. Kampat har hon aldrig gjort, så det ville hon inte. Däremot så gick det bra att peppa henne och kasta iväg busen och hon drog iväg till den, morrade till ordentligt och grep sedan direkt och ruskade ihjäl den :) sedan släppte hon den och den var ointressant innan den kastades på nytt..
Dammsugaren var helt OK. Skakade mattor och plastmattan kan låta som en pisksnärt. Inte tänkte jag på det.. Såg att hon blev lite fundersam, så sedan fick Kenth gå ut och rista mattor med öppen dörr när Tammy och jag körde "Give me 5" och klickade. Inga problem, skönt..
Flickorna rök ihop när jag satt här uppe vid datorn i kväll.. Vet inte vad som utlöste det, men det gick fort över. Hon börjar ta för sej. Bra och inte bra...

Today Tammy has been tracking a little. Very interested in it :)
Also running after a tug and killed it :)
15/4
I dag var vi på promenad med Ettra & Birka. Dom sprang och Tammy lekte lite med Ettra och badade i dikena. Skitgrisar..
Jag har börjat klicka in Tammy och körde även apportering. Hon hämtar, håller fast och lämnar av framifrån.
På eftermiddagen var det lite besök här, för att kika på Tammy :) Hon är mycket social och gosig, väldigt öppen. Det blev Tammy-tårta, en god chokladtårta :) Birgitta ( med Fajta ) som har fött upp kelpie på 80-talet och även importerat, tyckte att Tammy var lik deras gamla Noondoo Biddy. Birgitta tyckte också att hon var trevlig och inte påverkad av att komma hit.
På kvällen var vi till Kumla och hämtade pizza och gick en sväng på stan´. Inga problem.

Today we went for a walk. Tammy off lead with Ettra & Birka. They run and played a little.
Tammy and I trained with the clicker. She is starting to learn that click = candy. In the afternoon we had a few friends here to say hello to Tammy. We had a "Tammy-cake" also :) A chocolatecake. Birgitta thougt that she is really nice and a bit similar to Noondoo Biddy, a dog Birgitta owned many years ago.
In the evening we went down to Kumla to get pizza. We took a walk there. No problems.
14/4
Tammy & Lexi anländer från Australien. Resan tycks ha gått bra, de är glada med svansarna i topp på efterföljande promenad. Lexi hade visst tokspel hos veterinären, flög upp på en kyl samt rev ner en bur med importerade råttor...
Hemresan gick fint. De gillar att åka bil. Stannade på Mc Donalds och rastade dom och tog lite mera kort. Sedan var Christina och jag till veterinären för besiktning av Tammy för försäkringen. passade på att kolla patellor också: ua.
Väl hemma så gick vi en koppelpromenad med Birka & Ettra, som var lösa. Lite ragg på alla, men inget bråk. Det gick fint!

Tammy & Lexi are finally here! The flight seems to have gone fine for them. Happy and the tails on top. Lexi got "crazy" at the vets.. Up on the refrigerator and also on a box with imported rats..
They liked to be in the car.
We also visit the vet. on the way home for a Swedish healthcertifacate for the insurance. Also checked knees: 0-0.
At home we went for a walk with Ettra & Birka.