A little about breeding in Sweden & my planned litters
I only breed one, or rarely two litters per year. It takes a lot of time, as I have my pups indoors and try to spend as much time as possibly with them :) I take them in & out several times per day. They are free to "run around" in the kitchen from 21 days of age and also visit other rooms in the house, for new experiences. They have a lot of things to "play" with, tugs for tugwar, balls & noicy metal-things. They have big yards outside, neighbours to horses and sheep. Well fenced!

I visit friends with them from appr. 7 weeks of age, so they can experience to go by car and also see other places, both indoors and outdoors.
I think it is important to let them be socialised and used to cooperation with people, so we love when our friends come and visit us and play with mum & pups!
Of course I also invite my friends here to come and cuddle and play from 3 weeks of age.

I want to sell them to people that do something with them, not only keep them as pets, but of course a loving home is the most important. Kelpies however need to work!
In Sweden we can only breed from hipscored and HD-free dogs, grade A or B. That might be maximum 4:4 - 6:6 in Australia., depending on where the points are placed.
20000101-20051231 in Sweden there are 483 scored. 424 with good hips, 297 grade A & 127 B. Dogs with HD are 39. 50 with HD grade C, 8 with D's and 1 with E hips.
500 are max what the data can show per search, there for split up in different periods.
During 20060101-20091231 383 are scored, 345 HD free: 190 A's and 155 B's. 38 with HD, 36 with C and 2 with D hips.
During 20100101-20141231 454 dogs are scored. 401 healthy, 266 A's, 135 B's. HD grade C 49, 3 with D and 1 with E.
During 20140101-20161231 272 are scored. 240 HD free: 149 A's, 91 B's. Dogs with HD are 27 grade C and 5 with grade D.
UPDATED! During 20170101-20191231 291 are scored. 243 are HD free: A's 111 and B's 132. Dogs with HD are 44 grade C and 4 with grade D.

All HD & ED-results are official, at the Swedish kennelclub's database. There are also all results from competitions & shows for all registred dogs.
The Swedish kennelclub


We also have to do a mentaldescription before breeding; MH. That's not approved or not, just known mental status, but very good to look at for the sake of breeding mentally stabile, open dogs with workingability. Looking at the result for a whole litter tells a lot.
I think that it is important to know as much as possible about the siblings to the parents, as they also affect on the litters, both about HD, health, mentality & conformation.
The best breeding is breeding with good dogs from good litters!

My goal with breeding are healthy dogs with a lot of "power" for work, as tracking, searching & obedience. I have sheep and try to do a bit herding also, the dogs love it, but in that I'm a beginner in herding and I put most of the time for training obedience, tracking, searching and articlesearch. At least I try to do the herding instinct test with my own dogs and also try to arrange tests for my puppybuyers. It is important to also keep what they first were bred for.

I prefer to use good mentaltested dogs, also the big mentaltest for KORAD, that also has proved that they can work, more or less. All owners does not want to go to competitions and I don´t mind, as long as the dogs will get their needs of activity in using brain and noose and are loved members of the family. But, if I will breed from a dog I prefer to know the workingability and it is a difference between training "at home" and compete a whole day in another place.
For the title KORAD, the dog has to be approved in a big mentaltest + "good enough" looking ( from a description in small details of the dog by a judge ) and males with testicles OK.
I want to be keeping our "old" lines with some "new blood" now and then, always keeping the inbreedingcoefficients under 2.5% and preferably no individual more than 0.8%, depending on who and the results from that individuals progeny.
I think about it more and more, as in litters with high inbreeding the risk is much higher for illness...
The inbreedingcoefficients are counted out of 5 generations. If I count from 4 there will be lower and in some of the litters 0%.
As some affected hearts - Mitral Valve Degeneration ( MVD ) - in younger dogs show up now and then, I want to keep it under some control, that I feel comfy with myself. Therefor doing U/S heart before breeding, the earliest close to 3 years of age.
Also middle age dogs with murmur - in the twilightzone of to early for a so called "old dogs heart" - occur. Not new, they have occoured earlier too.
This is a slow progressive disease. Dogs often live many years with this from the time the murmur is discovered.
On the other hand, there are also many healthy old dogs.

The first small changes might be seen with U/S 2-3 years before the leak and murmur start. Therefor wanting a little longer before breeding debute.
Auscultation, listening, of as many dogs as possible in my breeding and try to, if possibly, use a bit "older" and healthy dogs in breeding, after checking with U/S.

LINK TO INFO ABOUT HEARTDISEASE HERE
Unfortunately Zeta has a vaginal stricture and will not be bred from. Might brake with a natural mating, but what happens if not and she will become pregnant anyway? Probably whelping can end with a ceaserian. Not sound. Will not try.
Very sad indeed, as she is a brilliant working dog, show dog, family dog, healthy and from a good and healthy litter. I'm pleased to be able to use her sister Zyrah.
Thank you, Charlotte & James!
_________________________


2022

KORAD Vickulas Zyrah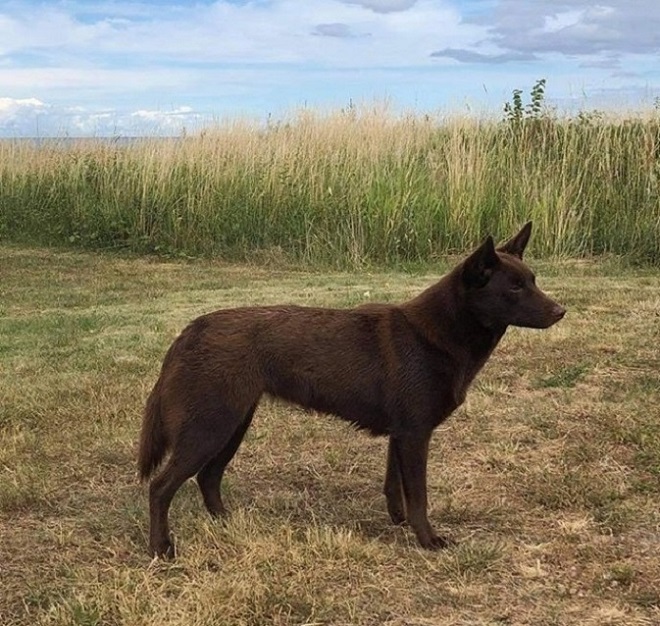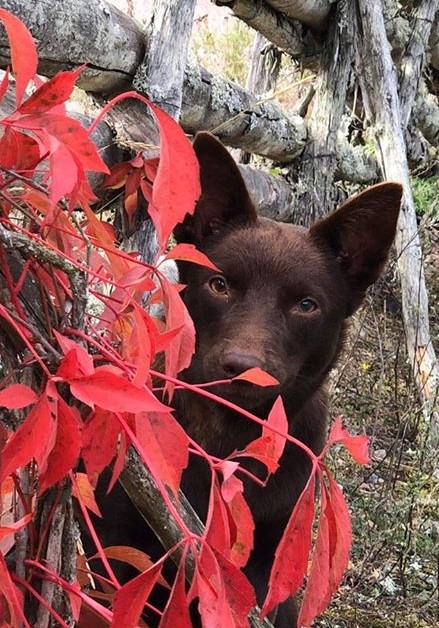 HD grade A, ED 0, back X-rayed with no remarks, eyes clear, U/S heart OK 2020
Very good MH & big mentaltest
Mother of my B2-litter, born 2020

Link to her siblings in Z-litter
& hopefully

AU CH Goldedge Country Style HT, "Riley"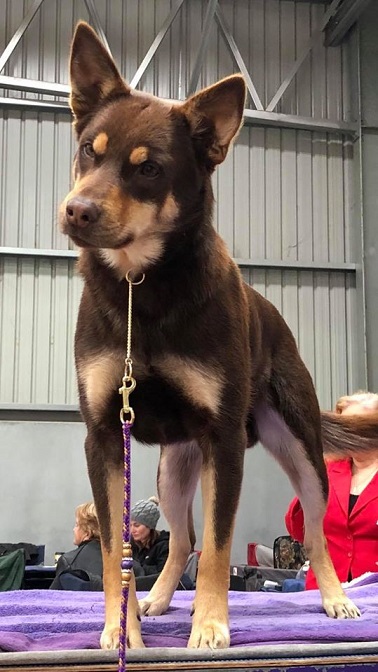 He is scored here with A/B and in Australia 3:4. U/S heart clear September 2021.

PEDIGREE
Perhaps you must login, close and click here again to reach the pedigree.
Thank you in advance, Charlotte & James!
_________________________________________________


HOPES for the future....

Perhaps I can use Ĺysan? Still young!

Two other young girls are also my hopes for the future. Axxa & Vickulas C'Tracy

____________



__________________

For the future also looking at two other males abroad, a brother of Dena and a male from other Australian lines.
________________
Time will tell!

Have a look at the littersplans in Swedish also. More often updated ;-) HERE