AUST CH Callicoma Maher HIC
"Tacker"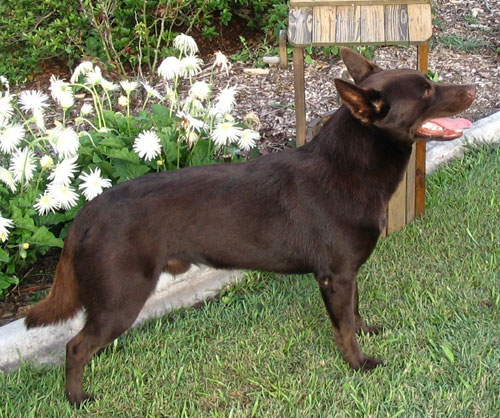 Born 2004-07-05
e. AUSTCH Bushechoes Fox Whiskey & AUSTCH Spectre Blacklock
Hips: 1:1 / Australian grade 0 & International grade A
Elbows: 0:0
Full dentition
48 cm
Also checked by Lars Audell: HD grade A - see HÄR
Breeder: Mandy Sansom, Callicoma kennels, Australien
Owner: Lisa Murray, QLD, Australien
_____________
Tacker likes to work! He is being trained in agility, obedience & herding.
_____________

Tacker has 2 litters in Sweden. A litter of 3 pups - 1 male & 2 females - at Busligans kennel, born 2010-01-29!
Mother: KORAD SEUCH SEBCH Busligans Geisha
All 3 with HD grade A & ED 0-0.
All 3 with MH done. The girls have passed the big mentaltest for KORAD.
The second litter is in my name - Vickulas kennels - with KORAD Vickulas Nytta.
T-litter: 6 pups - 4 males & 2 females - born 2011-11-25!
MH done for 5 of them so far. Nice dogs.
3 of them has passed the big mentaltest: To Do, Tage and Tinka.
Tarana has passed the Finnish mentaltest.
All scored, 5 with HD grade A & 1 with B. All of them ED 0-0.
So all matured progeny from Tacker that are scored are HD- & ED-free.
One of Tacker's sons:

KORAD SE UCH LUX CH SE V-13 SE V-14 LUX W-14 LPII LPIII
Vickulas To Do SPHI SÖKHI -"YODA"

Tacker also has 3 litters in Australia,Here a picture from Callicoma kennels.
Mother is AUSTCH Callicoma Ruby Red CCD AD JD ET HT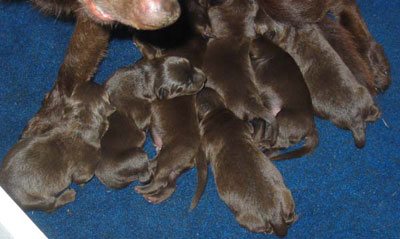 He also has one litter at Oatland and one at Elbrylach kennels
_____________
KORAD TJH Vickulas Klura was inseminated with Tacker's semen from the first collection.
Unfortunately she stayed empty.
_____________

Tacker's sister AustCH Callicoma Linne ET HT is scored with the result:
HD 0:2 / International grade B & ED 0:0
&
Tacker's brother AustCH Callicoma Blacksmith ET HT with HD 3:3 / International grade B & ED 0:0
2 from Tacker's sister Linne's first litter are scored with the results:
Callicoma Black Friday - hips 1:1, International grade A, & ED 0-0 och Callicoma Sixth Sense, scored in Finland - hips grade B & ED 0-0.

Tackers daugther with Ruby; Callicoma Trump Card is scored with HD 0:0 International grade A & ED 0:0.

__________________________________

All Tacker´s kids and grandkids that have been scored are HD- & ED-free so far.
____________________________
As we got so much semen in the second import - also to have just in case - and have got two litters that can go further, we have sold the rest of it.
It will be enough for three litters and it is sold to:

Evallens kennels, Sweden
Dutch Dynamite kennels, The Nederlands
__________________________

Lisa's words about her dog:

Tacker is bold and assertive, and yes sometimes bossy with other dominant males, but not aggressive, by any means he is a big sook. Also as you mentioned he is confident too, when it comes to noises or storms Tacker is not scared at all, takes it all in his stride. I believe I would be correct in saying he is a very well balanced dog in both confirmation and temperament.
Översatt:
Tacker är allmänt orädd och framåt/självsäker, och ja ibland "bösig" mot andra dominanta hanar, men inte aggressiv. Han är tillitsfull/säker och orädd för ljud & stormar, tar allt med ro. Jag tror att jag korrekt skulle kunna beskriva honom som en mycket balanserad hund både exteriört och mentalt.
____________________

Vi träffade Tacker där nere i november 2009! En riktigt härlig kille!! Samarbetade glatt med mej i lite träning, jagade och bar gärna sin boll och var allmänt mysig :))
Han ser också trevlig ut. Bra typ, varken tunn eller tung, med trevligt huvud och bra vinklar.
Här är lite bilder från mötet med honom:



Foto: Stina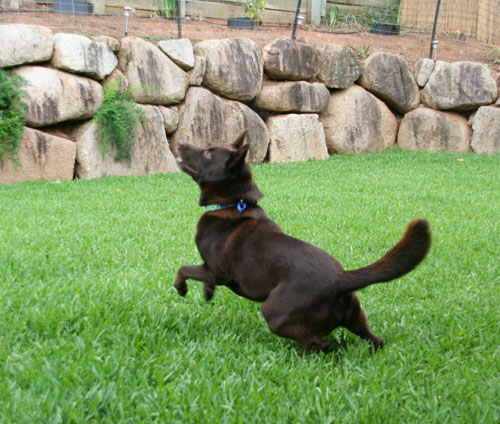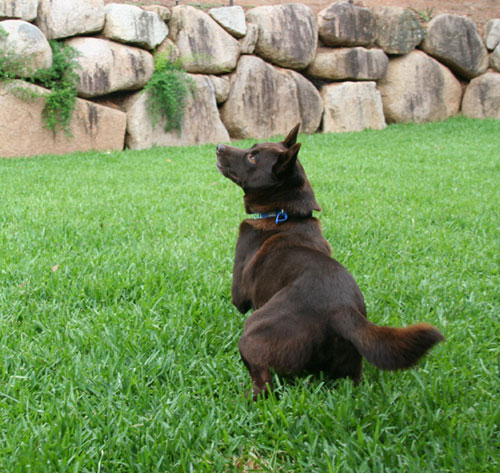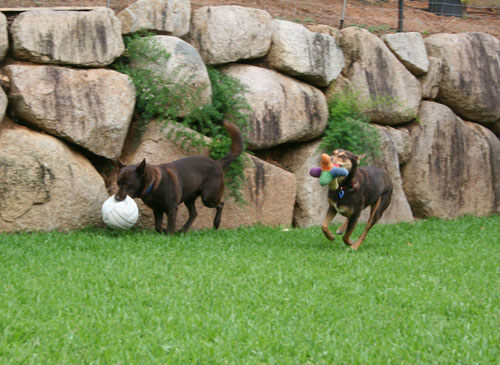 Foto: Stina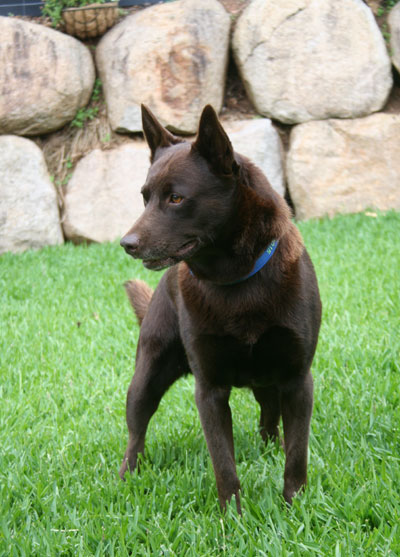 Foto: Stina
_________________________
Bilder som vi har fått från Lisa: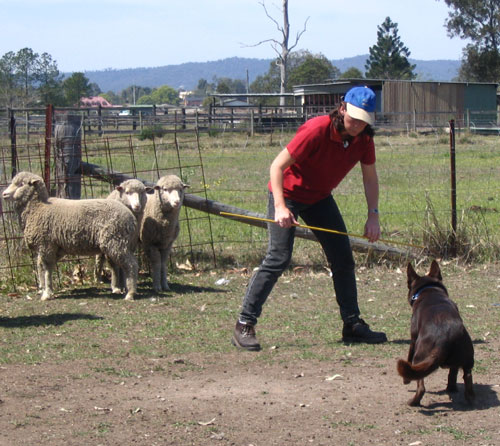 Lisa & Tacker in a hold at Herding Instinct Test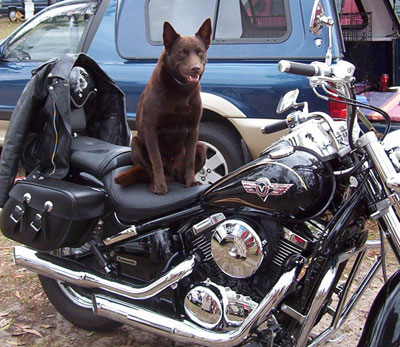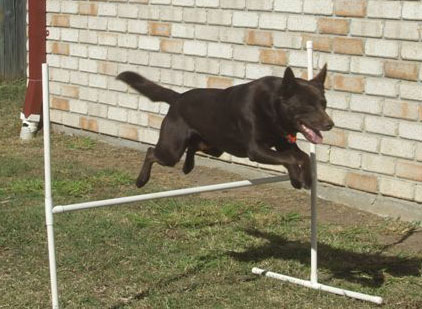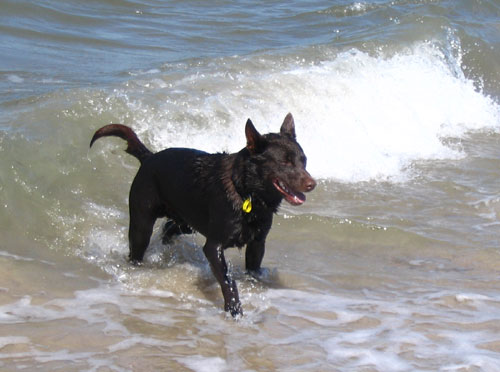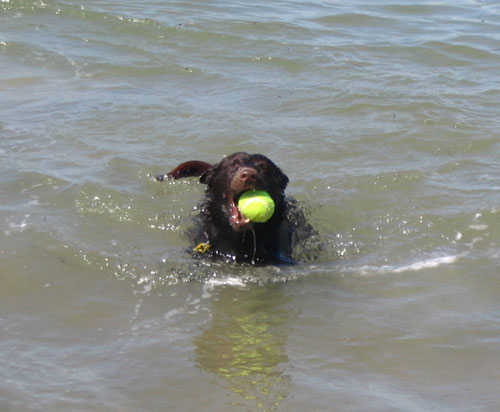 Like his mother - a waterdog :)


Tacker's parents, "Pete" & "Wattle"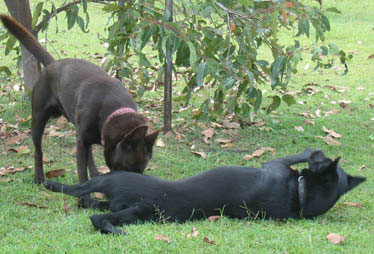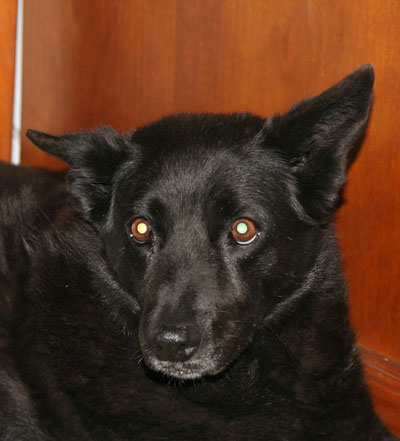 Sweet, lovely "Wattle"!! I have met her twice :)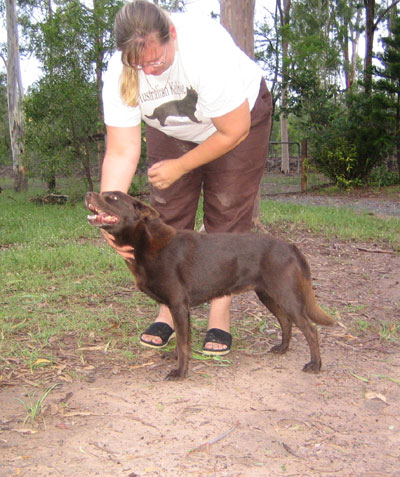 Pete, when we met him at Kagaru kennels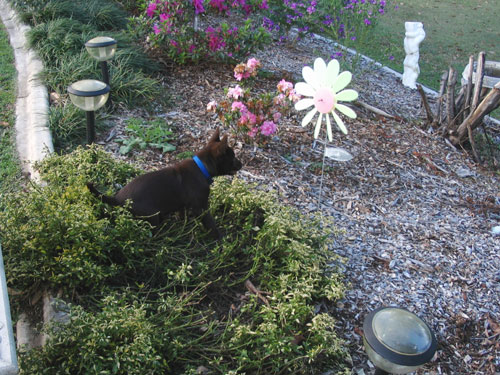 Baby Tacker & the windmill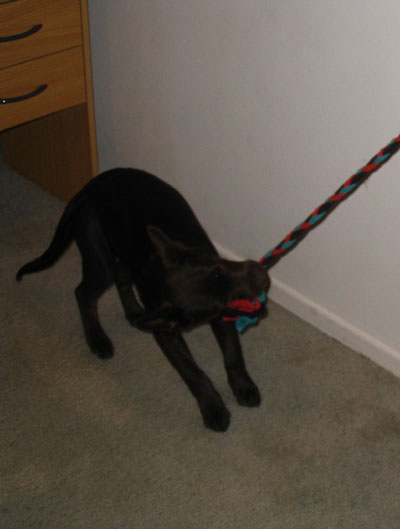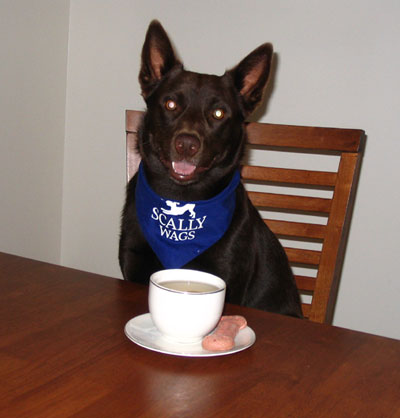 Tea-time :)
Some of Tackers realatives at DOGZONLINE
His daugther "Trumps"

Brother "Smithy"
__________________________________________
Tacker's certificates