HISTORY OF KENNEL VICKULAS
My first dog was a golden retriever; Swedish Obedience Champion Asterix, "Pysen". He came to me at one year of age. He was a very nice and kind dog, but he loved to hunt wild animals, as rabbits and deers. Not very funny.....! So, we only competed in the lowest class of tracking, but more in obedience.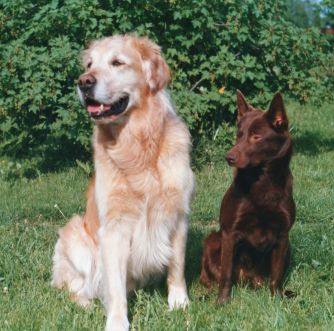 "Pysen" & Vick.
Til we meet again, sleep well boys...

My first kelpie was Nemårs Vick, born 1987 at X - mas. He was a wonderful little dog and has given me a lot of good moments ! He has 21 certificates in tracking / searching and a lot of 1:st prices in eliteobedience and has been to Sw. Masterships in obedience twice, once in finalheat; 14:th place. He was also a TJH (militarydog) and has competed at Sw. Masterships for TJH twice too. Placed 4 & 5. The reason why he was not a working and obediencechampion is that he was a cryptorchid and could not get his showprice. He was mentaltested: +3 +2 +3 +3 +1 +1 +1 +2 –1 = 162 points. He has nothing to do with the breeding, exept his name. Vick is sired by Korad "Multi"U,B & LCH NV-81 TJH Glimmergruvans Krick and his mother is Korad INT,SE&FINUCH TJH Truxelis Vilma.
The mother of the 2 first litters are KORAD SEUCH TJH LP Nemårs Calooah " CULA", born 1991, owned by Leif Eriksson, who was my breedingpartner for the 3 first litters. We were lucky to start the breeding from her, as she is a good workingdog with a good mentality, that she also has given to her pups, in combination with good males, of course. Highest priority in my breeding is health and good mentality ! That´s natural, as I work with my dogs.

Nemårs Calooah 1991-03-21 - 2007-03-07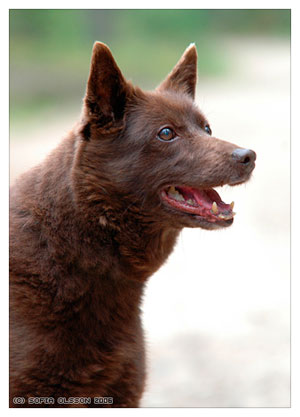 Til we meet again... sleep well... darling girl!
I have competed a lot with Vickulas Birka, a daughter of "Cula" from her second litter. She has been a fantastic girl, both in the daily life and to compete with. Full of fun !
She was KORAD, Swedish show, work- & obediencechampion and also a champion in tracking wounded wild animals: SVCH.
We have qualified for the Swedish Championships in work ( tracking combined with obedience ) twice - 2003 & 2004. We have been placed 20:th & 10:th out of 30 of Swedens best workingdogs.
She was also up for level 3 in searching.

KORAD SEBCH SEUCH LPI,II,III SELCH SEVCH Vickulas Birka
1996-10-21 - 2011-10-12
Til we meet again.... R.I.P. darling girl!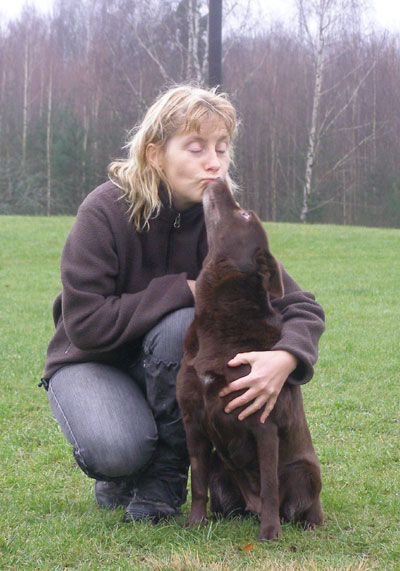 Birka & me in a kiss :)

I also had Birkas daughter Vickulas Ettra, who I competeted with til 2010. She was KORAD, International showchampion, Swedish Show Champion, Workingchampion ( tracking, combined with obedience ) and also an Obediencechampion.
She was also trained in searching for people and had one certificate. We also were qualified for the Swedish Championships in work 2007 ( tracking/obedience ) and got a 5:th place.
Ettra also became 2:nd in Workingdog of the Year & 2:nd in Trackingdog of the Year in Sweden 2007!
Qualified for the Swedish Masterships in 2008 & 2009 also.
2009 we became Swedish Masters in tracking/obedience and were in the Country team in the Nordic Championships!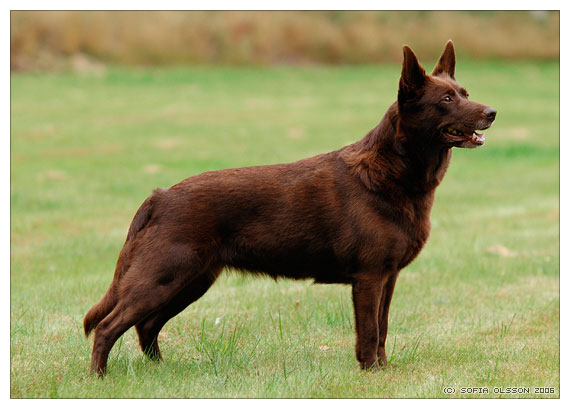 KORAD SEUCH INTUCH SEBCH SESPCH SELCH LPI LPII Vickulas Ettra -
5:th place at Swedish Masterships in work/tracking 2007 & 1:st reserv in the landteam
SWEDISH MASTER IN TRACKING/OBEDIENCE 2009
&
also in the country team at Nordic Championships in Finland

2000-12-31 - 2013-08-30
Til we meet again, R.I.P. darling girl!

Ettras daughter Orka is the girl that I'm training and competing with now. She is up for eliteclass in tracking/obedience and patroldog and has got the Workingchampion-title in 2012, has her showchampion-title and is KORAD ( approved at the big mentaltest ). She got BOB at the International all-breeds show that has the status Swedish Winner 2010, so she also got the title SE V-10.
She was qualified for the Swedish Masterships in work 2012 & 2015 - in tracking/obedience/articlesearch.
A ligament damage in the shoulder has made us slow down a bit with competitions.

KORAD SEUCH C.I.B. LUXCH SEBCH SESPCH SEPTRHCH SEVCH SE V-10 Vickulas Orka
Patroldog of the Year in Sweden 2016 & 2017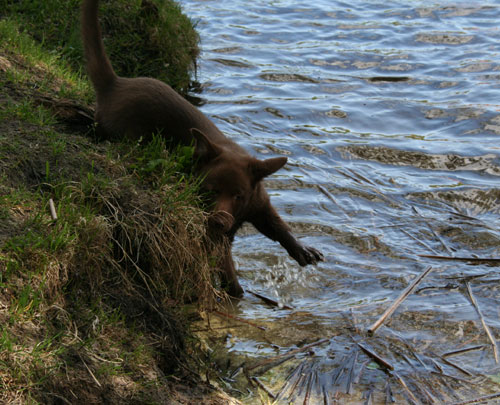 Ah, Baby-Orka falling!!!! She just LOVES to swim today :)

Vickulas Zeta, born 2017-08-26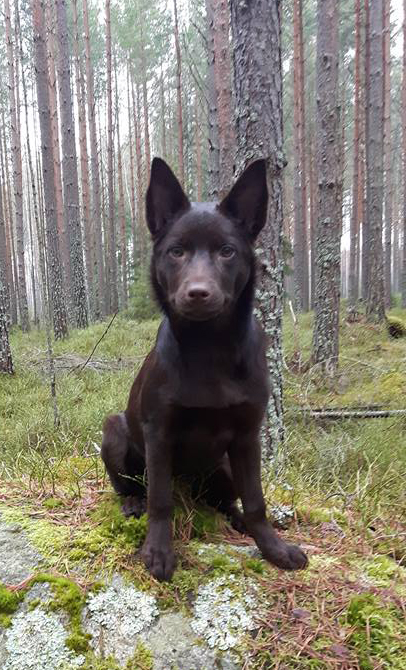 AUSTCH SEUCH Linbarlee Killarra Et CD ADX JDX HIT SPHI "Tammy"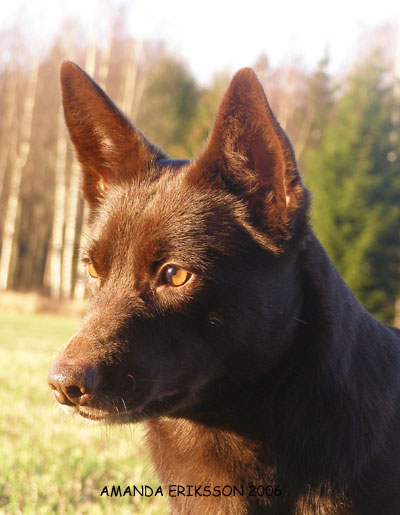 Tammy was imported in cooperation with Stina of Busligans kennels in 2005. She got 3 litters of nice babies here. She was competing with me to level 3 in tracking/obedience.
She was a healthy girl. She was put to sleep at almost 14 years of age, re. to a bad stretch that did not heal properly.
2000-08-08 - 2014-06-27
Til we meet again, R.I.P. darling girl!

About myself; I´m teacher in dogtraining and also judgeing work and obedience. I just love to train dogs…!
We have sheep here and we do some herding now and then, but I would need some classes in that... :)
However, some of the Vickulas-dogs are tested and approved, as Birka, Ettra, Orka & Tammy.
See HERE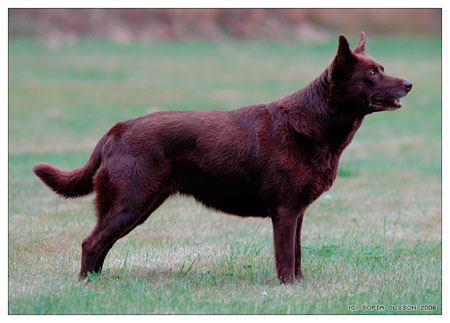 KORAD SEBCH SEUCH SELCH SEVCH Vickulas Birka -
- placed 10 at Swedish Masterships in work/tracking 2004 & placed 20 in 2003.

Workingbreedersprice & mentaltestprice has been given to the kennel for good workingdogs with good mentality
&
also to Birka for mentaly good working progeny.

Vickulas got BIS-breeders group at the Specialty-show 2005.